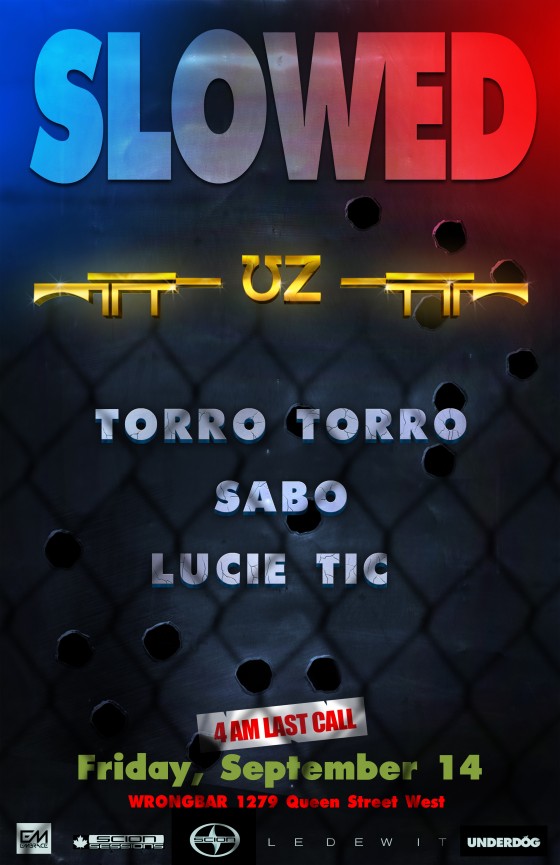 This Friday September 14th, one of the most exciting SLOWED parties in recent memory will take place. Last week's edition sold out by midnight, and with one of the first performances by the anonymous, Trap hot-topic ƱZ performing, you can be sure this is going to be one helluva party.
For those wanting to get up or stay up, below are his recent contribution to the UKF podcast, and my favourite of his singles 'Trap Shit 7' off his June 4-track Jeffrees EP.
And ƱZ's performance is just the tip of the iceberg. Also on Friday's bill is LA's Sabo, a producer known for his innovative Bass and Moombahton productions and tireless bootleg work. He has a recent 6-track bootleg EP comprised of deeper moombahton vibes which he is kindly giving away on his Soundcloud page. Preview them below, or download from the individual track pages.
Residents Torro Torro will also be in attendance, and will be performing at their first SLOWED since July as a feverish summer festivals tour has kept them duly occupied. In no manner of exaggeration, this may be one of the last chances you'll get to see this pair in such a small room. Their recent productions are out of this world – I personally heard their Go Deep remix played several times at each of the major festivals I attended this summer, including by Knife Party to open their main stage performance at EDC Vegas.
Full information on the facebook event
The Giveaway
We are very, very excited to give away TWO prize packs, each comprised of:
2 Tickets to Slowed W/ ƱZ, Torro Torro, Sabo, and Lucie Tic, AND;
1 Signed TT Vinyl
To enter for this giveaway, head to this post on our facebook page and comment + share to enter. I'll select and announce a winner on Thursday night at 7pm.