WEMF is definitely a name that goes far back into Canadian Electronic history. It's one of the events that signals the waning of summer, but always ends it with a bang. In its second year of resurrection, has had a chance to return in full force to a bit of its former glory (aided in no small part by the popularity of all forms of bass music). Our Salacious crew loaded up the car and started the journey to South Algonquin in the dead of night; it's a long drive, but the transition from city to forest only helped build the anticipation. There's nothing quite like a change in scenery to feel like you're going into another world just for the strange state of un-reality that is any festival.
The Friday of WEMF was a slow day for some travellers, who got caught in lines overwhelmed by sheer numbers picking up wristbands (which looked and felt awesome on our wrists — cloth bands go a long way for comfort and appeal!) and having cars checked as quickly and thoroughly as possible. Getting in was a well-run process, but an army of ravers appearing at one place at one time can make anything slow down. We managed to get into the festival relatively quickly after checking into our hotel (we suck at roughing it) and helped some WEMF-ers set up their tents (they're great at roughing it) before checking out the music that was just starting to float through the air.
We showed up to catch Dr. Ozi, Toronto Natives, who charmed the crowds that had made their way to the stages with bass-y sounds that were a great warm-up for the long nights to come.
We also managed to catch Course of Time resident Mr. Charlton, spinning an extremely funky tech house set.
And visited our friend Charlie Darker in the Center Camp tent, who packed out the intimate, very well-equipped locals stage.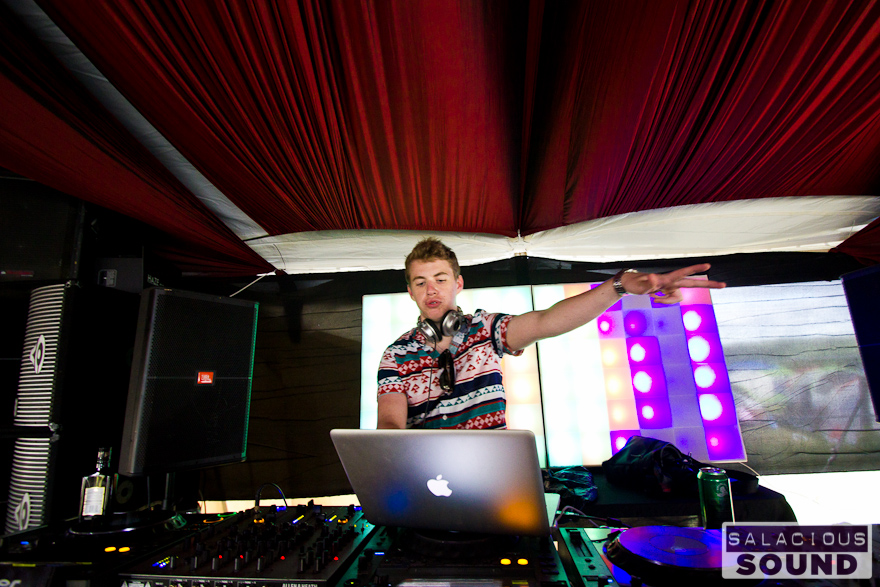 12th Planet brought his trademark energy to the crowds, lifting spirits in the cold weather and forcing us all on our feet to dance. He provided one of the highlights of the night during his sunset set: the theme to the Fresh Prince of Bel Air over a dubstep bassline. I don't quite know what to say, other than this is a story all about how WEMF got flipped-turned upside down. Awful jokes aside, his set featured the start of some great stage production at the Tower of Destiny. Projection mapping has come a long way, and the light show provided by some scaffolding and fabric stretched in layers was nothing less than dazzling. It's this sort of large-scale production that there needs to be more of at electronic festivals; it's easy to see and looks great from any angle or distance, giving everyone in the crowd an equal level of enjoyment from the set.
Keys & Krates, one of the only live bands at the event, layered samples and instrumentals to build a roaring flow of music that washed over the crowd in waves, sending out some major breezy, positive vibes. They left the crowd feeling good and ready for more. The Time Stage was well suited for acts like this; lower to the ground than the Tower of Destiny, it let the crowd get a bit more personal with the musician while still packing a heavy punch with some great lighting and smoke effects.
And Boy, did WEMF deliver. Over at the Tower, Datsik and hometown favourites Zeds Dead played back to back sets, while Thomas Gold brought up the energy and Wolfgang Gartner brought the house down with some major electro.
All musicians were strong contenders for some of the most fun sets of the festival, but I'm going to say that hearing Illmerica live next to Prime time of Your Life and Music Sounds Better With You made Cal and I absolutely throw down. Literally. I think we lost a good pair of sunglasses.
Day two was surprisingly relaxed during the day, but that seems to be a by-product of WEMF itself. It's a festival of open spaces, where dedicated electronic lovers come from all around just to have a good time. It helps when there's a good amount of Toronto representation in a Canadian event; Warrior Music, The Supermaniak, Hydee, and The Killabits each had a turn at the Tower of Destiny, keeping the Bassmentality crews going throughout the day and straight into the night.
At the community stage our very own Cal laid down some "Real Trap Shit" (in his own words). Somehow, we wound up with an impromptu performance by not only one but two MCs, who plugged in their microphones and away they went. It was a tent filled with some happy campers (so to speak) and some even happier dancers who brought their best moves with them.
Montreal natives Adventure Club played all sorts of fan favourites, from their remix of Crave You to some Youth Blood to a bit of screamo here and there.
Trolley Snatcha followed up with a nice dose of UK Bass, and Pendulum followed up by bringing the crowd right back into Drum and Bass.
Chase and Status gave one hell of a performance, featuring one of my personal favourite tracks Blind Faith. One of the most interesting sets of the festival came from Dub FX. Their expert use of sample looping and effects pedals created a unique experience which truly works best in a live environment.
Ah, Moby. One of the legends of electronic music — I was personally introduced to his work growing up by my dad with Everything is Wrong, and later the legendary album Play — and a dj with well over 20 years of experience by now.
There was a presence brought to the stage I haven't seen the likes of in a very long time. It's really amazing how a single bald guy in glasses can strum up such enthusiasm just by standing on a table; he stalked the stage, putting a few tracks on to loop just to build energy in the crowd and shoot photos of the crowd. I was amazed at the reaction of even some of the younger members of the crowd; thank goodness they know his music is all I'm going to say.
I didn't really know what to expect from Infected Mushroom's new stage production, but once they started to perform, I was entranced.
Spheres set up at either side of the stage featured some seriously cool technology at work directly alongside some great bits of projection mapping and lively performances by a vocalist who absolutely loved running around a stage.
Andy C, Figure, and The Crystal Method rounded out the night at the Tower of Destiny with some amazing performances, and we managed to stay awake and dancing all the way through the Torro Torro performance. It helped that they opened their set with a bang, featuring their remix of Go Deep.
Overall, WEMF definitely improved on procedures from last year. Effort was clearly put into design and materials for the fest, and it was easy to spot all sorts of fans in festival merchandise wandering around the area. A personal favourite addition was the schedule postcards handed out to attendees at the entrance. They're less clumsy than a full brochure, and it was quite easy to see what was going on at each stage at any point in time. Security was present, but not overbearing; attendees were kept happy and safe and each area seemed carefully regulated.
It's important for a festival to strike a balance between police presence and concert security, and it was nice to see cars being checked on the way home to make sure that drivers would get themselves home safely. Those who chose to camp were given many places to do so, and with a bit of stage shuffling each area had a relatively quiet experience. Unfortunately, due to the placement of the stages, there was a tiny bit of sound bleed, but if you were closer to one stage or the other the problem disappeared in the face of pure sound. I will say it made for a few funny breakdowns at the Time stage, where a quiet moment would be filled with pounding bass from the Tower of Destiny at the other end of an extremely large field.
I have a personal bias in that WEMF is one of my feel-good festivals. It's a place that music lovers have space to dance, have access to a wide variety of acts that aren't overpowering the festival circuit, (this year's lineup was one of my favourites) and are free to simply have a good time. The long journey home wasn't even a little daunting. I'd gotten all I needed: Good people, good music, and good times. What more can a person ask for?
Thanks to Jiani Lu for making her Salacious Sound photography debut at WEMF 2012! We're going to see a lot more work from her in the future, so keep an eye out for galleries and video footage coming soon.