Strap yourself in folks, because this one is a doozy! While we're at it, why don't you check out the Mad Decent Block Party 2012 Mix provided by Paul Devro:

This past Saturday, Toronto's Yonge-Dundas Square played host to the first Mad Decent Block Party of summer 2012 and I think I speak on behalf of everyone in attendance when I say, "dat was tight"!!! I know that may seem an insufficient recap of what was arguably the hottest free event of the summer, however, 'tight' is actually quite accurate in describing a number of the proceedings, from performer transitions, DJ mixes, and crowd density to the clothing of many fine females present. Oh yes, tank-tops and short-shorts were out in full-force for this glorious day of sun, sweat, and sexy 'choons'.
Aside from a few missing persons, (*cough* Claude VonStroke *cough*) some kooky crowd-members, and ridiculously over-priced alcohol, the day went off without a hitch. Bros, gals, goths, hipsters, punks, rastas, toddlers, crack-addicts, and even one robot came out to bask in the sumptuous sounds of several first-rate DJ's (and a jazz trio!). Indeed, it was a party for the ages.
I arrived at Yonge and Dundas Square around mid-afternoon and luckily, I was able to catch the majority of Riton's set. As I emerged from the air-conditioned enclosure of the Eaton Centre and out into the scorching Toronto streets, a booming moombahton rhythm coursed through my body.
Immediately ecstatic, I jostled my way to the centre of the medium-sized crowd in order to locate the source of this palpitating beat. The audience was noticeably exuberant thanks in great part to the lively back-up dancers generously spraying the front rows down with water and the multitude of beach balls being tossed around.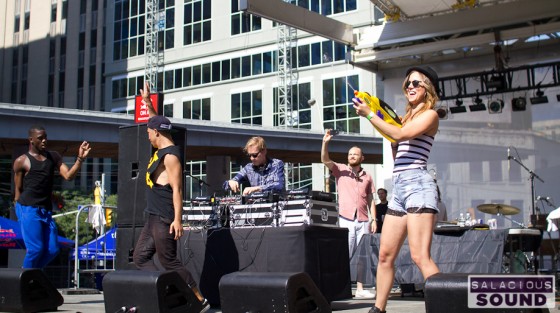 Sporting a navy-blue dress shirt with white paisley patterns, Riton and his thin tuft of bleach-blonde hair occupied the decks, exuding laidback summer vibes while enthusiastically pumpin' out an assortment of moombahton, trap, and even techno. In Diplo's honour he dropped "Original Don" amidst a flurry of gyrating bodies followed immediately by the Flosstradamus remix because well, why not?
This was the only aspect of Riton's set that I found to be somewhat gratuitous and exploitative but that's a minor complaint. He managed to get people moving and amped up so I have to give it to the guy, he did his job well.
Next up was Montréal native and R&B connoisseur Jacques Greene of whom I am very fond of. I had been looking forward to his set possibly more so than any other artist on the bill and thankfully, none of the Salacious crew in attendance were disappointed.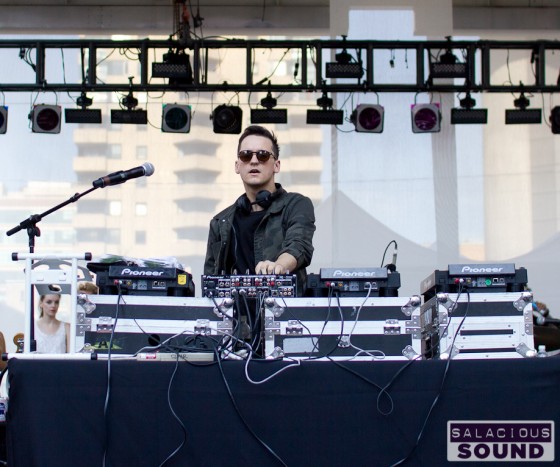 Jacques' mix consisted of deep techno primarily, with some funky R&B and a few of his garage-centric originals sprinkled throughout. I felt that he commanded the decks masterfully but unfortunately, the refined subtlety of a predominantly techno mix was, for the most part, lost on the all ages crowd. Clearly, people were hungry for more of the fun-loving, dance-friendly tunes that Riton banged out earlier.
I think that Jacques may have overestimated the maturity level of the crowd. His set was better tailored to a hip nightclub or at least an older, more sophisticated crowd. Nonetheless, at least a few people took notice when he worked a vocal refrain from the stunning Frank Ocean tune "Pyramids" into the mix.
Thereupon, I wouldn't say that Jacques' set was a total bust. Obviously, some people enjoyed it (this guy over here certainly did!) and were able to grasp his artful blend of techno, bass, and R&B. Oh well, I guess IDM is just more of a UK thing.
Before I go into detail, let me just say that BADBADNOTGOOD killed their performance. Having never seen them live, I was astounded by the young three-piece's chemistry and just downright skill. You'd think it would be difficult for a local group of technically trained jazz musicians to fit on an otherwise DJ-only bill but BBNG pulled it off.
The lads opened with a menacing cover of Waka Flocka Flame's dirty south anthem "Hard In da Paint" inciting pandemonium amongst the Toronto faithful. For those of you who weren't in attendance, I can only imagine your incredulity upon picturing a jazz trio covering Waka Flocka at a block party in the middle of downtown Toronto. Nevertheless, this is exactly what happened.
After the heavy-hitting opener, BBNG teased the crowd with a slow-building original before rifling through several more impressive hip-hop covers. Notable inclusions were TNGHT's "Bugg'n", Kanye's "Mercy", "Flashing Lights" and the BasedGod's legendary "Motivation". Jazz music never sounded so thug.
Energy levels were high as dusk began to set in and moombahton pioneers Nadastrom took the stage. The shaggy-maned Dave Nada received a warm reception from the crowd upon his entrance. Everyone seemed to know what was about to go down and you could almost feel the buzz of electricity surging through the air.
As expected, Nadastrom delivered with a massive set of hip-shakin", face-melting, heart pounding moombahton! I was especially thrilled that they dropped "I!!" as well as their brand new remix of Zeds Dead & Mavado's dancehall-dub tune "Undah Yuh Skirt". Judging from the mass convergence of jittery and jivin' human bodies, it was apparent that everyone else was equally thrilled.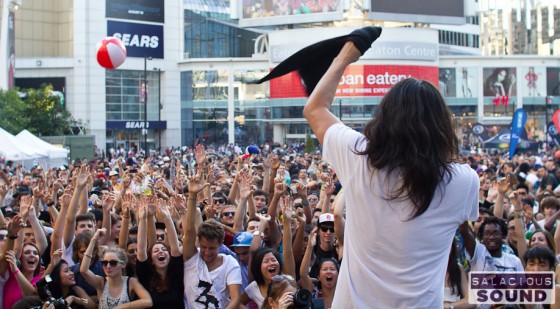 Nadastrom's set seemed to last an eternity, much to the delight of all those in attendance. Don't quote me on this but I believe it was actually extended due to the curious absence of one Mr. Claude VonStroke. The tech-house mastermind and Dirtybird Records head simply did not show and no explanation was or has been announced.
Nevertheless, people didn't seem to take much notice due to the fact that Nadastrom put people in the zone for the most anticipated act of the night, Zeds Dead.
Yes, it was a majestic homecoming for DC and Hooks, the illustrious, Toronto-based dubstep duo. As the crowd steadily grew and the square filled to capacity, it was clear that this was the act everyone had been waiting for.
Torontonians love their Zeds Dead just as much as grandmothers love pie (cause that's a scientific fact right?). As you can see for yourself, the entire crowd was skankin' their asses off to the heavy bass wobble and agonizing over the flawlessly executed drops.
A personal highlight was the transition from "Mercy" (this was the song of the day apparently) to Skrillex and Damian Marley's reggae-step anthem "Make It Bun Dem". Everyone instantly recognized the tune, inciting crowd-surfing and boisterous chant-a-longs.
Another noteworthy aspect of Zeds Dead's mix that I feel I should mention was their inclusion of Wolfgang Gartner's electro-house party-starter "The Champ". As Cal expressed, this is not a track you hear very often in DJ sets. "The Champ" was one of the more underrated cuts from Wolfgang's full-length album "Weekend In America" and up until now, it didn't quite get the attention it deserves.
So, to that I say "good on ya Zeds Dead!" Those dudes really know how to throw a party.
In summation, I'd just like to say thank you to all the folks at Embrace and Mad Decent who toiled to put this event on. Your collective hard work and planning may go totally unnoticed, but it was evident to us in the *lack* of problems and drama, the very laid back attitude of the crowd, and the relaxed + positive attitude of the security staff, who were focused on crowd safety over easter-egg hunts.
Shouts out to all the back-up dancers, vendors, security guards, A/V dudes, and of course the performers….y'all done good!