Editor's note: This one got seriously lost in the mix, but the festival and work that French Vanilla did was just so good that we thought you'd still enjoy reading about it.
I began the fourth and last day of Exit listening to Little Dragon's performance at the Fusion Stage, which probably could hold about 1,000 people, and was pretty full for their 10:30pm performance.
The group describe their sound as "dreamy, rhythmical, shifting, moody rainbow sounds." I don't think there are better words to explain Little Dragon's electronic, downtempo synth-pop sound. Lead singer Yukimi Nagano lays sultry and soulful vocals to beautiful melodies in songs that tell a story. Their live show was all that and then an even bigger bowl of cherries. Yukimi was so loveable and so engaging, which made every sound that came out of her even better. The extra amazing thing was that they were all so happy and they really fed off the crowd, who couldn't get enough.
Little Dragon are a four-person electronic music band from Gothenburg, Sweden. Erik Bodin, Fredrik Wallin, and Yukumi Nagano were all high school friends who later added Håkan Wirenstrand to the group. Electronic music performed live is pretty much always fantastic, but they are all that and then some. As chill as their music is, their performance had fantastic energy and set an amazing tone for the night for anyone who had the pleasure of attending.
Here's some of their new stuff:
http://www.youtube.com/watch?v=0Yeb3q5nqWA
http://www.youtube.com/watch?v=HXn02jofXGk
After warming up to Little Dragon, I headed back down to the Dance Arena for Knife Party, which was a mission in itself because rock legends Guns n' Roses were playing the main stage, and we had to pass the main stage to get to the Dance Arena. Although the band that was on stage looked like and kinda sounded like Guns n' Roses, it really was just Axl Rose and a bunch of guys playing Guns n' Roses cover songs. But it seemed like half of the country showed up for this show because there was no chance of getting anywhere near that stage. There were people everywhere. It was insane. In preparation for the possibility of an overwhelmingly huge crowd, concert organizers revamped the main stage area and pushed the boundaries back to be able to accommodate more people. And people still seemed to spill over everywhere. Typically, the main stage can comfortably accommodate about 40,000 people, but there really was no way of standing comfortably during the GnR show. We managed to find an express route to the Dance Arena, which took us past the main stage, but didn't allow for even the slightest view of the stage. We passed by as they played "Welcome to the Jungle," and although I was really excited to hear it as the mean introductory guitar riff was being played, I cringed when Axl started singing. He sounded terrible, and well, old and tired. I heard mixed reviews about the show afterward. Apparently they showed up 45 minutes late, and played "new" stuff for the first hour, which no one seemed to know or care about. They finally got into their greatest hits collection, and then the show was kick-ass.
Knife Party ended up going on a half-hour late because Art Department was a no-show and festival organizers had to re-jig the nights' schedule in the Dance Arena. As the only true new-school electro representation at the festival, I had huge expectations for Knife Party and was really excited to see him live. He played an awesome variety of Electro, Dubstep, Drum n' Bass and even some Moombahton, though his set didn't really flow well for the first half and his mixing was noticeably off at more than a few points. He was great at working the mic and getting the crowd hype, but he seemed to give up on a few of his tunes early if the energy in the crowd was low, and pretty much go straight to the bangers in a really choppy way. He played Tourniquet, Internet Friends, and his remix of Swedish House Mafia's "Save the World." He also played Skrillex's "Bangarang" and "Promises." The second half of his set was just crazy. The crowd went insane over everything, and everything he played was just hard—much harder than anyone else who had played during that timeslot over the past three days—and perfect to really get the last night of Exit going.
As a result of Knife Party going on a half-hour later, I sadly had to pry myself away early so that I could catch some of Buraka Som Sistema, which proved to be a fantastic decision. Buraka Som Sistema reminded everyone why music was awesome. They were already halfway into their set when I arrived with my friends and it was like we had stumbled onto the most fun party ever. As we approached, every single person was dancing and jumping around and going crazy. Standing still just wasn't an option. Buraka Som Sistema have a couple of great studio albums, but their live act is just absurd in the best way possible. The group is comprised of two producers from Portugal and three MCs from Angola. One of the MCs is an incredible female hip hop vocalist (MC Petty) who not only spits fire when she raps, but is also a great singer as well. For their performance at Exit, they were also bookended by a couple of drum kits being wailed on by a couple of brilliant drummers. Their style of music is a fusion of electronic music and Kuduro, a type of hard-hitting, percussive, new-school tribal music from Angola. The lyrics were almost completely in Portuguese, and I doubt that anyone in the crowd had any clue what they were saying, but it really didn't matter. They were a living example of how music transcends borders and brings people together. Portugal and Angola live and direct at an 18th century fortress in Serbia. My face hurt from grinning so much.
I had seen them before in Toronto at Wrongbar, and the performance started with one of the MCs asking the crowd to help him crowd surf to the bathroom at the back because the place was packed and he would have never made it any other way. When he was ready to return, we helped him body surf back to the stage, and the show began. The Wrongbar show was also amazing, though they didn't bring along their drummers. At Exit, their performance was a non-stop party, with the Fusion Stage near capacity but with people spilling onto all walkways leading up to the stage area so that they could have more room to dance. Anyone who was anywhere near the front of the stage came out dripping with sweat. A friend of mine who had never heard of them and was a bit reluctant to leave Knife Party told me that she would never question my taste in music again. After the show, they actually came out to take photos and talk to their fans. I can't remember the last time I saw a group actually do that. Their entire presence was just so amazing in every way.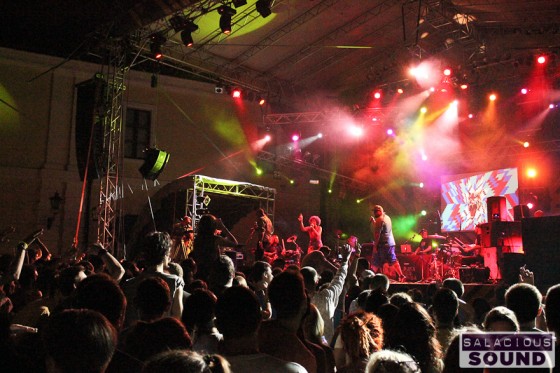 Exit could have ended right there and I probably would have been okay. Though there was still too many good acts to come and we missioned it back down to the Dance Arena for Laurent Garnier LBS.
We found the rest of our ever-growing group and tried to get into Laurent Garnier's tunes, but just couldn't. It was boring, but to be fair to Laurent, almost anything after Buraka Som Sistema would have been. We were on such a musical high after that show that we had to go find something more energetic than tech-house, which would have been great otherwise, except it just felt so bleak sounding at the moment.
In the adjacent Happynovisad Stage, I managed to catch the tail end of Skream and Sgt. Pokes, who seemed to be pretty well-received by the crowd, but were really only a warm-up for what came next. Dubstep was still a new concept to the majority of Eastern Europe, but they really loved their Drum n' Bass and welcomed DnB pioneer Goldie with open arms. Goldie played a mostly old school, liquid Drum n' Bass set to a packed crowd of a couple thousand. It was heavy, intense, chill and inspiring all at the same time. The crowd went off when he played "Inner City Life," his original banger from 1994. Goldie was actually supposed to play the main stage, but Guns n' Roses apparently had some really elaborate special stage set up, and they decided it was easier to just relegate Drum n' Bass legend Goldie to a smaller stage. It ended up working really well, because the Happynovisad stage was wedged in between a couple of 30-40ft. stone walls, and there was just enough room for the people who really wanted to be there, and the party was fantastic. Goldie was dope and even better was listening to classic DnB tunes while watching the sun rise over the fortress walls.
I left his set early to catch a decent amount of Maceo Plex, who had people going crazy to his special blend of funky-hard-soulful-deep-and-techy house. He was the second last act to play the Exit festival and didn't want to get off the decks when his time was up. His set felt quite tame at times, but it was because he was taking us on a brilliant musical adventure. He just kept a steady flow of awesomeness going for about two hours and was really really well received by anyone still left standing at 7:00am on the fourth and final day of Exit. While he's got more than a few amazing tracks that everyone's undoubtedly heard more than regularly at club nights in North America and all over Europe, he treated us to a ton of unknown gems in addition to a few of his own genius tracks. I don't think I had seen a DJ smile more at Exit than he had.
The last DJs to play the Dance Arena were Marko Nastic, Dejan Milicevic, and Marko Milosavljevic, The three DJs, who are Serbia's biggest club DJs, traditionally played back-to-back-to-back to end the Exit festival every year. They played some amazing techno to close out the festival and there must have still been a few thousand people there still going hard until well after 8:00am. Behind them, the stage was full of the people who worked the hardest to put the festival together, all dancing behind three of the guys who helped build the electronic music scene in Serbia. It was probably the nicest vibe the Dance Arena had seen all weekend, and reminded us that we could look forward to experiencing it all again next year.