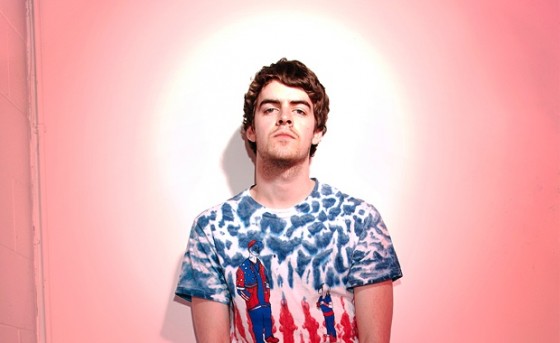 'Introducing' is a weekly feature highlighting new and upcoming artists from the world of electronic music. Every Sunday we are proud to present a musician worth their salt, who is pushing bounds, making waves, is undiscovered, under-appreciated, or about to blow up, and most importantly, is making music people will be talking about six months from now.
Hip-hop music is in a very positive place right now (#TYBG). Legions of talented, young rappers are embracing a wider range of subject matter, production styles, and vocal techniques. It seems that the era of 'bling' has finally come to a close; the rap game in 2012 isn't about braggodocio, it's about creativity. That being said, the artist featured in this week's edition of 'Introducing' is actually not a rapper but rather, a producer. Often-times, hip-hop producers are over-shadowed by rappers and while there certainly is a great deal of rappers out there worthy of praise, there is also a considerable amount of hip-hop producers who are not receiving the credit they deserve.
Halifax native and N64 aficionado Ryan Hemsworth knows exactly what it's like to be the underdog. I mean, this is a white dude, from Halifax of all places, making esoteric hip-hop beats of the likes have never been heard before. So, let's just say, stardom didn't come easy to the forward-thinking maritimer. However, after several years of hard work and support from peers as well as blogs, (SPIN being one of them) Mr. Hemsworth is finally 'bubbling' up from the underground. This past Tuesday saw the release of his magnificent 'Last Words' EP, prompting an influx of praise from critics and launching the name Ryan Hemsworth into blogosphere ubiquity. Featuring remixes from top-notch producers Shlohmo, Baauer, and Supreme Cuts, the 'Last Words' EP showcases Hemsworth at the top of his game. Lead single "Charly Wingate" starts things off in supreme fashion with its haunting atmospherics, pounding rhythm, and the ironically appropriate vocal refrain "only music, money, family are important to me." "Colour & Movement" is a lush foray into downtempo and introspective hip-hop that comes complete with an Elliott Smith vocal sample. Hemsworth pays tribute to the Legend of Zelda on "Happy Mask Shop", a triumphant jam with a rollicking snare pattern. The EP finishes off with two murky left-field hip-hop tunes "Slurring" and "Overthinking" both of which are deeply engrossing and laid-back. If you're hungry for something fresh, something rare, and/or something legendary, look no further than the 'Last Words' EP.
As a bonus, I've included four mp3's below that I consider to be examples of Hemsworth's most impressive production. His frequent collaborations with North Carolina rapper Deniro Farrar and Green Ova rapid-fire MC Shady Blaze have proven to be very well-matched, yielding exceptional tracks such as "43 Hours In" and "Celebration". You can click on the Soundcloud links to download both of those as well as two of Hemsworth's masterful remixes. His re-work of Grimes' "Genesis" is without question my favourite remix of 2012 so far followed closely by his bootleg of Frank Ocean's "Thinkin' Bout You". Trust me, they are seriously smooth jams.
Ryan Hemsworth is da future of hip-hop, REAL TALK MANE!!! Revisit the video for "Charly Wingate" below. totem out!