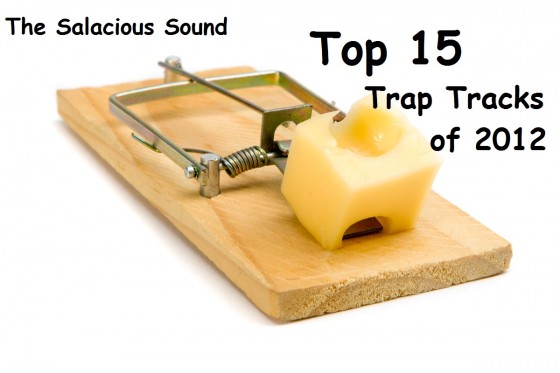 Some of the tracks in this list will be familiar to any of you that know what trap is, and hopefully a lot of them will be new and broaden your musical horizons. Here's my Top 15 'What's Hot' in trap music so far this year:
#15: Tigorilla – Ray  
A little bit seapunk, a little bit trap, this track by Tigorilla has that great underground sound to get people moving in whatever lounge you play it in.
#14: Die Antwoord – I Fink U Freeky (CRNKN Remix)
CRNKN is the online persona of New Hampshire talent Gabriel Baer and I really have to hand it to him; not only did he make a Die Antwoord track bearable, he made it very, very enjoyable.
#13: ӃΔW!i! – ẐỢốṪἐД
You're all thinking it so I'm going to go ahead and tell you before you have to ask. The track is called "Zooted" and the artist's name is pronounced "Kaw". Yes, I hate his spelling. Yes, the track is great.
#12: Heartbreak – Pretty Hooligan
Heartbreak has made quite a name for himself in the moombahton scene and even though he's moved on refining his sound I still keep coming back to this track. It's a perfect bridge between older hip hop/trap muzik and the new wave.
#11: DJ Sliink – Everyday 
I'll be honest, I don't know all that much about DJ Sliink apart from the fact that he's from Jersey and just released a free track with Brenmar on Body High. I can't ignore this track though.
#10: Swedish House Mafia – Greyhound (Drankenstein Remix)
Drankenstein is Bird Peterson's trap production alias. This remixwas taken off of SoundCloud for copyright reasons so I can't post it here, but I'm sure if you do a little digging a la Google you can find a download 😉
Even though I loathe to do this, here's a youtube link for this track. Turn the quality to HD and don't look back. It's worth it.
#9: Ryan Marks – Fiji
AC Slater called him one of the top up-and-coming producers on his radar in a recent interview with White Lite Production, I call him "Mr. Nice Guy." Ryan Marks is a new force in the trap game, but that doesn't make this track any less worthy of its place in this list.
#8: RL Grime – Trap On Acid
RL Grime aka. the side-project of side-projects was recently outed as being Clockwork's new avenue of expression. He finds a great balance between both an accessible and an underground sound in all his productions. If you like this one, be sure to check out his remix of Drake's Over.
#7: TNGHT – Bugg'n
TNGHT is a powerhouse collaboration between Hudson Mohawke and Lunice that I'm sure we'll be hearing a lot from in the fall and well into 2013. Bugg'n is my favourite track off their recent self-titled EP (released by Lucky Me) which you can purchase here.
#6: ƱZ x CRNKN – Booty 2 The Ground
You may or may not know about this mystery talent, but if you've ever wondered why so many new trap producers type entirely in windings you can point your finger squarely at ƱZ. All I can really say about him (or her) is that when I asked him/her over Twitter if he was male, female, black, white, or what have you he/she responded with "I'm a computer." Very interesting.
#5: LOUDPVCK – Brick
LOUDPVCK is a brand new East-meets-West collaboration between Ryan Marks and Kenny Beats. Their SoundCloud is sparse (for the time being), but this track really stands out to me.
#4: Sleigh Bells – Demons (Diplo Remix)
Being the cultural icon that he is, when Diplo released this remix of Demons by Sleigh Bells it gave bedroom producers around the globe the green light to approach trap with the same force they gave moombahton during its inception.

#3: Flosstradamus – Rollup (Baauer Remix)
If you've heard of trap, you've heard of Baauer. His most recent production, a remix of Flosstradamus' Rollup, is being released by Fool's Gold Records on Volume 2 of their Clubhouse compilation.

#2: Major Lazer – Original Don (Flosstradamus Remix)
Say what you will about when trap really started and its deep roots in hip hop, it was unequivocally this remix by Flosstradamus that popularized the genre in its current electro-influenced, bass-heavy iteration.

~~ #1: Baauer – Harlem Shake ~~
If Original Don started the craze then why isn't it at #1? Because it was this track by Bauuer, previewed in a Diplo BBC1 mix, that made it cool and started the the whole trap frenzy. Yes, everyone knows this song (and a lot of you may be sick of it), but god dammit it deserves #1. Harlem Shake was released along with Yaow! by Mad Decent as Jeffree's number 16. You can download both tracks through their mediafire here.