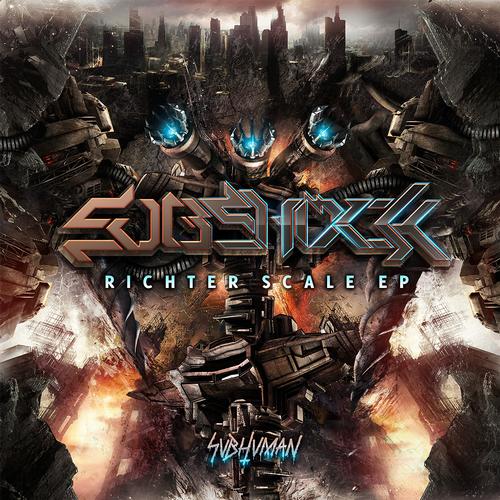 -Purchase this EP from Beatport.
I love finding new artists. Even though Subshock has been around for a while, I have never heard him before. And when you don't know an artist, you have an opportunity for a pure listening experience, free from expectations.
Catch Me

'Catch Me' starts out with some rap lyrics that are a few octaves lower than normal. The whole time I listened to this I wanted to be in a mosh pit – it's aggression made into sound.
Bring the Bass 140 mix

By the time you hear this song you're going to know Subshock's style: relentless, heavy, and catchy. Sampling Public Enemy this time, the song feels like what "bring the Noise" would have been if it was made in this generation. The drum samples he uses are great as well – each kick drum is almost as heavy as the bombarding bass line.
Bring the Bass 175 mix

This is my favorite song on the entire EP, and is also the heaviest. It's not just the original sped up, he adds a lot more detail in to this remix. The opening has sirens blaring while melodies from Public Enemy's track are layered over it giving it character. If you buy only one track from this EP make sure it's this one.
Disco Rocket

Being the most melodic song on the entire EP, Subshock doesn't take away from his aggressive style. The opening is almost, dare I say "elegant"? But then it transitions from quiet to loud, and the bass pummels you.
I went into this EP knowing nothing of the artist and I left with anticipation of what is to come next. This is easily the heaviest album of the summer. The only complaint I can make is that this EP is only four songs, though to it's credit each of them are some of the best in terms of aggression, production, and style, combining Dubstep, DnB, and crunk to form a style that is original. You have to check this out.