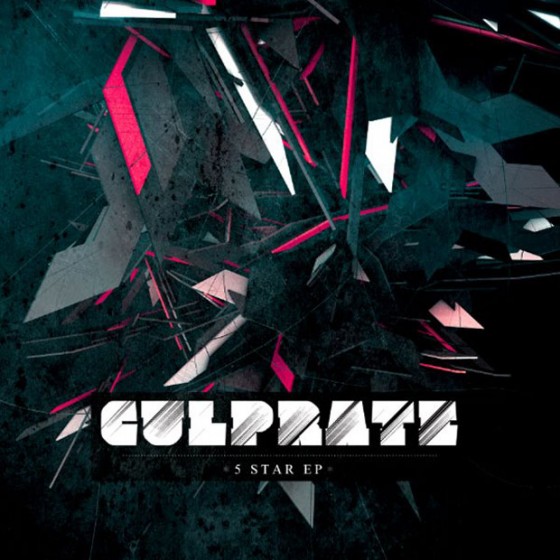 Culprate is a relatively underground young producer. In a scene were there are thousands of bedroom producers that sound similar, Culprate is the exception. When I heard this EP I was blown away at the sound design and production value. 5 Star may only have four tracks but its bursting with originality and energy that will leave you wanting to hit replay. His brand of glitched out Drum n Bass is a unique experience you have to hear for yourself.
Ono

Ono is the stand out track on the EP. The opening sounds are minimal but they do a good job of keeping you engaged. When the bass hits you instantly think of Kill the noise and Koan Sound. The bass is funky and glitched, and contributing to the groovy bass line are a series of random synth patterns and beeping noises, all layered on top of a drum n bass rhythm.
Culprate has truly made a sound that is unique to him and this track is a great way to open an EP. Listening to it you'll notice that the song isn't heavily layered. Its minimal. But what is there are deep original sounds.
Tentacle

'Tentacle' is the fastest song on the EP but its also the mellowest. A simple, catchy, embracing five note synth melody plays throughout the song. A few random drum patterns are introduced to break up the simplicity of the song, while the bass is felt but barely audible – and effect I appreciate.
The song is very bleak and mysterious – it's not as gltiched out as 'Ono' but it retains the feel it gave. Towards the end of the song it turns into a seven second breakcore song. As a fan of breakcore, I wish Culprate would have elaborated more on this. But it just adds to the uniqueness of the track.
Finger feat. Linguistics

'Finger' is another slow-paced, glitched-out jam. It features two verses of fantastic vocals – a perfect amount, which otherwise would have taken away from the experience were it a rap song. In between versus Culprate brings another series of catchy bass and staccatos. A pulsating harmony is added on top off all this to make another great track.
My Rock

'My Rock' starts out with some staggering vocals. Quickly into the song the build up begins and the bass starts a 4/4 beat. This beat is dancable and enjoyable but then the song takes a huge 180 degree turn. Out of nowhere Culprate adds a Latin-influenced guitar melody – the most complex one out of the entire EP. I can find people disliking this but for me I loved it. It gave the song a personality that I haven't found in any other song as of late. The melody of the guitar was just as bleak as the atmosphere of the song.
Culprate may be one of the most astonishing "bedroom Producers" out there. His attention to detail can be compared to the big names in our scene. His style is bleak, minimal, and funky. He combines sounds that wouldn't normally work together and makes them work. This EP isn't for everyone though, and unfortunately I feel like a lot of people will over look it. But give it a try or two, because it's worth your attention.
I for one cant wait to see what Culprate has in store for the rest of 2012.