This article was generated in collaboration with vitaminwater and the FADER #uncapped concert series, and we are most grateful for their support of our craft and for putting on a great Chicago show!
You can watch the extensive + exclusive uncapped concert series video content on the vitaminwater YouTube channel. There are several more dates and a good deal more content to come!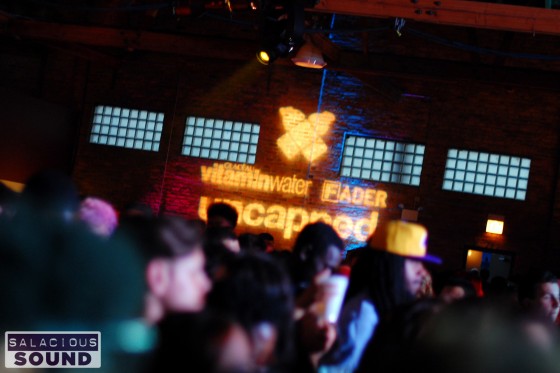 All photos credited to: Andrew Vaughan
Chicago is known for a great many things, it's unique attitude, the Bulls, the beautiful architecture, but it is no lower east side, and thank Rahm for that. Chicagans tend to stay away from Williamsburg type asymmetrical haircuts, secret shows and non prescription buddy holly glasses if they can help it.
In the converted industrial train garage where Fader chose to host their "Secret" Uncapped Vitamin Water event on Thursday, there was enough exposed brick and beautiful people to make one forget that you were in fact, in Chicago's west loop.
Setting the tone for the evening was DJ Maseo of De La Soul, and if you weren't yet convinced that this was a legit instance of scene, than the confused looks of all the youngness clutching their free PBR, bopping along to the finest of hip hops golden era tracks would have been more than convincing.
I mean, it was cool, it was dope even. It was relaxed and chill and the girls from Lincoln park were dancing with the faded dudes in the Bulls snap backs and it didn't seem unusual, and in Chicago, that in itself is unusual.
Then there was Santigold. Santigold doing exactly what you would expect her to do – being the illest, world music grimey deep dub trip hop cheerleader that you know she is. 1 part Tiffany, 1 part creole soul, and entirely herself..she seems to have more fun than most on stage. She may have twin dancers as her musical guard and a band wearing some bizarre zombie/zulu nation get up, she is the only one of her entourage to seemed to be taking it at face value, and her audience for sure appreciates that.
A James Brown tribute (glitter cape) and 1 costume change later (Hold the Line) Santigold invited the audience up on stage to rock the fuck out with her (Creator). Accessible, interesting, talented, and soulful (she may be from Philly but she might as well be Trini) Santigold's performance was a total delight to participate in.
I could have left it there and been totally satisfied. Why leave it at that FaderMag? No no, you gotta bring out somebody else equally dope. DC native Wale follows the formula, sure, but he does it well. Like most DC rappers he can hold you tight in the "holy shit somebody is going to get beat the hell up to this jam #thuglife" and then approx. 3 minutes later you are thinking, man, I would probably take this dude home to my mom. He is like DC, dangerous, yet thoughtful and fun, and I was totally pumped to know every single word to arguably biggest pop hit "Chillin" which he performed, of course.
It was a whole lot to take in – and coming from the Screw Face Capitol of the world (Toronto) I was ready to take down some silly reductionist account of the whole affair, and at that moment, I saw some uppity gold coast chick dancing like a prostitute and it didn't even bother me (get it girl!)…cos the whole thing was just that.. ridiculous and silly…and fun. A serious fun, good time.