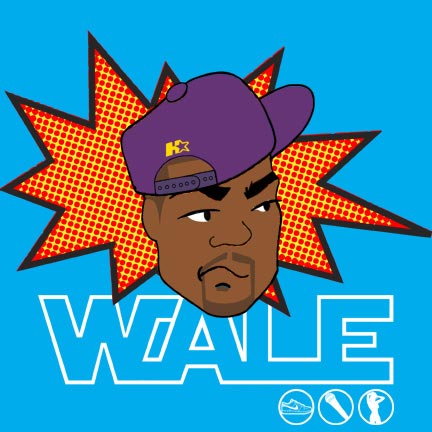 People are always complaining about how today's mainstream hip hop has devolved into nothing but a catchy beat and immense autotune (see e.g. Kanye West or Lil Wayne). The complaints are definitely nothing new, so I'll spare you guys the usual rant that I'd get into here…
Instead I'm going talk about an artist whose been getting a ton of attention on the East Coast, especially in the D.C. Metro area who is growing fast. Wale has been labeled by many as the next big thing, and it doesn't take long to figure out why. From his slick flow to his intelligent lyrics, this cat is definitely refreshing to listen to. Yet, more than that, Wale brings an air of respectfulness and legitimacy to the hip hop scene that has been absent for far too long. Hell he even seems like a legitimately nice guy, though we'll see how that changes as his new album "Attention: Deficit", which by all counts is going to be a monster, drops this June. I'm sure we'll be hearing more about this guy over the next couple months.
Wale's first released track from Attention: Deficit features Lady Gaga and is catchy but nothing groundbreaking, but this is just the tip of the iceberg. Thought I'd throw in a few favorites from Wale's "Mixtape about Nothing", a Seinfeld themed mix that dropped in 2008, so you guys can get a better feel for his sound.
Enjoy,
BDJ
[audio:Wale – Chillin' (Feat. Lady Gaga).mp3,Wale – The Perfect Plan.mp3,Wale – The Grown Up.mp3]