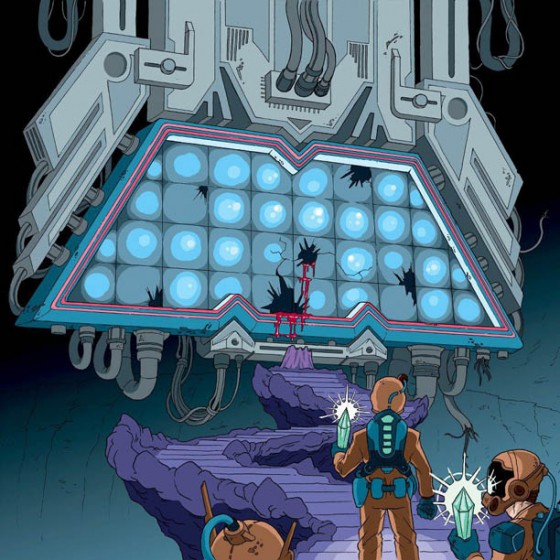 The M Machine is a group not given to publicity, despite their presence on Skrillex's Owsla label; they've clearly kept themselves on the down-low until they were good and ready to emerge, album in hand and ready for the masses. The San Fran natives have delivered the ambitiously-titled Metropolis Pt. I, implying that this EP will be completed by another later in their careers. That being said, the last thing that Metropolis Pt. I needs is something to help it succeed, as it is a beautiful (half an?) album.
The opening track, Immigrants, has an amazingly classic feel, harkening back to the early sci-fi movies of the past century. A beautiful, brief opening hooks you into the EP immediately, turning into synths that remind one of starting up a super Nintendo for the first time. It's a bit of retro-dance glamour that's a good opening for the album to come.
Deep Search has a great use of a 6/8 time signature that isn't normally heard in EDM outside of 'the drop'. One could draw comparison's to some of deadmau5′ darker electronic pieces; however, what really draws one into the song is the utterly beautiful shift in tone about two minutes in. There's an epic scale and grandeur to it, laying aside crunchier synths in favour of strings for a few moments to give the track a soaring melody. Although it returns back to its original thrum, the uplifting break in the middle forces it into an entirely new sonic context.
The next two tracks are very indie dance in tone; A King Alone and Faces both feature vocalists outside of the EDM norm. A King Alone manages to sound robotic without resorting to vocoders, which lends it a feel that can't quite be described as organic but does make it feel very genuine. It's a pretty track, and very lighthearted amidst some of the heavier tunes on the album. As the shortest song on the album, Faces is probably the most interesting lyrically. The vocalist, who remains nameless, lends a beautiful brassy jazz alto to a song which would otherwise be very creepy indeed.
The groans and strains of machinery and beastly, robotic footsteps open Black, definitely the most dance-oriented track on the EP. It's not straightforward electro house, but it does have great aggression and hard-hitting synth punches. Of course, the piece does have a by now trademark sweeping cinematic break, seemingly continuing the story of Metropolis, but it does remember to go back to its dance-track roots. Instead of being just another house tune, the placement of this song amongst an album of mellower songs gives it the odd distinction as an electro-house breath of fresh air on an electronic album. It's a brilliant move on The M Machine's part and generates new interest in even the most jaded of electronic lovers.
When Shadow in the Rose Garden was first heard during the M Machine's fall and winter tour, it was easy to assume that it was simply a remix of the beautiful Promise Me a Rose Garden. Fortunately, it is much more than that; it's an all new drum-and-bass flavoured dubstep track, with some recognizable vocals and great halftime sections that aren't cluttered by useless noise. It's a nice balance of light and dark that echoes the themes of the EP as a whole.
This EP is a story beginning to end. It's not a dance album, but a journey of discovery, as the album art implies. There's a sense of wonder to this album, one that tells you neither the Artist or EP is overly concerned with being danceable or fitting inside of a genre bracket. It's hard to find criticism with such a polished, packaged product that isn't trying too hard be something it doesn't want to be. It's uniform, but not uninteresting 8-bit synths unite the sound, and the album's progression is a perfect swell and release of energy and tension. If you want an energetic break from four-on-the-floor, I implore you to give this release a listen.
You can buy Metropolis Pt. I on Beatport or check it out on their Soundcloud.