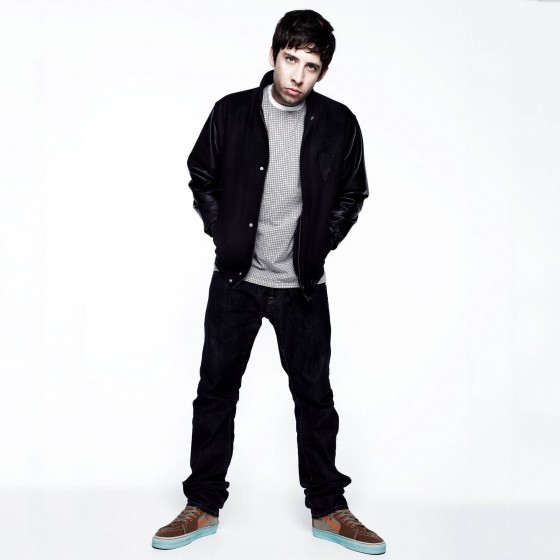 Over the last decade British singer / rapper Eliott Gleave has been through a lot of change. In 2000 he was a film student moonlighting as an MC at garage parties in order to make bills, and he had released a few white-label vinyls. Now, he's a laureate of the UK rap and electronic music scenes, and has made Example a household name across Europe, Asia, and Australia which is associated with huge arena tours sporting swelling + euphoric audiences of 15,000.
Ask him about his US-debut in NYC on March 26th however, and you can sense his excitement for what's yet to come. He has made what will be his first of many moves which will capture the attention of North American dance music lovers.
Where did it start?
By 2006 it was pretty clear that Gleave was destined for success, although his early work would belie the musical direction in which he'd find the most success. With a couple jobs working in film and music-television under his belt, he released a few singles which gained the attention of The Streets' Mike Skinner. Gleave proceeded to cut a full-length effort on Skinner's late label 'The Beats'. A few short months later, Skinner killed off and held a funeral for The Beats in 2007.
Not one to be dissuaded, Gleave forged on. He self-released his next single in early 2008 and shot a music video in 4 days for a thousand quid. And in mid-2009 he released his first chart success 'Watch the Sun Come Up.'
The pivot
My interview with Example focuses on this 2009-2011 period in his career, because to me and many of his fans it marked a turning point in his career. That shift from rap towards house, dubstep, and the stadium electronic sound that characterizes his latter releases was the move that, I predict, will see him headlining North American arenas and festivals in 2013.
Cal: I'm more interested in asking you today about your music and some of the changes I've noticed, and try and stay away from some of the typical stuff that people pick at when they interview you because I don't think my readers are going to find that interesting.. we aren't a tabloid.
So first subject is what you're doing in the U.S. You had your debut U.S. performance last night, right?
EG: Yeah man. I mean, I was in Miami a few years ago, and I jumped on a few peoples' sets. But last night was the official sort of first performance, you know, headlining sold-out show. It was interesting.. pretty exciting.
Cal: That theatre, the Gramercy in New York, is pretty big too right?
EG: Yeah it's like 700. For what we do in the UK that's kinda tiny, but for a first gig it's kindof a cool place to start out.
Cal: I mean you have that arena tour in the UK coming up, so,..
EG: Yeah we're gonna be playing to 15,000 people a night.
Cal: Definitely a different scale. So I think that, and you tell me, that there are a lot of people over here that are really receptive to the sound you're putting out right now. So what was the crowd like last night, and what was the stage arrangement like?
EG: The crowd was mixed! I mean, we played a similar set to what we've been playing on my European tour, across 17 cities in all foreign language countries. So, it starts off a bit rocky, grungey, and in the middle it goes dubstep, and then the last fourty minutes is like a big house set. So all my biggest singles all mixed in, with remixes. We kinda play like a DJ might perform, but by a live band. And we don't really stop at any point to chat or for silence. The whole show just keeps going, a bit like when I used to watch Faithless. They didn't really have breaks.. they just kept playing through everything with segues, it was all just mixed in but played by live drums and keyboards and guitar. I think it keeps the audience's interest, and allows the set to just keep building and building.
Cal: Am I right in thinking you toured with Faithless?
EG: Yeah I supported Faithless about 18 months ago on their last arena tour, and then I was lucky enough to do a song with them on my current album Playing in the Shadows, it's a song called 'The Way'.
http://www.youtube.com/watch?v=yuzMW4RA4c0
Cal: So you mentioned that your set starts off kinda grungey. Playing in the Shadows sorta had a theme was inspired by grunge music a bit right?
EG: Yeah. What I used to love about Pearl Jam, and Nirvana, and the Smashing Pumpkins is that the lyrics were really honest, and they were almost.. I mean, when Eddie Vedder or Kurt Cobain sang, they were almost a bit fragile. They were opening up their hearts either about relationships or their life, or their friends, or politics, or drugs and addiction. So, when I was trying to write Playing in the Shadows, I wanted to tell people about my life, things I'd been going through with my girlfriend, dealing with fame and shit, all the stuff that's thrown at you.. the women, parties, drugs, alcohol. So I kinda turned to grunge music to find my voice and my sound, and I think there are certain tracks on the album like Skies Don't Lie, or Under the Influence, the title track, and Natural Disaster as well. The melodies are very grungey, you know? It's quite melancholic, and bittersweet, but still uptempo at the same time.
Cal: So let me ask you – what's the concept for your upcoming album that you have in the works? And it's coming out on Mercury?
EG: Yep, it'll be out in the UK around the end of the year, like November. So I imagine it'll be out at the beginning of next year on Mercury/Def Jam.
So I've always tried to do something different with the albums that I put out. I've always liked rap, and rock, and dance, but I've focused on different things on different albums. You know growing up, I listened to Wu-Tang, Snoop Dogg, and Jay-Z, and I also listened to Prodigy, and Faithless, and I went through a massive grunge phase. I was a big fan of Sublime and Green Day.
So my first album was purely hip-hop, because that's all I really knew how to do. I only knew a hip-hop producer. I had only ever rapped, and never felt comfortable singing.
My second album was me more experimenting with melodies, pop, and it kinda ended up like an electro-pop album.
And then the third album was me going more dance, like house, dubstep, but retaining the honest and rocky vocals, singing about real life.
So with the fourth album now, I want to kinda retain some of the rocky attitude with the vocals, and I want electronic production, and go to the same producers I've been working with and a few new ones as well. But the production will be all guitars. It'll be kindof a stadium dance album. Very epic guitar riffs, but produced with electronic drums, synth, and bass.
Cal: Is that where the Kasabian influence appears?
EG: With Kasabian, they have an attitude I want to recreate. They're very British, very lad-y. You know, real lads. Almost like terrace chants, you know, that you hear in the terrace at the football stadiums. That's the kind of thing I want to replicate. Seeing them live, they blend elements of rave music, especially with their lighting and their sound, and then with guitars as well. That's what I want to replicate with this album, although the lyrical content will be very different from Kasabian.
Cal: So you tour pretty widely, doing everything from foreign language countries like you mentioned, the UK, Australia, and you're hitting the U.S. now. Do you notice differences in crowd responses to your sets?
EG: You know what? I don't really. My biggest songs in the UK are my biggest songs in Asia and all over Europe. Like last night in New York, the biggest songs were probably Kickstarts, Changed the Way You Kiss Me, Watch the Sun Come Up, Stay Awake.
People got the dubstep, but they didn't react to it as much. I feel like dubstep is kinda awkward to dance to. The tempo and the sort of rhythm of it is awkward to dance to compared to house, which is very easy to jump up and down to.
So I saw the crowd enjoying themselves and going a bit more crazy to the house tempo stuff, and all the big singles. It's pretty much the same all across Europe, it doesn't matter whether we were in Germany, or Italy, or Scandinavia. People kinda went crazy at all the same points, and reacted to the same stuff.
So you notice a difference in cultures, when you go out in the world obviously, and maybe in the way the kids dress, or when you go to the local radio station how they play different music. But my fans all kind of want the same show, and come for the same reasons. To bounce, to sweat, to scream, to shout.. you know, euphoria, put their arms around their friends and dance up and down. It's kind of nice that the whole world reacts to it the same.
Cal: It must be rewarding as an artist to have a piece of consistency even though you're in these disparate places?
EG: Yeah, like in Korea where they don't speak English as well, they know all the words to my songs which is just a really weird concept..
Cal: So you mentioned in a previous interview that your writing process usually considers the melody of what you're writing before the lyrics or the raps.
EG: Yeah?
Cal: I'm interested to what extent, and I could be off base, but to what extent was the collaboration with Skream a turning point towards more dancefloor oriented melodies backing your vocals?
EG: I mean the Skream record wasn't really that for me. I suppose from a public point of view it was, because kindof, off my last album I'd had Kickstarts and Won't Go Quietly, and Watch the Sun Come Up. And then there was a quiet period, and Shot Yourself in the Foot Again came up. But by that time, I'd already written Changed the Way You Kiss Me and Stay Awake and Midnight Run. I was already leaning towards a more dancefloor or dance arena, hands in the air, anthemic kind of singing.
But Shot Yourself was a turning point because, as far as I could tell, it was one of the first mainstream dubstep songs with a mainstream artist singing over it, by an underground producer – one of the guys who sort of started it…
Cal: Originator?
EG: Yeah, I mean, even Skream will say that he didn't start it, but he brought it to the public's attention.
So that was definitely a turning point.
But the way I usually write songs is I write the song title first, and then I'll give that song title some kind of melody in the song. I'll have a tag line before the drop, and that becomes the song title, and I'll work backwards from that tag line, I'll give the chorus it's melody, and then I'll write the raps as you say.
Cal: On that note, I'm interested in your thoughts on how easy or difficult it is for artists to pivot, and change their sound these days?
EG: I think it totally depends on the artist. The only way you can have integrity with what you do, and make new choices and decision about changing or evolving a sound – the only way you can do that, for me, is if you understand the music, you're a fan of it, and you're a fan of what you put out yourself.
I know for a fact that there are artists out there who release songs they're not proud of, or they didn't believe in, but maybe it was their manager's decision, or their producers' decision, or their record label pressured them to do it. I've never been in that position, but I kind of found it easy to move from rap to singing, from hip-hop to dance music, because I was always a fan of dance music anyway.
It's not like I was a rapper, and wondered what was this new house hype, and wanting to jump on that. It happened more naturally for me. I was a massive Prodigy fan, and a massive Rage Against the Machine fan, and decided I would try singing. I liked the dirty bass, and prefer it to the hip-hop stuff. The hip-hop stuff was too slow for me when I sang it.
I think as long as it comes natural to the artist, you can make any music you want. There are always going to be DJs who stick to purely house, other producers who stick to purely dubstep. But even Skrillex was in a rock band before he made dubstep.
For me, I kind of feel like even though my first album was rap, I feel like that was just a learning a period, a transition period. What I'm doing now is kind of what I should have always been doing. You have to go through those moments, your evolution I suppose, to end up on the other side.
Kanye was originally just a producer, and ended up one of the biggest rappers in the world. People kind of forget about his amazing production skills.
Cal: So you're a little outspoken about this kind of stuff. Maybe we could call it "making music with edge?"
EG: Yeah!
Cal: Do you want to talk about who's making music with edge?
EG: So I don't think edge means it has to be underground or "cool". For me, there is some music that you just hear in the charts, and think "they can't possibly be a fan of that.. they're just jumping on the bandwagon." I've always just made music that comes natural to me. I don't really want to start pinpointing people, it's too obvious now.
So Kanye, what he does is really exciting. Every album he's done something kind of different. He had like a pop album, and then a singing album, and back to some pretty underground hip-hop. He's not afraid to be controversial and speak his mind either, and I really like that.
I'm big on Chase & Status, and Nero. They've got really distinct sounds. They have set themselves their own ground-rules that they're strict to, which I like. You know, there are certain people they won't work with, and there are certain types or genres of music that they won't fuck with. They stick to what the like, know, and understand, and that's cool.
There are other people out there that aren't afraid to change their sound with every album. A band like The Horrors, where every album sounds different. It's experimental.
Same with people like Damon Albarn. He's got all these different projects going on, like one minute he's Blur, next minute he's Gorillaz, then he's The Good, The Bad, and The Queen.
Jack White is the same, just experimenting with different sounds and projects all the time.
They're the people I really admire.
Cal: So one of the guys I was interested in hitting on was Diplo – you're going to be doing a bit of work with him on the next album right?
EG: Yep.
Cal: Are you in to Moombahton at all?
EG: Yeah I did a song with Dillon Francis on my new album!
Cal: Right he did a remix of Daydreamer?
EG: Yeah, I actually did a song with him too though, on the new album.
Cal: Oh! Sick!
EG: Yeah the new album has Dillon Francis, Kill the Noise, Dirty South, Diplo, Tommy Trash, Laidback Luke, Benga, Feed Me. It's pretty cool!
Cal: A who's who of producers!
Well that about wraps up what I had. I appreciate your thoughts, because we try to focus on what we like – there's so much out there that's great that we can't possibly talk about it all. It feels like a waste to talk about what we think is crap.
EG: For sure!
Cal: Great to pick your brain today. I hope your UK tour goes great!
EG: Appreciate it! Alright Cal, cheers for that. Take care.