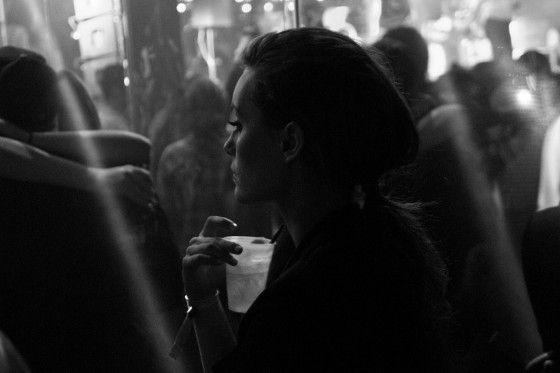 1. JacquesMaster at Icee Hot, Barcelona
On the closing night of SXSW, Jackmaster and Jacques Greene's last minute surprise, back to back set — dubbed "Jacquesmaster" — pulled out all the stops at Barcelona to delighted partiers at Barcelona. Straight from earlier performances at the SBTRKS showcase at The Madison, Numbers label head Jack Revill stepped in to accompany Jacques Greene at XLR8R Magazine's party to deliver a stunning mix of classic house, techno, hip hop, and bass music. The two worked the crowd into a swirling dance-vortex; alternating between Jackmaster's signature selections, and Jacque Greene's unmistakable productions, the set was a complete success.
2. Boiler Room, SXSW House Party Edition.
London's seminal online music show has traversed the Atlantic on a number of occasions, all to great success — but there has never been a Boiler Room party quite like this one. The scene was as follows: a three story rental house in east Austin, complete with garden and rooftop patio; an all-star cast of DJs including Hudson Mohawke, Lunice, Machinedrum, Jackmaster and Oneman, Nick Hook; and a couple hundred euphoric partiers rammed inside. This night, the name "Boiler Room" was more than appropriate. The walls dripped with sweat, the house bulged at its seams, and over two hundred people packed into the living room and the roof of the house. It was a house party of the tallest order — all friends of friends of friends, drinking, dancing, crowd surfing and shaking the house from its foundations. Yet somehow, it was also a Boiler Room party; its raucous energy was instantly transmuted, encoded and broadcasted to thousands of viewers across the world. The party was good — so good, in fact, the Boiler Room hosts were evicted the next day.
3. Surfire Showcase: Machinedrum at Barcelona.
Travis Stewart's critically acclaimed solo project, Machinedrum, shook Barcelona's foundations on the Thursday night of SXSW. Playing what seemed to be one of his wildest-ever shows on this side of North America, his signature juke inspired rhythms, lush production, and soaring melodies from his landmark 2011 release, Rooms(s), as well as harder cuts from all around the 160bpm bass continuum pummelled the audience into a frenzy — and they pummelled right back. The crowd was ravenous; the rapid-fire, heart palpitation inducing bass, along with Machinedrum's live vocals, elicited chants, singalongs and dancing of the best kind.
4. Apparat DJ set at Wunderbar Brunch
In what seems like a never-ending chain of wild and brain rattling parties and acts, The Wunderbar Brunch, on the Wednesday afternoon of SXSW was a welcome oasis — a German techno oasis, that is. Located on an intimate rooftop overlooking the madness of 6th Street, gourmet German fare was served, while acclaimed electronic artist Apparat, a.k.a Sasha Fink played choice cuts of prime time techno and house to patrons. While some of these selections may have seemed more suited for a 5am party at Berlin's Berghain, the experience was positively sublime under Austin's sunny, blue skies. It was definitely one of SXSW's calmer — but no less excellent moments.
5. Sepalcure at the Madison Thursday Night,
Sepalcure — comprised of Praveen Sharma (Braille) and Machinedrum (Travis Stewart) took the stage at the intimate Madison to a full house. Hot off the release of their critically acclaimed, self-titled LP, they were in top form. The duo came together to deliver, not only their trademark lush production, head nodding rhythms, and infectious melodies, but their inimitable and highly magnetic stage presence. Straight from their second or third performances of the day, Sepalcure's performance was flawless, leaving only one thing to possibly yearn for: visual effects guru (and often third member) Sougwen Chung's visual show.
[nggallery id="136″]