Amsterdam: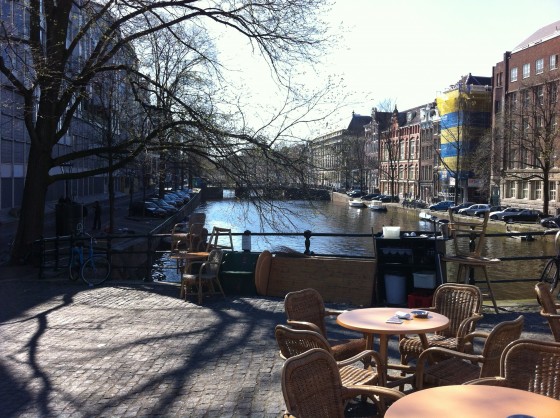 It's six in the morning of my technically-second day in Amsterdam and there are two girls, one dutch and one foreign, in the open-shower of my hotel room. The dutch one has legs that, as a good friend says, "go all the way to Las Vegas," who lost a game of exponential dares called "dobbelstenen," or "dice."
The shower is just a clear glass chamber in the middle of the room. Never before have I appreciated such a lack of showering privacy to this degree.
The water is splashing off of them and out of the little shower enclosure and I am being pulled, through libido telekinesis, from my keyboard.
The trip kind of got weird right off the bat.
My three days in Amsterdam
Might have been some kind of vivid dream
Were the closest I've ever come to love at first sight (sorry ladies)
Had a house music soundtrack
When you play a song inside your head without reacting to any external stimulus, it's called audiation. I never knew there was a word for that thing you do when you trick yourself into hearing some song you love by imagining it, but now that I know, I will always associate this idea with Amsterdam.
It's a city with 128 heartbeats per minute; dance music is pervasive. Every cab, cafe, clothing store, hair salon, and halfway decent local club is playing chilled out, amped up, dirty, clean, minimal, full, any kind of beat.
My friend Alex and I arrived and immediately took a "fuck it" cab from Centraal station… Our first hotel, CitizenM, was easily accessible by the 5th line, but we weren't eager to decode the (albeit straightforward) Amsterdam tramway. CitizenM, it turns out, was a little further than expected… and is kind of a robot/astronaut hotel.
Our room is efficient in a HAL-like way—American-king bed built into the wall, with the toilet and shower in the middle of the room, coverable by sliding glass pod doors. Alex and I look at one another and mutually agree that it's not gay.
The rooms in CitizenM are basically toys, and we entertain ourselves by putting on some of the free adult films, featuring a bespectacled Sarah Palin doppelganger and fucking with the coloured ambient lights through the 'mood pad' remote control.
I chat with the hotel staff on our way out, telling them that we're headed to club Air tonight and Party on Monday, but have no plans for the next day. Voltek and Sebastian were excited, falling over one another to tell us about anything decent, through a site called www.partyflock.nl. Initially we thought these two guys were particularly passionate about dance music, but now I surmise they're just normal Dutch people, with a normal-Dutch-person level of enthusiasm for dance music.
Our friends had been in town since the previous night, so we met up with them at a mediocre pizza place, ate a couple pot brownies, and decided to play a game in which we would take a shot of vodka every time we passed a bridge. Between the density of bridges in the area of the Rembrandtplein and the six people in our group, we finished pretty quickly and made our way to Air through the grachts with house radiating from every storefront, every passing car, and everyone's earbuds.
Air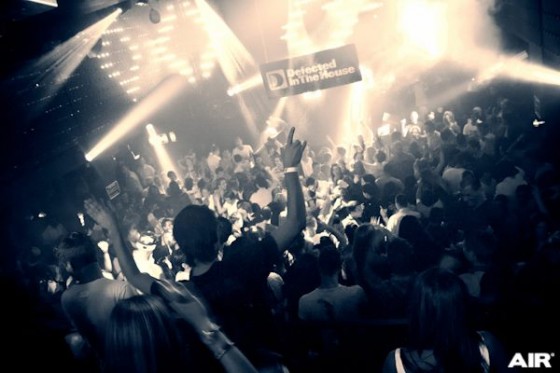 We arrived at Air just after midnight, which is when the Dutch generally start partying. After a rocky introduction to their complicated, card-based payment system (you'll have to load up an Air-card with money to pay for drinks… no cash allowed), we got in and promptly began downing free drinks from Bacardi promoters (PS: thank you, dreadlock guy!).
Air was different from clubs I've been to elsewhere; the first thing I noticed was that the music was a little bit quieter… It wasn't quiet by any stretch, but you could, without too much effort, sustain a conversation with the people around you. And everyone in the club was doing exactly that! Every group was half dancing, half talking, and there was little in-ear shouting.
I read somewhere that the Dutch place great value on conversation, and looking forward the next two days, the other clubs I went to replicated this norm… music quiet enough to allow conversation, but loud enough to really throw down to. They put the volume at an impossible sweet spot.
Noir
So this leggy dutch girl (of shower fame), a friend of a friend, is arms-up-dancing in 3d glasses, and I lean into her while Noir's collab with 80s Detroit techno artist Richard Davis belts out over the system. Alex and I had the same idea, and our hands ended up touching one another's behind her back. Reaction shot inset.
Found Out is a saccharine icing on a cake made of dark matter; the melodic synth line, the snare breaks, and Davis' vocals could have come from Blue Monday-era New Order, or perhaps Depeche Mode, and that's clearly Davis' co-producer influence. Where Noir comes through strongly, though, is in his dark/deep house bassline and rumbling minor-key white noise behind the second breakdown. It gives a dark edge to the song's fluffier top end. Cotton candy served on a medieval mace, it's a lothario who slithers out of the speakers and whispers hypnotically in your ear.
Noir is very aware of his own style, and, at least this night, chose remixes of his songs that would match and emphasize that style; he pushed recent remixes by perennial collaborators and darlings of the midnight house world, such as Subb-An, Pirupa, Solomun, and a host of other Noir Music label mates.
One of my favourites was the Solomun remix of Noir's last-year collab with Haze. The thing is, labels like Noir Music, Crosstown Rebels, and BPitchControl are engage in this great cross-pollination to create the dark futurism that will be the sound of 2012, and we heard it that night in Amsterdam.
Chocolate Puma
3 AM rolled around and the tone of the night changed instantly; the transition from complex tech/deep house to immediate-payoff Dutch house is an interesting one. Rene ter Horse ("Zki") and Gaston Steenkist ("Dobre"), the two gentlemen behind Chocolate Puma (formerly The Goodmen) are pioneers of the Dutch house movement, and early definers of its signature sound.
We all know Dutch House as the poppy, high pitched, dancable, snare-heavy affair of Chuckie, Afrojack, and one of the legacy genres of Moombahton (whatever happened to that, by the way?), but with Chocolate Puma, I think we heard something a little different. Dutch House emerged as a crystallized set of conventions about synth lines in the mid-2000's, but it fermented in the dance music scene of late '90s and early 2000's Amsterdam — it was in this period that "Zki" and "Dobre" were finding their own sound.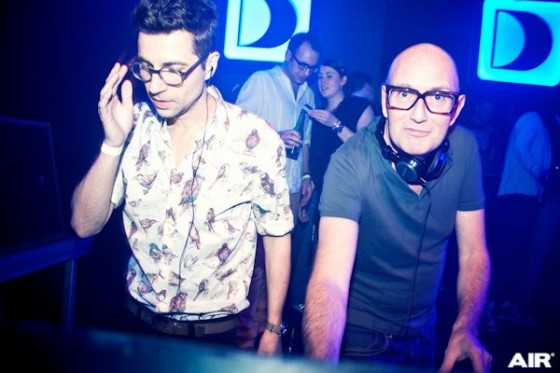 At one of the climaxes of their set, as an example of Chocolate Puma/The Goodmen/Zki and Dobre's pedigree, they dropped their own re-edit Soup, an old school dutch dj's, "New York – London," made in 1992. The original mix contains breakdowns separating the busy synth line and horn section. Chocolate Puma's mix preserves the rough vocals and hyper beats of the original, while replacing the dreamy disco-influenced breakdowns with 8-bit buildups. This is the kind of synthesis of old and new that characterized their set as relatively nostalgic for the days before dutch house became Dutch House, a caricatured (if also very fun) hip-hop/siren driven pastiche.
Another highly recognizable track was the remix of Osunlade's "Envision," where the guys use an alternating bass-snare pattern and minor key mid-synth scales to put a huge ghetto booty on this 2011 American R&B song. Oddly, their remix is originally at 123 bpm, but it sounded excellent sped up to 128 to keep up with the rest of the set. The other big Chocolate Puma remix dropped is being hyped by Diplo at the moment on the most recent Blow Your Head (released the day before our night at Air!).
Look at Give It Up, which they released as The Goodmen back in 1993, and the re-edit as Chocolate Puma from 2011. The brassy, zippy synths and whistles on top of the 1993 track are, in my opinion, examples of style congealing early, but the uncomplicated phrasing and unusual groove on the bottom date the song. Look at the 2011 re-edit, which I recall from the night at Air. It follows the expected House phraseology (long intro, fade in of top-end, breakdown, climax and big drop… around 2:20). It sounds like a grown up version of Dutch House with many of the same generic characteristics — Brazilian sounding beat, wacky top end, and round-sounding 808 drums — but without any of the childish immediacy that leads us to dismiss so much.
We roll out of there around 4, and head back to our hotel with two of the group's girls in tow.
It's here that the Tarantino intro (Tarantintro?) comes back in. We got back to the hotel and the two girls hopped into the shower. I don't know what drove me to write it down as it was happening, but I was very, very drunk, and just a little bit high, so you'd have to ask me in that state to get anything approaching a straight answer.
To be honest, CitizenM was exactly a surreal enough robot hotel, with its free Palin Porn, "?" setting for mood lighting, and its gossamer shower curtains, which belie a Dutch attitude to shower privacy similar to Hemingway's attitude to vermouth in martinis, to make everything that happened seem more or less normal. Dice remains a weird game.
Of course we wake up with 10 minutes to check out. After hustling the women into an early, drowsy exodus, we threw our things together, and, donning sunglasses, mumbled our thanks to employees who were actually quite helpful (even by non-robot-hotel-from-the-future standards) and took a cab from Amsterdam Zuid to Jordaan and the Canal House.
Canal House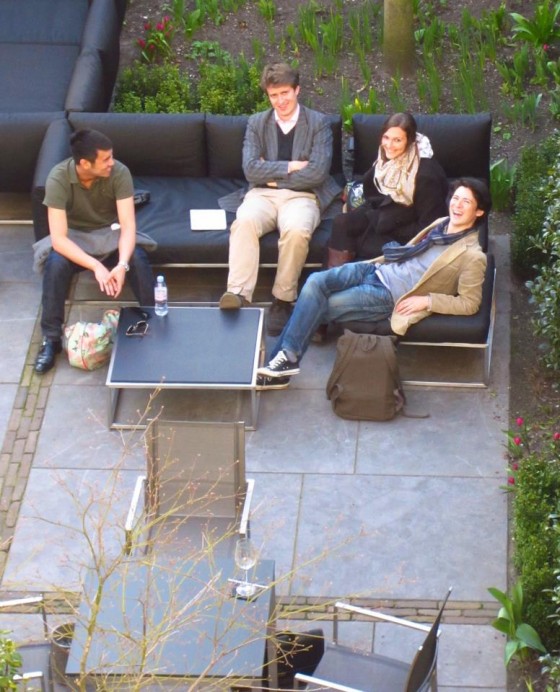 To say that the Canal House is a hangover survivor's dream is an understatement. As soon as we arrived, we were put in a (thankfully) twin bedded room (though, oddly, it still had an open shower and soak tub) that dripped opulence. I sank a foot into the bed. I leaned out the storey-and-a-half window to soak in the zen-garden square in the back and rubbed life back into my temples. I ordered a bloody mary. I ate breakfast consisting of unlimited cured meats and espresso. We were resurrected in the oasis of stately calm.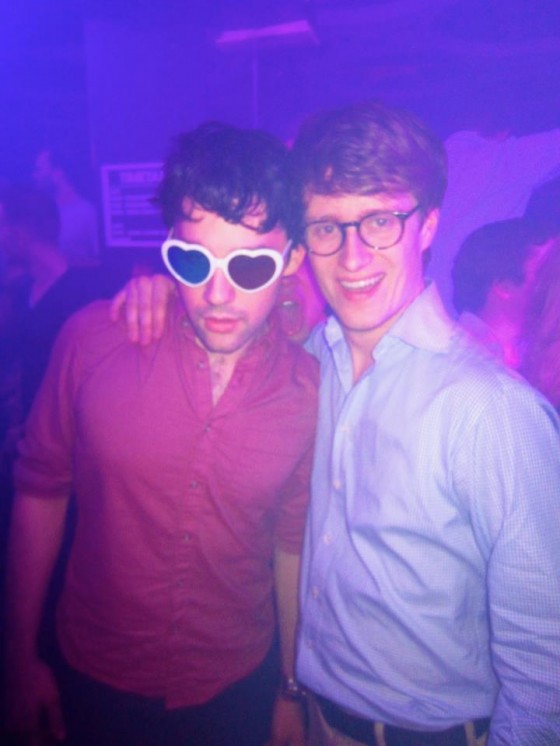 Our friends arrived as we breakfasted, equally hungover, but coming from a place that, having never stayed in, I cannot describe. I give to you my posh English friend Teddy (pictured) on the contrast between Amsterdam's (arguably) worst hostel, and one of its best boutique hotels:
Teddy: It turns out that there are two Amsterdams, and I experienced both in the space of one day. The first Amsterdam which, to my eternal and undying regret, I experienced was Bob's Youth Hostel. At Bob's, we walked into our room for the first time and a hideous and unforgettable smell violently assaulted us. It was a heady mix of very cheap marijuana and stale body odour emanating from thirty or so stoned spaniards who were draped across twelve of the eighteen beds in the room.
That morning, for the first time in my life, I was rudely awakened by a smell. It was a truly horrific smell. Soon thereafter, my phone rang, and Riley invited me to come and say hello at the Canal House, I eagerly obliged.
The Canal house was only across a gracht and I ascended from the midden that was the first Amsterdam to the sunny uplands of the other. Entering the Canal House, I found a tastefully decorated and beautifully well-kept establishment. Not only did it, unlike Bob's, have a dining room, but it was supremely comfortable and overlooked a sun-drenched zen garden in which I would spend the better part of the afternoon basking. I have since sworn a solemn blood oath never to return to Amsterdam without a room booked in the Canal House.
Teddy was not immediately pleased with the circumstances in which Alex and I found ourselves, so after planting him in the zen garden to take his bitter anger down a couple notches, we ventured out for the day (stopping for one of the best hangover-cure apple tarts at a shop called Winkel, which is just Dutch for "shop" — Noordermarkt 43, minutes from Canal House), and generally indulged in the most fantastically relaxed city in the world.
The cafes and bars spill out from their tiny environs onto every available inch of space, some of them unfolding into hundred-table venues, spanning the city with sunny terraces. We spent most of the daylight hours meandering from terrace to terrace, sticking to the negenstraatjes ("the nine streets," perhaps the world's only "come as you are" upscale shopping boutique district)… while you're there, try and pop into a vintage store called Episode and a streetwear boutique called Margriet Nannings (I bought some cheeky APCs from the latter).
I guess I should interject here that I recognize talking about a day spent lounging around the canals of posh-west Amsterdam, leisurely drinking, shopping, stocking up on absinthe, and so forth, doesn't seem very "party down," but relaxation is deeply ingrained in the culture of this city. I found that, even with going out every night, I felt compelled to relax, slow down, and not do too much. It is completely critical you find yourself conscious for at least half the afternoon, so you too can know what it feels like to spend a day with nothing in particular to do in this city.
Still, we had more plans and the terraces would still be there the next day. We returned to the hotel and had a couple drinks before heading out again. The bartender, who I think had gotten to know me by name in a very short period of time, made us some pre-big-night manhattans as we lounged in the overstuffed violet couches amid the ebon wood, watching the golden hour, the time when the sunlight reflects off the canals and slightly over-saturates all the colour, pass through the city.
Sugar Factory and Wicked Jazz
Tonight would take us to a club called Sugar Factory, and it would take us to a treasure I love finding — weekly events attended almost exclusively by locals. It's a less-intense, but so-impressive time, and great for an easy Sunday night following a hard Saturday.
Sugar Factory hides in plain sight on the edge of the touristy Liedseplein, but managed to, at least on Sunday night, have me in a minority of non-Dutch speakers. We arrived there around midnight, and descended a couple flights into a rapidly filling concrete room divided randomly with pale curtains and a stage, upon which a DJ played fairly anonymous funky house. I ordered a double-vodka and waited while an increasingly odd set of people set themselves up on the stage.
A woman with a bob in her hair and a springy dress at her waist clears her throat into a microphone. A gentleman with a shaved head and an electric guitar plucks a string. An old black man with a white beard, the impetus for the invention of the word "wizened", blows some test air through a saxophone. Wicked Jazz Sounds then proceeded to play some of the most interesting and crowd-invigorating electro-swing/jazz/soul/funk I've heard in a long time and they have a Sunday night residency at Sugar Factory.
Wicked Jazz Sounds is a highly fluid group, deploying only a few of its members (or affiliates) alongside a DJ (sometimes it's a drummer) to rock Sugar Factory that night. While I could not name you a single song they played, as I did not even hear about this night until about a dozen Amsterdamians insisted I check it out earlier that day, I was interested in the way they played… that night evoked house music's soul roots.
The night we saw, the DJ continued playing what he was playing — 128 bpm, relatively basic beats with little melody and light synth — in order to let the other musicians shine through. Berenice van Leer, the vocalist, was, however, the star of the show — she followed the DJ, mixing one song into another, she cut up her own vocal track (repeating a syllable along with a build), and knew exactly how to stretch and pitch her own voice to cover the climaxes. She managed to make herself sound like a house vocal track while singing live. It was astonishing!
We sent the others back to Bob's hostel and strolled back to the Canal House, taking note of our own good fortune. Alex and I slept like infants, and woke up to yet another round of breakfast in the great room (I took mine in the garden), and gloated over the Bob's people when they came to meet us before their departure.
Before we checked out, the manager of the Canal House wanted to show us the "Best Room." We ascended a hidden staircase and were overcome with jealousy. I wanted to host a party here. A shower the size of my bedroom in London and a wall of windows overlooking the Keizersgracht. GodDAMN. I will return to this place and claim the room as my own. I will make it mine by marriage or conquest.
No matter, it was time for the third and final day, and the third and final hotel. The Toren — no rest for the weary, we had to walk a full 15, 17, perhaps even 20 feet in order to get there.
Alex and I had been theorizing that the hotels we've stayed at in Amsterdam have been subtly encouraging us to get gay with one another, but the Toren took it to the next level.
We were warmly greeted by the staff and showed to our room which, thankfully, contained a closed bath and twin beds, but also had the deep red colouring and velvet plushness of a room put together by someone about to propose either marriage or a recently invented, hitherto untried sex act.
There were martini glasses full of strawberries, chocolates and heart-shaped gummies waiting for us.
We dropped our bags and Alex immediately called his girlfriend. Half to tell her they had to go here and half to remind himself that he hadn't switched teams. While he spoke, I looked out the window into yet another zen garden. After buying some absinthe and jenever (special dutch high-proof whiskey-gin that comes in clay bottles), we met up with the shower girls and some more of their dutch friends for a few drinks at the Toren.
To its credit, the Toren takes "family run" to an extreme. The owner, Eric, and his wife, Petra, chatted to us while we perused the menu for the rest of our party, suggested drinks, and asked how we enjoyed the room. We told them exactly how romantic it was, had a good laugh with them, and were slipped a round of tequila shots. We felt like we were in the hands of doting, though not overbearing, parents. The kind who slip you a couple 20's before you head out with your friends.
A few after dinner cocktails at the Toren bar, we were discussing our plans with the ever-so-cute receptionist (guys, she totally dug me. For serious). We told her we were going to hit supperclub — the first of the five or six supperclubs in the world — but they are pretty strict on arrival time. 8:30 or bust. The cute receptionist was one step ahead of us, and had already warned the supperclub we may be a little late, and got us the closest cab there was… a man on a bicycle with a towed wagon. We hopped off outside the supperclub and gave our names at the last minute to catch our time. Immediately we were let into a giant room, all in white, with an open stone kitchen and a lofted second level. Beds lined every available wall, except for the giant projected video screen, which showed a properly Dali-esque avant-garde film, where an effeminate man wearing nothing but merkins and a skeleton mask mincing around a disused industrial area.
We were put on a bed upstairs and promised five courses. We were asked only whether we were vegetarian, whether anything would send us into anaphylactic shock and (yes), whether we'd like them to keep us well wine'd for the evening. We noticed that our waitress's primary form of locomotion was from her hips, which propelled the biomechanics of the rest of her body, and that she may have born with an erotically arched back. We surmised that her vocal cords allowed for only speech in an orgasmic kitten voice.
We were served grilled prawns, thai soup, mushroom risotto, rosemary rubbed shank steak, and then they finished us off with a tiramisu. I swear to god it was the most relaxing clubbing experience we had ever partaken in; an opulent five course dinner, a couple bottles of red wine, and a king size bed on which to eat it.
Of course, this wine-paired-food was, itself, paired with chilled out hip hop that slowly escalated into chilled out house, all while the distinctly… not unappetizing, but certainly avant garde, film repeated itself again and again.
By course three, Supperclub provided some entertainment to its diners, and its after dinner party guests — a ballerina whose performance was that of a robot marionette slowly corrupting its programming. In an adorable bob dress, she hopped like clockwork, walking into things until she was righted by some awkward man trying to remain cool in front of his date, pushing herself across the floor by her hips, every movement measured an precise enough for a Japanese moe doll. She worked her way upstairs, slightly to my chagrin, and proceeded to cap off her show by "murdering" me with a fork and biting down a blood capsule in her teeth. I pretended to be nonplussed, but I think I came off relatively plussed.
Supperclub!
As we wrapped up dinner, our four girls arrived to meet us on our second, downstairs bed. Some vodka appeared on our table, and the posh (that is, non-Dutch) house began to ramp up and up to a danceable point. Party on Monday, the promotion that puts this night together, appears to have attracted nothing but women in their mid 20s. Marly Mal, the man behind the party, is called Mr. Monday for putting together what appears to be the "thing to do" on Monday, because, as the slogan goes, "Fuck The Weekend."
The evening's MC, an energetic dutch dude nicknamed Clark Kent, amped the crowd up with a straight-outta-the-70s (but-with-a-slight-accent) MC voice.
The Dutch girl with the magnificent legs, you remember the one, took me by the hand and told me she wanted to see our dinner bed. I told her it was the same as our drinks bed. She said she wanted to see all the same. Upstairs was deserted. "Well, here it is."
She pushed me down on the bed and her hands immediately found my belt. Spotlights swung around us as she ground into me and I flipped her over, wondering exactly how far we could go before a busboy would remember he left a wine glass at our feet, or someone came up here to chill out. It reminded me of the jaunts to backrooms and closets at high school house parties. There was just enough privacy, and just enough danger of discovery.
In the back of my mind, I also hoped I had taken my shoes off during dinner.
Alex and I woke up at the Toren, either hung over or still drunk, ready for anything the buffet could throw at us. Our weekend of absolute decadence was complete when I left Alex in the room to go to breakfast and ate nothing but smoked salmon for about an hour.
Alex arrived late, after they had cleared everything away, but our waiter, undeterred, had this fun little exchange with him:
W: "I'm so sorry, but we have closed the breakfast buffet. The continental breakfast has not been cleared yet. Would you like me to make you an omelet as well?"
A: Yes
W: Would you like pancakes, too?
A: Yes.
W: And smoked salmon?
A: Yes.
W: Would you like one plate or two?
A: Yes.
He proceeded to bring Alex enough food for about three people. And the chef came out and personally drew a decorative pattern of syrup on the pancakes.
We ordered more bloody marys and boarded our train home.