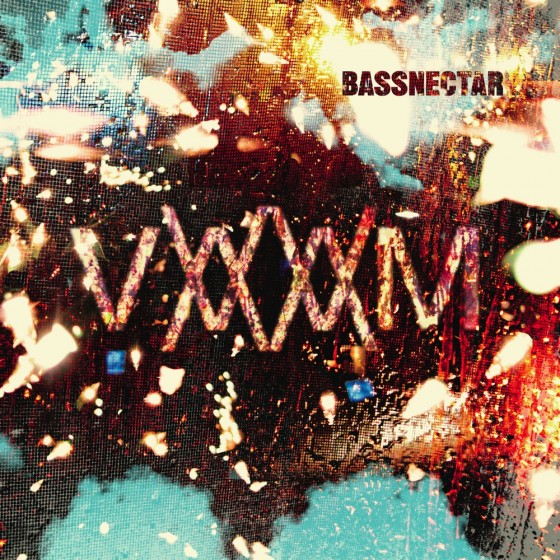 Bassnectar, to me, is an entity that seems to enjoy lurking on the edges of fame. He could easily headline larger festivals, yet he eschews the greater spotlight for (slightly) smaller stages.
His shows are legendary, one performance in Red Rocks racking up over $100000 in sound pollution fines for bringing his own speakers to an event. In spite of all this, many only know him from his brilliant remix of Ellie Goulding's 'Lights', which is an excellent song in its own right, but is by no means representative of Bassnectar's extensive library of work.
It's hard to follow up a 'breakout' album (so to speak) but Lorin Ashton completely blows Divergent Spectrum out of the water with his new EP-cum-LP, VaVaVoom. It's been marketed as an EP, but all signs point to album, with its eleven (well, technically ten, as one is a collection of fragments and clips) song tracklist and an audio layout that more closely resembles a finished story instead of just a part of one.
The title track of the album features Lupe Fiasco, a smart move by any means. It really sets the tone for the rest of the album as something not wholly consumed with dubstep and instead obsessed with quality, varied bass. There are some great bits of rapping on this track, managing to avoid sounding weak while keeping the lyrics on topic to the theme of the album. It's nice to get something that sounds so heavy without losing momentum with the vocals (as was the unfortunate case for Swedish House Mafia and Knife Party's 'Antidote', which was an amazing song until somebody started autotuning over it.)
Empathy is an interesting follow-up; a song caught somewhere between chill-out and aggressive that isn't heard all that often. I'm not entirely sure the rap verses are needed and may be a bit jarring over the vibes of the rest of the track. The female voice which echoes throughout lends more than enough to what could have easily been a repetitive mess if it were made in less capable hands. As it is, Empathy is a hypnotic counterpart to the thuggish opening track.
Ugly, premiered before the EP even came out, is an exhilarating face-first launch into drumstep. The snare drum solo that opens the track is gets you in just the mood for a fast-paced thrash fest, and the rest of the track delivers nicely in an almost tribal fashion. Ping Pong features one of the most innovative samples I've heard as of late: the sound of a table tennis match. Its genius is in its simplicity, and it's really nice to hear some of these strange hollow noises that don't come out of a synthesizer easily. Pennywise Tribute is as it sounds, a straightforward tribute to the rock music that Bassnectar is clearly influenced by. It vaguely reminds one of his remix for Gogol Bordello's Immigraniada, and is bound to be a nice change-up sprinkled amidst heavier dubstep pieces.
I'm not quite sure if the second half of the album is my favourite, but I can certainly say that it's moodier than the first. 'What' is a personal favourite, and sets the tone for the rest of the tracks nicely. Like some unholy combination of Flux Pavillion and Major Lazer, the track is a bit of a whirlwind of reggae influenced vocals, screeching, bassy halftime sections, and brief snatches of drum and bass. 'Like This' is a good bit of mid-range dubstep, but it's a track easily lost amongst songs which hit heavier, harder and faster. It's not bad by any means, but it /is/ the weakest of the EP, as so often is the case with a good song surrounded by great ones.
Laughter Crescendo is an interesting piece and a great throwback to the early Bassnectar days. It's a remix of a decade-old song and a tribute to an older, more hallucinogenic sort of sound. Bassnectar himself has stated that he doesn't like to dwell in his musical past, but if this what it sounds like when he does I wish he would dwell more often. It's a dreamscape of layers of laughter, alternating between joyous and slightly disturbing atmospheres. Is the laughter insane? Is it happy? We may never know,but the track is done with a light touch that isn't seen very often and should be celebrated when it is. Butterfly and Nothing Has Been Broken are very ouch the same form of song; slow, booming bass, technically dubstep but actually more atmosphere generating than anything. Vocals weave and soar while the bass is low and throbbing, enough to rattle your sinuses inside of your head. I guarantee that these two will be setpieces of this year's string of Bassnectar shows.
Bassnectar has a particular talent for sculpting basslines that lift a song from the ground-up instead of simply weighing it down. I'm still not quite sure how he does it. This EP isn't as varied in genre as some of the EP's we've heard so far this year; albeit, we've been spoiled in terms of artists genre-hopping from place to place. That being said, VaVaVoom does have enough change-ups to further cement that Bassnectar certainly isn't a one trick pony by any means. Maybe it will encourage some producers to be more creative with their bass and move beyond one-track tunes and random assortments of screechy noises. There's a such thing as musicality in bass and I'm happy to see it have a revival.
You can buy VaVaVoom via Beatport, His Website, or stream via Soundcloud.