Every week we put our trust in a DJ to curate a selection of songs that you absolutely need to hear. This week: San Francisco bass purveyor Kastle throws down a 52 minute set of bass focused, largely instrumental, often off-beat, hip-hop, dubstep, garage, and techno-inspired tracks.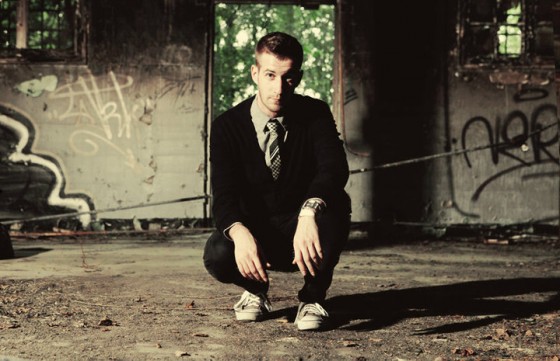 This week the musician behind our Mixcast is a very exciting up-and-comer currently hailing from San Francisco. For the last couple years, the project which Barrett Richards formed in Pittsburgh over 2009-2010 has been receiving exposure on two fronts.
First, Richards' worldwide touring efforts have seen him appearing in European and North American markets, and at major festivals like EDC last summer. Chances are, if you went to shows last summer you ended up spotting one of his stickers.
Second, the tracks that Kastle has been putting out have received attention from a variety of artists, labels, and other highly respect curators. A small selection of his tireless and extremely high quality production work includes remixes for Example, Blu Mar Ten, Craze, a release on Slow Roast Records, heavy support from SMOG and co, and critical acclaim from curators at XLR8R and BBC Radio 1.
I'm personally looking forward to catching him with several of my favourite artists of the moment at The Mohawk next Friday during SXSW. The lineup includes Flinch, Codes, Breakage, Alvin Risk, and NiT GriT.
Kastle on Facebook | Twitter | Soundcloud
This week's Mixcast in five words:
it's where you take them
[wpaudio dl="true" text="Kastle – Coffee Shop at the End of the Universe Vol. 3″ url="http://www.salacioussongs.com/files/Kastle – Coffee Shop at the End of the Universe Vol. 3.mp3″]
Tracklisting:
01. Lapalux – 102 Hours Of Introductions
02. fLako – The Answer ft. Dirg Gerner
03. The Soul Pilot – Just Disappointed
04. Shlomo – Wen Uuu (Salva Remix)
05. eLan – Benson Bridges (HeRobust Remix)
06. Julien Dyne – Who Are You ft. Ladi6 & Parks
07. Jonwayne – Immobile
08. Dza – Bullseye ft. Non & Mujuice (Dizz1 Instrumental)
09. Tisme – Laser Pistols
10. Metronomy – The Look (Two Inch Punch's Shook Shook Refix)
11. Royce Wood Junior & Stac – Edge
12. Hawthorne Headhunters – Teleport
13. Memotone – Multicolour
14. Phil Gerus – Ordinary Things
15. Kastle – It's About Us
16. Robot Koch – The Other Side
17. Sina. – From Love To Dust (Soosh Remix)
18. Tisme – Juneat
19. Shain Caw – No Gravity
20. Tensei – For The Love
21. Martin Kay – Let Her Look Up At The Moon
22. Dirg Gerner – Rubies & Diamonds ft. Fatima
23. Sonnymoon – Magician
24. Fybe:one – Aeolian