In the DSM-IV, the catalogue of all mental illnesses known to modern medicine, there's a short section in the back on "culturally specific" illnesses. Post-colonial arguments notwithstanding, I found one of particular interest.
The Japanese, especially in the mid-century, were prone to a disease that psychiatrists called Paris Syndrome. You see, Paris was so built up in Japanese culture, that when they came to Paris expecting to arrive at Elysium, they arrived at a real city with its own quirks, its own seedy underbelly, and with many dimensions.
They then lapsed into catatonia and could not be roused…
The thing is, though, that you should look for this side of Paris. It's there, it's gritty, it's a little bit drunk, and it kicks off at 2 AM.
This is my kind of Paris.
Therefore, at the beginning of January, I took a cheeky trip. Ulterior motive: I wanted to go to Paris to do various naughty things to this pretty, french-speaking, former native of Paris. As any sensible travelling music journalist would do, I called her and asked her to be my "guide and translator."
We met up in the dining car of the 5 AM Eurostar, and over a ten Euro breakfast of weak espresso and dry sandwiches, I told her the game plan.
One, we're going to check in at Mama Shelter in the 20th arrondisement.
Two, we're going to fritter the day away.
Three, we're going somewhere cool to eat tonight.
Four, music schedule begins tomorrow.
Dig?
Dug.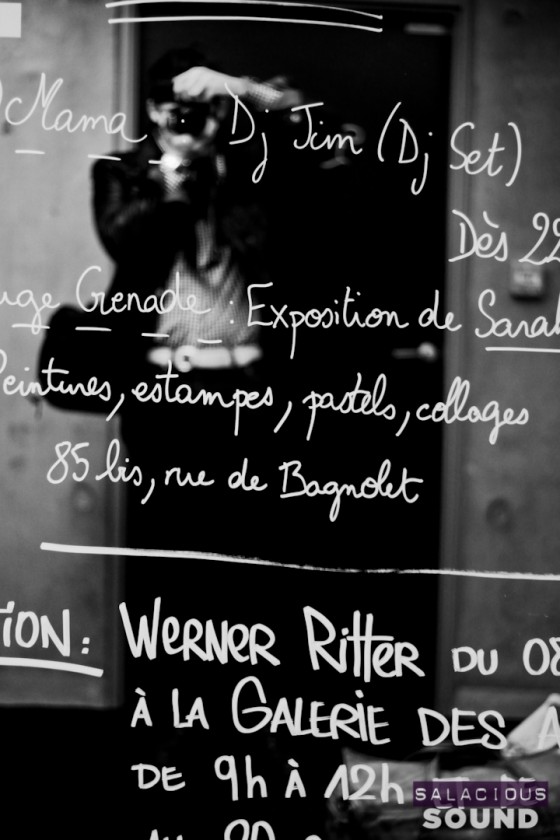 Mama Shelter (109 rue de Bagnolet 20e) is a cheerful modern building in the midst of the up-and-coming 20th — live music venues like Fleche d'Or (102 rue de Bagnolet 20e) are popping up between the copy shops and grey apartment buildings. The hotel's lobby is dark, and there's chalk graffiti on the ceiling. Phillipe Starck seems to have designed the building while on a quick Brooklyn vacation, as "vintage-store," "deadstock," and otherwise "random" things that aggressively put quotation marks around themselves. Think Star Wars figurines nestled up against a 60's looking device to imprint the Eiffel Tower on a piece of toast.
In the small, designer, and, most importantly, cheeeaaaaapppp room, I must admit that the bed called to me at first. It was soft, and huge, and it was flanked by Batman themed lights (I can't stay mad at you, Philippe Starck)… but NO! I had a little of Paris to see before going out tonight. I steeled myself, put down my bag, and, ushered Guide and myself out. She wanted to show me her old neighbourhood.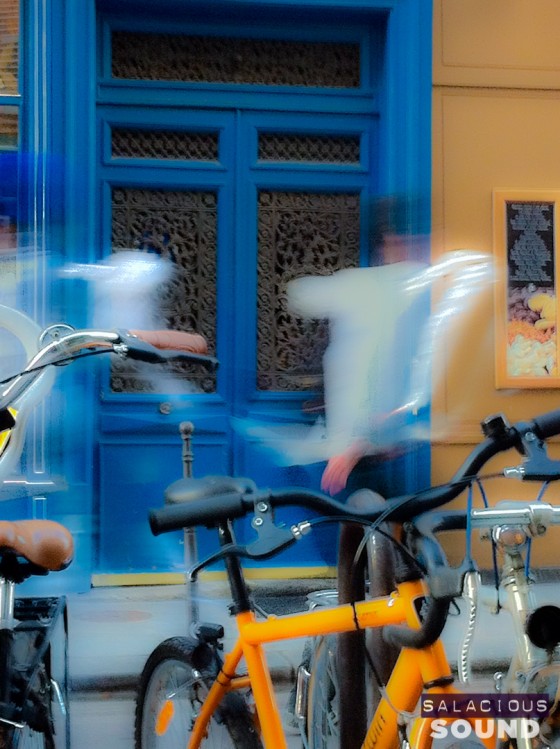 Hotel du Nord (102 quai de Jemmapes) is neither a hotel (it's a restaurant and bar), nor is it particularly Nord — it is east, and easy walking distance to the Oberkampf/Bastille area. Get off at Goncourt, have a walk up, go inside, and continue drinking. Cocktails were pushed into our hands, as our table was almost ready. The whole thing gave the impression of a library, and the music slowly got housier and loungier as the night went on. I had the two Chinese options on the otherwise purely traditionally French menu — the crispy spinach salad, and the raw tuna. The only real meal I had this weekend, and certainly the best. Over the next two days, as I went to shows, I kept half expecting our waitress to pop up — it seems Hotel du Nord only recruits cute hipsters in glasses and legwarmers. Very salacious indeed.
Tired, ol' Guidey heads back to the hotel… but she's a wuss, and I have it in my mind to meet Woman 2.0 at Paris Social Club tonight when I go see the ClekClekBoom show.
French Fries, DJ MikeQ and the Kube Hotel
Paris Social Club is a large (by European inner-city nightclub standards) club in a lower-number arrondissement. I would remember more of its location, but the cab ride after Hotel Costes is, to be honest, a little… fuzzy.
I'm greeted by my man from Younggunz, Guillimame La Donche (right? So French!), a drink is pressed into my hand, and I'm off to the main stage area for some sorely needed beats.
MikeQ was up first… I wondered where I'd heard these songs, with their explosive snares, chopped vocals, and some of the QUEENIEST lyrics in house music (try the song Battle Kunt) — before. This guy's on Mad Decent, which is where the fuck I heard this before. International — impressive. I made the Mad Decent connection (before doing further research) when I heard a sample of Torro Torro's remix of "Que Que." In a random Paris nightclub, no less!
MikeQ's style of Vogue/Ballroom House is a massive feature of the East Coast underground LGBT community's dance music scene… I'd never heard of it, but was very interested. A little research showed me a few stylistic hallmarks which I recognized from the night in question. Vogue House is limited to the gay black party scene in New York and, to a lesser extent, Newark… and nearly every song contains a snippet of the song "The Ha Dance" by Masters at Work. I love finding new, emergent trends in house music, and I think stumbling across this niche, regional, subcultural genre in Paris was a delight. Featured on some of my favourites of MikeQ's bangers was a song featuring Party Squad (!!!) called "My Bad" (Ballroom RMX) and his rework of "Whip My Hair" (apparently a huge song on the Vogue/Ballroom scene?) mashed up with Ha Dance… another huge song on the V/Br scene.
[wpaudio text="DJ MikeQ – Maurica" url="http://www.salacioussongs.com/files/DJ MikeQ – Maurica.mp3″ dl="true"]
It was interesting to see how a totally unrelated crowd responded to beats that usually accompany catwalk-dancing and fauxbitch transvestites. Everyone was in to it… the crowd was getting down, crowding the front of the stage, and having a great time. It's interesting how a particular style can cross oceans and subcultures to arrive at the doorstep of hipster Parisians and still groove the hell out of them.
Diplo wrote an article about Vogue House in October 2011, which I've attached here if you want a closer look at something that might go global in the next couple months: http://www.vanityfair.com/culture/features/2011/10/diplo-slideshow-201110#slide=1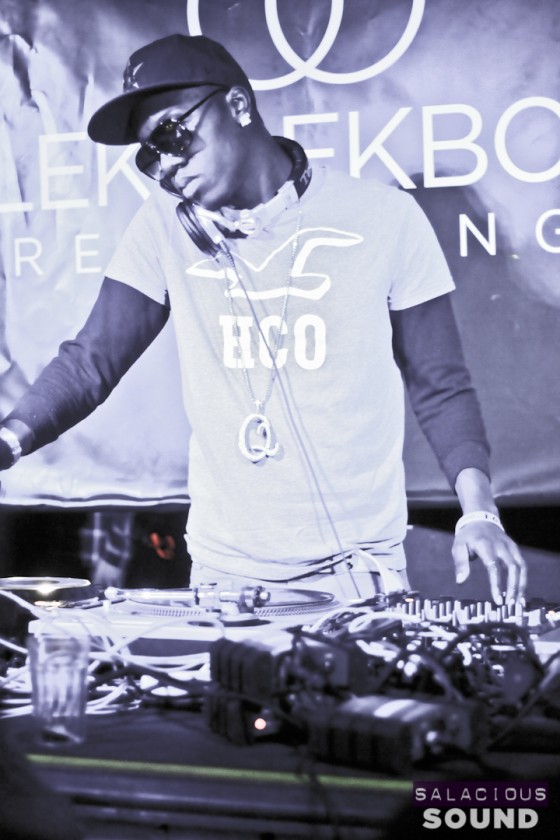 French Fries were a little more French and a good deal less North Jersey Cross Dressing Nightclub. A Parisian native, Mr. Valentino Cazani put together the ClekClekBoom imprint to push a signature Paris sound to the rest of the world. Cazani pulls UKF, Hip Hop, and Jungle influences together and slaps a little French flair into his remixes, popping on the occasional filter to remind us where he's from.
Again, however, the name of this game was eclecticism — he pulled influences from literally everywhere to keep the (rapidly swelling, now that it's… like 2:30 AM and the night can finally start) crowd swaying. The man knows how to play a crowd too… he kept the swells and drops tight and fast, every song placed along a precise crescendo to peak around 3 and even back out into a rework of The Ha Dance (one of about a dozen I'd heard that night… DJ MikeQ loves that song).
It's a million AM. The sound of the speakers is now just normal; silence would sound weird. I'm flirting with an adorable Parisian hipster (the hipster girls I met in Paris are precious, rather than snobby) when I realize there's already a woman in my bed. I need, somehow, to postpone this girl to some other night. I formulate a cunning plan.
To this day, I don't know what number I gave her, because I certainly couldn't have summoned the wherewithal to remember my own birthday, let alone my new and temporary Parisian cell. Confident that the random string of information I gave would eventually lead her to my door, Nicholas Cage in National Treasure style, I found a cab (a bouncer found me a cab) and sent me on my way.
This night, I did not lie down my head on rue Bagnolet, but on a little alleyway off Marx Dormoy up in the 18e. The Kube Hotel exists behind a featureless wall with an invisible door (it will swing open for you when you buzz in). The wee hours saw the normally buzzing bar going through the last motions of cleanup, the last of the night's winding down (check out the bar before unholy o'clock, even if just for a pre-mad-beats cocktail).
I woke up the next day in a room of perfectly white cubes, wearing a leather jacket and pulling my sticky, aching, stubbly head off the bedside cubetable. My Guide, responsible creature she is, was already up.
She made me coffee.
What a darling.
After she "cured my hangover," I went downstairs, got myself a subsequent coffee and a bloody Mary, and then looked at my iPad to see if I wrote anything down the previous night.
I liked Kube as a hotel to have a hangover in. Giant bed. Espresso maker. Recovery bathtub. A bar that makes a decent Bloody Mary. I want to give a shout out to the young man stayed up all night to make sure I didn't get locked out after I came back from a show that was over at 5 AM.
This is a place to stay when you're in Paris to go to clubs, see shows, and generally be a young person who's seen enough of the Eiffel Tower on every other sucker's "Zomg Paris 2010 <333" Facebook albums. The area was pretty funky. It was right next to Montemartre, a ten-minute walk to the Sacre Couer (good place to have a coffee and see a beautiful, yet slightly touristy view of Paris for your 1 PM "morning"), and beside the mind bogglingly authentic Algerian quarter. Loved it. Hotel Costes
Instead of eating dinner, we decided to go drink at one of the most famous lounges in history. The DJ didn't go on until 11, but we were thirsty, so got there an hour or so beforehand to sip on some insane cocktails (hand crushed gooseberries, anyone?) and listen to the curated music selection.
We arrived, greeted by Greg, the bar manager (with Guidey-Guide translating), who immediately sat us in a booth and asked if we liked mojitos. Heavens yes… yes we did. He looked around the bar… every table full, three deep queue at the bar — by any measure, this place was very full — and told us with some disdain "c'est mort!" This place must, I concluded, get pretty wild on a regular basis.
Here follow some of the ad hoc notes I took on the music at this famous bar between sips of cocktail made of delicious madness and house-infused spirits:
1. Regina Spektor
2. Diamonds are Forever
3. Guide says: "Remixes are very cheeky… everything around suggests opulence, but the songs suggest they don't take themselves so seriously."
4. French lounge/chillout house returns
5. Wait, Amy Winehouse + Louis Armstrong + Breakbeats?
6. Booker T and the MGs!?!?
7. THE NAME OF THE GAME AT HOTEL COSTES IS ECLECTICISM
Greg's other job is to curate the music before the DJ comes on (before you ask, it wasn't Mr. Stephane Pompougnac that night… though he's still around once a month entirely at random if you're lucky enough to catch him).
It was at this moment that I was swept out of my seat by a very drunk Austrian businessman, and, very gone myself, was waltzed around the bar and deposited into the arms of a woman who turned out to be the editor of a famous, French fashion publication. More cocktails. Foie gras fed to me. Cliche?
I decided to be responsible, and, summoning every modicum of balance my beleaguered, waltzed-out legs could offer, wobbled back to my table to be a goddamned adult about the situation.
Needless to say, Guide had become more than a mere translator at this point.
She tells me (I was somewhere deep in the secret cocktail menu of the Hotel at this point) that Greg told us that chill house and lounge were a little too mature, and he wanted Costes to become a little more approachable, youthful, and cheeky in the early hours in order to draw the unsuspecting public into its diamond-encrusted web of cool French house.
"I want to make it," he said, "more rock'n'roll."
Hotel Costes, while eclectic, is not confused — it knows exactly what it wants to be, and exactly how to pull together seemingly disparate elements, in terms of music, design, and drinks, to create a unifying impression of luxury and irreverence. It was, personally, a privilege for me to experience, and in no small part for personal reasons. The first electronic music I ever listened to was one of Stephane Pompougnac's famous Hotel Costes compilations, which, like the hotel itself, mix disparate elements to create a unified whole. Chill house transitions to hip-hop transitions to electro swing, and so forth. These are people who know how to make a compelling collage.
"So," said the guide, "you're responsible for that?" She gestured to a Keith Richards-looking gentleman sitting with two statuesque young black women. Either this man owns a record label, or he bought out the snakeskin jacket and heroin chic store on the way here, beside a table of models and businessmen, beside the fashion editors from earlier.
Greg laughs.
"Oui!"
Joris Delacroix
"Allez, Joris!" the entire crowd shouted (did you see me start this section in media res?). From my perspective onstage next to Mr. Delacroix, this was pretty cool to see, as Machine de Moulin Rouge (near the infamous tourist trap of the burlesque, but, as far as I can tell, unaffiliated). Again, I'm at a show that finally picks up speed around 2:30am to really get going by 4.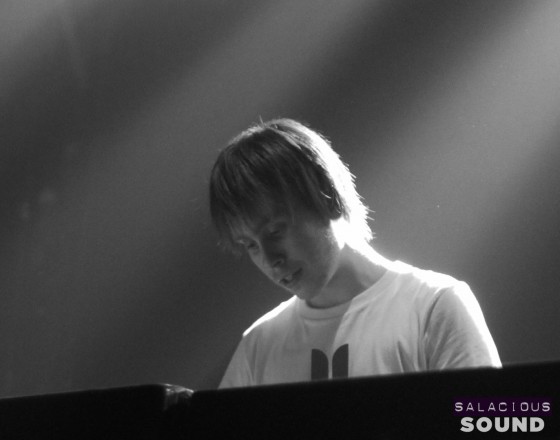 I got here by walking backstage, expecting to poke my head out and snap a couple shots from the side… Instead I was told to just join him on stage (in front of like a thousand Parisian hipsters and otherwise by myself) and snap some snaps.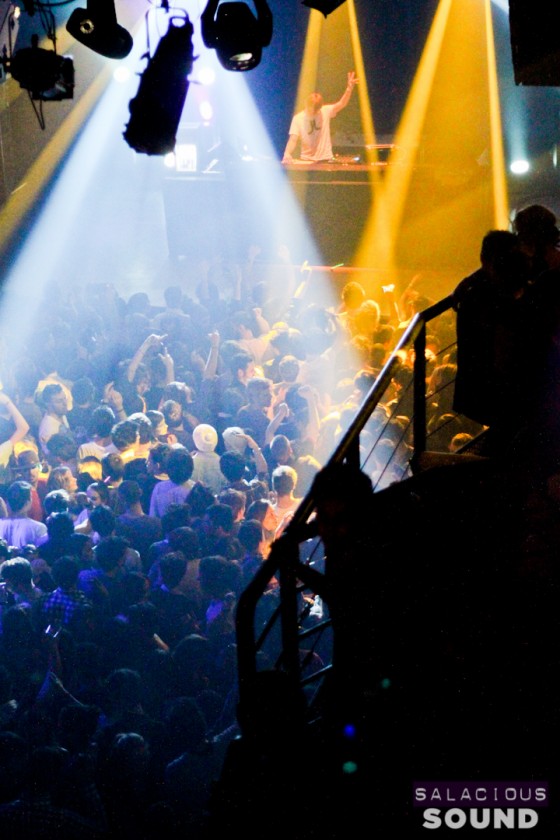 Unlike previous nights of great eclecticism, Joris Delacroix's set was laser focused on house, and on his own considerable catalogue. One notable deviation was for a quick remix of the XX's Crystalized (which I think everyone enjoyed).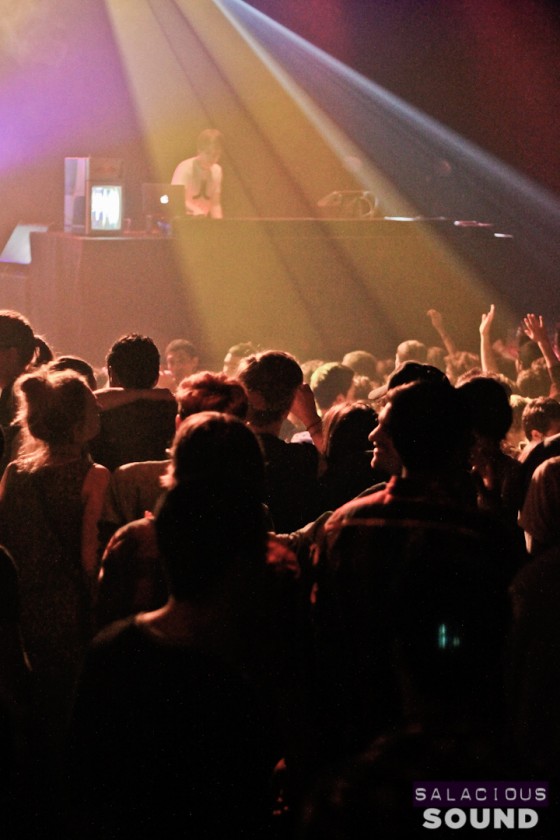 One of the reasons I love Joris Delacroix is that his clever use of silence makes any and all of his tunes eminently listenable on headphones (I have "This Is Not Tango" on while I write this). This does not detract from either their depth (at this very moment I count six instruments) and does not suffer from snore-itis, a disease to which modern European house music is particularly prone. He is able to make interesting music, despite his lack of instantly gratifying, Knife Party-style immediacy, through cleverness — the little moments of silence that pervade his songs are like bubbles in an Aero bar. The space between each instrument, and the notes he's intentionally not playing all come through as cleanly as any synth. It's so clear, not because of the quality of the Machine system (which was high; I'm not saying it was clear despite the system), but because of the precision with which Mr. Delacroix chooses to make songs.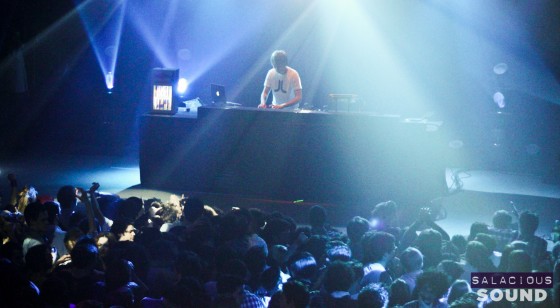 Joris uses multi-sentence vocals, layered synthesizers and keyboards, and disregards oversimple quarter note melodic structures. His songs still certainly follow a house pattern — adding a new element with each phrase — but do not conform to the house stereotype of boring (to us residually-rock-obsessed North Amurricans) instrumentation. There are always at least two beats going, a complex piano, and a synth effect — Joris Delacroix makes aurally interesting, complex, funky house, and this makes him special among house producers, who, as I said, are prone to make their songs too simple. While he is by no stretch of the imagination an obvious producer, Joris is a much more approachable beatsmith, and one who I will always jump at the chance to see.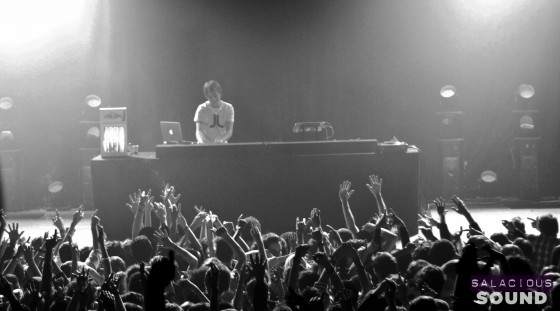 Paris Syndrome Redux
So I didn't get Paris Syndrome, fortunately, because I sought the underbelly, and to always tinge luxury with a little debauchery.
I think, for Salacious people such as ourselves, Paris Syndrome is caught in queues for the Louvre, outside the Eiffel tower, and on meandering boat cruises down the Seine.
Save your catatonic state for the Eurostar back home.