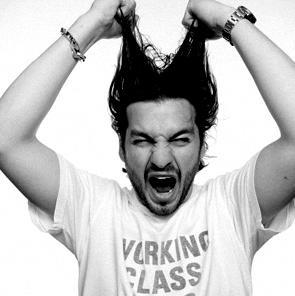 As if horrible films, ridiculous reality shows, and ugly accessories weren't enough, this senseless, miserable human being has decided to take up music critiquing as her next great challenge!  I've been poking around over the last few days reading about the events that transpired at the Winter Music Conference and I can't help but laugh AND draw parallels to my own experiences.
So what the hell does this have to do with Paris? Â WMC is an internationally renowned electronic music conference with representation from all the biggest names in dj'ing, producing, content publishing, etc in the business. Â Naturally, an event like this draws out many people as hopelessly fabulous as Paris Hilton. Â At a party a couple nights ago Steve Angello was dj'ing, and reports indicate that Paris wasn't enjoying the show. Â She had a conversation with the manager requesting that the music be changed, and he (foolishly) lead her up to the booth.
Now I, and most DJs, are no stranger to having drunk, irritable, vapid blonde girls in our faces about the music we're playing. Â What I learned early is that these vapid blonde girls have the capacity for holding grudges (read Paris' blog post), and that bad publicity of this kind just isn't worth your "principles". Â Steve Angello is no doubt one of the top dj/producers in electronic music, so I understand why he'd be annoyed with having a silly girl in his face ordering him to play hip-hop when he is an artist who has carefully planned out a show. Â But the one thing I learned from an experience exactly like this is that you HAVE to be the sober one up there (and I don't mean this literally, necessarily).
All of that said, Paris is a fucking idiot.  Her response is SO childish (not least because of the awful grammar and plentiful spelling mistakes) that I'm surprised anybody could possibly take her seriously.  I mean come on.. "The DJ (I don't even know his name cause he sucks so bad) was playing the worst music ever!"???  What are you, thirteen?  I guess that's the nature of being hopelessly fabulous though, is that even if you're an idiot blonde with nothing interesting or relevant in your head, people will still listen to you when you say you don't like the DJ.
[audio:Robin S vs Steve Angello and Laidback Luke – Show Me Love vs Be (Hardwell Bootleg).mp3,Deep Dish – Say Hello (Steve Angello And Sebastian Ingrosso Remix).mp3]