This Friday March 2nd, 2012 at Vision Night Club in Chicago a cast of international DJ talent will be "Bringing the House Back Home." The event is so named to signify the influence each of the performers have drawn from the beginnings of the house scene in Chicago over two decades ago, and the unique opportunity they'll be afforded to showcase their own style and talent while paying homage to the genre's roots.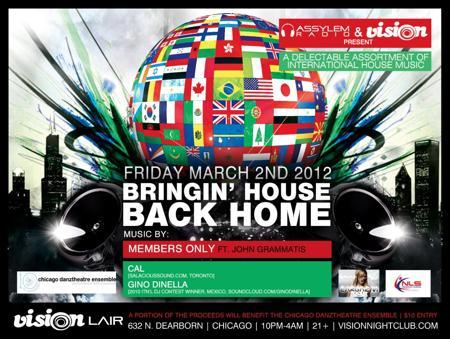 Full event details here.
The list of performers include:
Members Only
A DJ and Production Collaborative Group of three musical talents: John Grammatis, who began working as a DJ when he was only 13, just celebrated 25 years of playing House Music Internationally and is currently producing for Ultra Records; Andy Demetrio, mixes and produces, progressive and more darker sounds; and Kostas Giankinulous, who has been spinning 13 years and concentrates mostly on production.
Cal
Yours truly. I've been working hard to get together a set of new, sexy, deep Chicago house that I can play with and transpose against some anthems from house's first era. I can't tell you how excited I am to deliver a serious dancefloor workout!
Gino Dinella
Gino is an International DJ contest winner, 2011 and is poised to win another contest this year, as he is entered the Ultra Music Festival. Next up on Gino's calendar are bookings in Mexico during Spring Break, and clubs in the Dominican Republic.
A portion of the proceeds will benefit the Chicago Danztheatre Ensemble, a multidisciplinary not for profit founded in 2001, which engages and inspires the community through socially conscious performances and outreach programs that fuse literature, theatre, contemporary dance, multimedia and visual art. The proceeds from "Bringing House Back Home," will go to programming in the Humboldt Park, Wicker Park and Logan Square neighbourhoods.