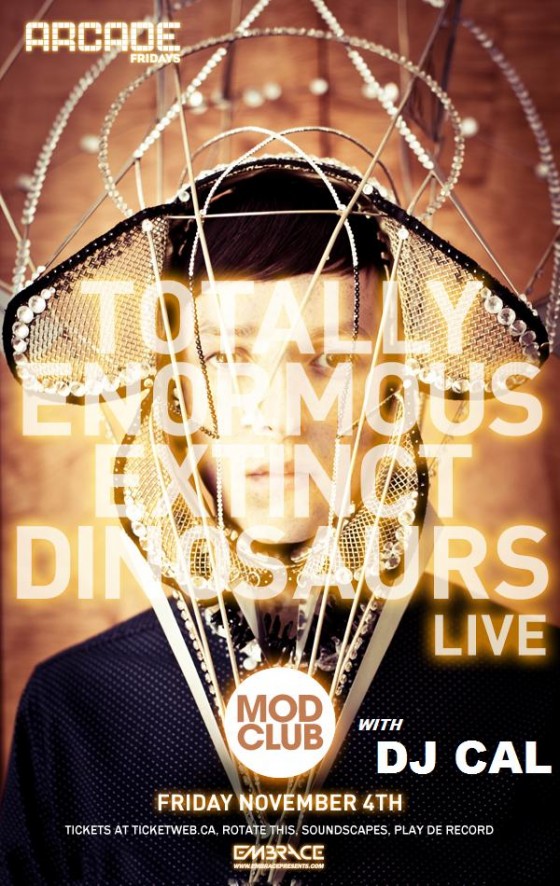 I'm proud to announce I'll be supporting T.E.E.D on Friday November 4th at Mod Club's Arcade night! All of the live shows I've seen at Mod – Trentemoller, Miami Horror, and The Makeover – have been absolutely stellar. This one should be no different, if this video from T.E.E.D's performance at Bestival is any indication!

(not sure if this is the live arrangement, but looks like the crowd is having fun!)
I think the last time I was at Mod was when I closed down the Miami Horror show, so suffice it to say I am most excited. Performances like this always make for a great dance party, and I'll be on my a-game that night.
For event details and ticket info: T.E.E.D (LIVE) w/ CAL @ ARCADE FRIDAYS NOV 4TH with SPECIAL GUESTS
T.E.E.D on Facebook | Soundcloud
Cal on Soundcloud
Recent Productions by T.E.E.D
DRC Music – Virginia (feat. Magakala Virginia Yollande and Yowa Hollande) by T-E-E-D
Garden (Soul Clap Remix) by T-E-E-D
Garden (Joe Goddard remix) by T-E-E-D
Totally Enormous Extinct Dinosaurs – Trouble ( Jamie Jones remix) by T-E-E-D
Mixtapes by Cal