Connect with 12th Planet online:
www.12thplanet2012.com
facebook.com/12thplanet2012
twitter.com/12thplanet
12th Planet Mothership Tour with Skrillex, Nadastrom, Foreign Beggars
I flew down to NYC at the beginning of the month after receiving my Electric Zoo press accreditation for the second year running, armed with my DSLR, audio recorder, and drive to cover the festival from a different angle than we usually hit.
The week leading up was correspondingly intense, trying to schedule the nine interviews we managed to capture while down there. Indeed, Monarch and I had to turn down some pretty big names just so we could keep our ragged two-man operation intact.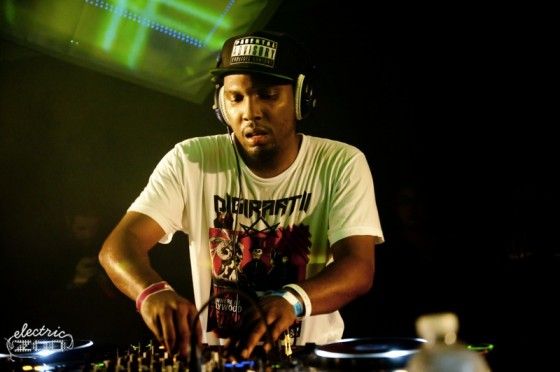 Photo Credit: Scott Kowalchyk for ElectricZooFestival.com
John Dadzie, aka 12th Planet, was an obvious short list choice given our base here on SalaciousSound, but it wasn't the first time I had spoken with the guy. When I confirmed my second interview with him after spending over 30 minutes on the phone just two weeks earlier, I wondered seriously if my background with him would help or hinder the interview.
Now that I've committed my edit, I hope you'll all agree it had the former effect.
The whole affair was actually very strange, to be honest. After visiting New York four or five times in the last 3 years I had an idea about the city; that because of the size you could expect never to run in to anyone you know.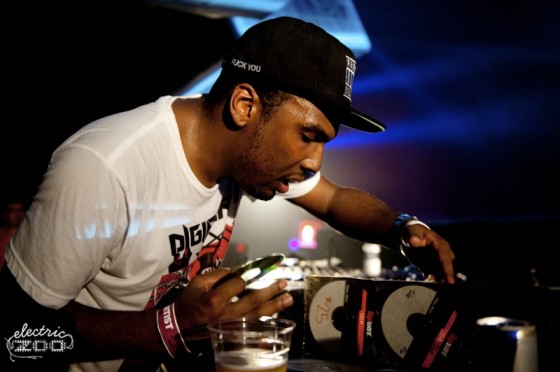 So when I ran in to 12th Planet at a small, dimly-lit, old-Canal-Street-sewer-shaped bar in Brooklyn, during a surprise Drop the Lime DJ set the night before my big interview with the guy, I was taken aback.
Even more surprising though was that the guy actually wanted to hang out, chat, and get to know each other; an opportunity I almost never get, as most people I've worked with immediately turn off when they figure out I'm a writer/press. After chatting with him and his pals, I came up with some seriously hard hitting interview questions for him the next day.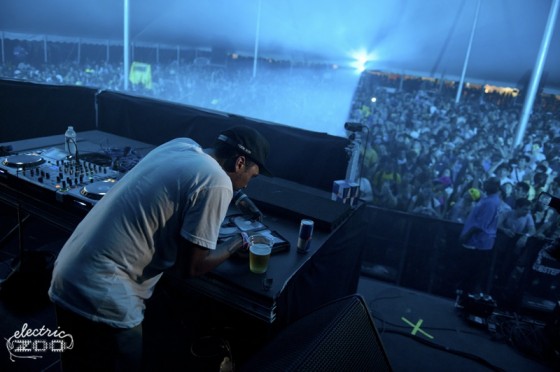 Photo Credit: Scott Kowalchyk for ElectricZooFestival.com
When I finished the interview I had a solid buzz going as though I'd just captured something really special, and I still have that feeling. This look in to 12th Planet's character and history reveals a charismatic and thoughtful individual with a genuine passion to back up the talent he puts on display in his productions and live sets.
Thanks so much to the folks behind Electric Zoo and 12th Planet's team for making this one happen.
12th Planet has a major tour coming up with Skrillex, Nadastrom, and Foreign Beggars. If it's in your city you NEED to see it!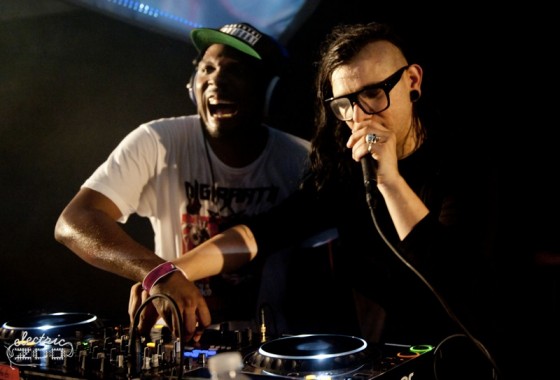 Photo Credit: Scott Kowalchyk for ElectricZooFestival.com
12TH PLANET: FALL 2011 NORTH AMERICAN TOUR DATES THE MOTHERSHIP TOUR
(*Indicates dates outside of The Mothership Tour)
Sep 26 El Paso, TX @ Buchanan's Event Center
Sep 27 San Antonio, TX @ Club Rio
Sep 28 Dallas, TX @ The Palladium Ballroom
Sep 29 Houston, TX @ Stereo Live
Sep 30 New Orleans, LA @ The Sugar Mill
Oct 01 Atlanta, GA @ The Tabernacle
Oct 02 Raleigh, NC @ Longbranch
Oct 04 Norfolk, VA @ The NorVa
Oct 05 Baltimore, MD @ Rams Head Live!
Oct 06 Washington, DC @ Fur
Oct 07 Richmond, VA @ The National
Oct 08 Philadelphia, PA @ Electric Factory
Oct 09 Sayreville, NJ @ Starland Ballroom
Oct 10 Buffalo, NY @ Town Ballroom
Oct 11 Syracuse, NY @ NYS Fairgrounds – Center Of Progress
Oct 12 Portland, ME @ State Theater
Oct 13 South Burlington, VT @ Higher Ground
Oct 14 Montreal, Canada @ New City Gas
Oct 15 Toronto, Canada @ Kool Haus
Oct 18 Saskatoon, Canada @ Tequila Night Club
Oct 19 Calgary, Canada @ Flames Central
Oct 20 Edmonton, Canada @ Edmonton Events Centre
Oct 21 Vancouver, Canada @ PNE Forum
Oct 22 Vancouver, Canada @ PNE Forum
Oct 24 Spokane, WA @ Knitting Factory Spokane
Oct 25 Seattle, WA @ Showbox SoDo
Oct 26 Eugene, OR @ McDonald Theatre
Oct 27 Portland, OR @ Roseland Theatre
Oct 28 San Francisco, CA @ Warfield
*Oct 29 Los Angeles, CA @ HARD Haunted Mansion – Shrine Expo Center
Oct 30 Phoenix, AZ @ Marquee Theater
Oct 31 Broomfield, CO @ First Bank Center
Nov 02 Lawrence, KS @ Liberty Hall
Nov 03 St Louis, MO @ The Pageant
Nov 04 Memphis, TN @ Minglewood Music Hall
Nov 05 Knoxville, TN @ The Valarium
Nov 06 Asheville, NC @ The Orange Peel
Nov 08 Bloomington, IN @ Bluebird Nightclub
Nov 09 Columbus, OH @ LC Pavillion
Nov 10 Indianapolis, IN @ Egyptian Room
Nov 11 Chicago, IL @ Congress Theater
*Nov 12 Milwaukee, WI @ Turner Hall Ballroom
Nov 23 San Diego, CA @ Voyeur
Dec 09 Denver, CO @ Beta
Dec 10 Athens, GA @ Georgia Theater
Dec 11 Jacksonville, FL @ Freebird Live
Dec 12 Tallahassee, FL @ The Moon
Dec 15 Orlando, FL @ House of Blues Orlando
Dec 16 Tampa, FL @ The Ritz Theatre
Dec 17 Miami, FL @ The Fillmore