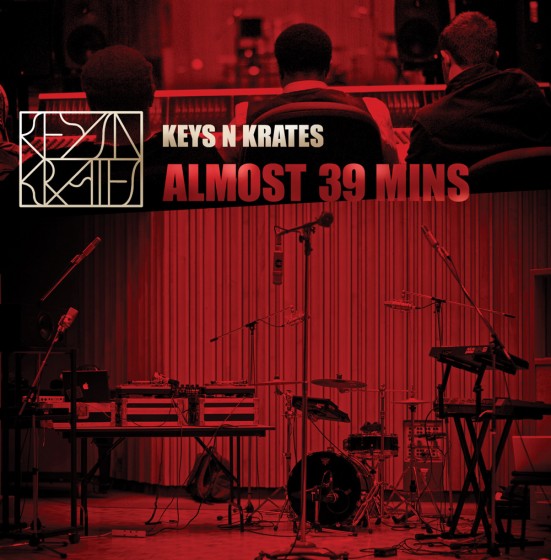 Toronto-based remix trio Keys N Krates just released their much anticipated "Almost 39 Minutes" mixtape as a follow-up to last year's highly acclaimed Live Re-Mixing 101 project.
Keys N Krates' breakthrough performances earned the group early critical acclaim from throughout the tastemaking blogosphere and festival culture. Almost 39 Minutes reflects the evolving sound of the trio's remix style, showcasing their dynamic performance in this much anticipated live recording.
Almost 39 Minutes is a continuous mix of classic hits from Aaliyah to Michael Jackson merged with hyper active beats, heavy disco sounds and various music influences from Drake to James Brown.
About Keys N Krates
Keys N Krates' three-piece concept of real-time remixing was innovated by group members DJ Jr Flo on turntables, Matisse on keys and Adam Tune on drums applying their unique aesthetic to original tracks and cultural anthems via turntables, samplers and musical instruments.
ALMOST 39 MINUTES by Keys N Krates
Track listing:
Everybody
C'mon Baby
Give Me The Night
Get out (Gramaphondezie live reinterpretation)
@drakkardnoir
Enjoy Yourself
On To The Next One
One In A Milli pt. 2
MC Squared
Devotion (Live re-work of Bing Player's devotion)
Closing Ceremonies
Keys N Krates Upcoming Performance Schedule
11.8.2010 Aitken Centre w/ Metric & OK GO Fredricton, NB
11.9.2010 Memorial Centre w/ Metric & OK GO Peterborough, ON
11.11.2010 Guvernment – Peace Dot Love Featival w/ Big Boi Toronto, ON
11.13.2010 Market Square w/ Metric & OK GO Victoria, BC
12.9.2010 Lee's Palace Toronto, ON
12.11.2010 Ritual Ottawa, ON
More Canada & US Dates To Be Announced Soon.
For more information visit: www.keysnkrates.com
Follow on Twitter: www.twitter.com/keysnkrates
More music: http://soundcloud.com/keysnkrates
Videos: http://www.youtube.com/keysnkratestv