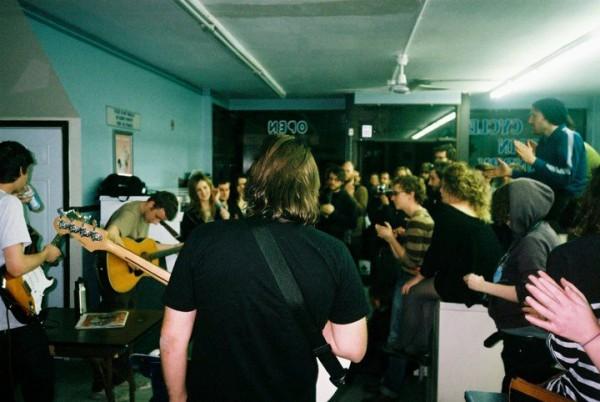 I recently visited Halifax and really really liked it;  alot more than a Toronto-snob grade 12-version of myself would.  In the over-saturated music market that is Toronto, we often lose sight that music is not just about bands coming to YOU in the biggest city in Canada.  In a smaller town, bands come through less often, but the shows are usually in better venues and to smaller, more intimate crowds.  Their local weeklies are looking as little to Toronto as NOW or EYE  are seeking out Hali or Vic or Brantford, but amazing stuff is happening nonetheless, something that often leaves big city-ers asking "BUT HOW?".   There is something exciting about heading to a new city and seeing how they do things and  most of the time, they do them damn well.  I find that smaller cities' indie music is a lot more collaborative or more healthily incestuous than other the posterboys for Canadian music 'collectives'.  Actually, I think collectivity is something that Torontonian music is artificially grasping at.  BUT I DIGRESS.
This brings me to the other side of our country.  Victoria has a scene that I've already been introduced to by some Toronto ex-pats that got pretty involved out there.  Some of them are back now: I went to the Almonds, Cohen and Slam Dunk show at Teranga in Kensington on June 24, and it was sweaty in a good way.
Full disclosure:  I am friends with 3/5 of Almonds, Cohen's present membership. Still, when did that stop anyone from writing about a fucking great band?  A,C have gone through many line-up changes, especially since relocating to Toronto, but  their kind of crooning dance-pop has maintained its ability to fit into any show (seriously, they've played at laundromats and household kitchens.) They kicked up the bass and drums while opening at Teranga for Slam Dunk, a fellow Victoria band that I can only describe as "power country" (and that's a good thing).  The resulting dance pit was excellent, especially for a show almost exclusively advertised on facebook.  Meanwhile, boasting a frontman like Brock Edwards, his cool vocals and loveable lyrics ("You're not the reason why I'm here/I just migrated with the deer") A,C can easily be coupled with a lone snare drum for a set with just as much awesome, though slightly less sweat.  Their Teranga set really really impressed me, being the first time I'd seen them play a harder and more upbeat show.  Recent addition, female vocalist Jesse Crowe, compliments Edwards perfectly.  I can only stress over and over that their pop is breezy, danceable and totally accessible, and going to see it played live will always be a different experience from the recording and shows past.  That's usually what a great live band is about anyways, no matter what part of Canada they come from, right?
[audio:Almonds Cohen – Digging For Clams.mp3] [audio:Almonds Cohen – I Migrated With The Deer.mp3]
A,C are part of the Old Life Records line-up, which puts out ALOT of solid Victoria, BC independent stuff and now has some roots in Toronto as well.  Go to the site! Listen to the likes of Colourbook, dreamboat, Young Lions and the Macadamia Brothers!  It will be so worth it for you.
As a bonus, here's my favourite song from that part of Canada! [audio:Dreamboat – Sunbathin.mp3]
And remember, Torontonians: "Small is good, man."
Almonds, Cohen play Toronto again August 4th at Rancho Relaxo with Armen at the Bazaar and Ismism.