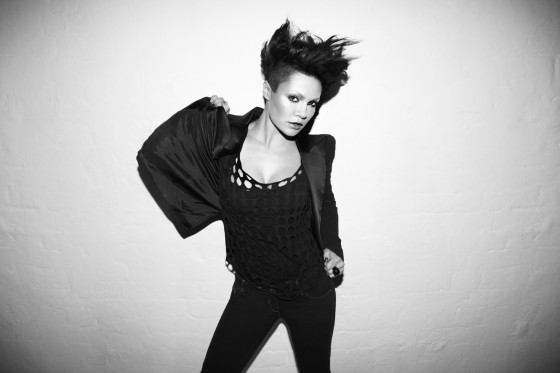 Sarah McLeod has returned with her new single DOUBLE R – due for release August 2010. The DOUBLE R EP release is the first single from her upcoming trilogy of album releases "Madness".
The first album is due out later this year with influences spanning a nu wave direction of electronica, dance, hip hop and rock showing McLeod's artistic freedom in creating innovative music from the heart.
McLeod has spent the past couple of years writing, producing and recording her own material all over the world and for other artists. McLeod has recently made history becoming only one of two Australians to hold a US Billboard dance chart position for 19 weeks.
McLeod has worked with many amazing producers from a vast spectrum of genres along the way, each contributing to her ever morphing and un-stoppable beast. From names including Grandtheft, Tom Neville, Autoerotique to Jimmy Douglass and Ill Factor in Miami, the Pilot Creative boys in Brooklyn, and most recently Chew Fu in the Netherlands she has finally mastered her musical battlefield and learned to let go. She feels a strong passion for where she is at musically. A place that she has truly worked hard to be in.
"I don't fit into the typical mould of a dance/ pop artist. My voice sounds like Rod Stewart in the morning. I don't make videos with choreographed dancers and I don't use sex to sell my clips. I'm a control freak when it comes writing my own material. I mesh rock theories with dance synths and dirty tribal beats. It can come off as a little confrontational and aggressive at times, but who cares! I love the fact that it confuses people and I really love what I have created. Why do we need to be in such tightly pigeonholed boxes for people to get their head around music? We are underestimating the intelligence of our audience if we do that. We live in a world where you can order a grande non fat frappuccino with an extra shot and a caramel twist, so how come we can't mix it up musically without being told that you 'don't fit the marketing mould'? Categories exist in peoples minds, not reality."
[audio:Sarah McLeod – Double R (Grandtheft Remix).mp3,Sarah McLeod – Double R (Autoerotique Remix).mp3,Sarah McLeod – Double R (John Roman Radio Mix).mp3]