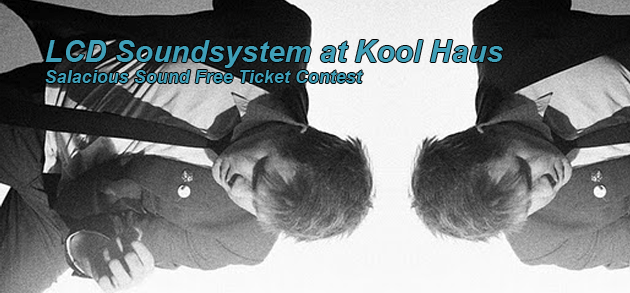 Did we mention this is one show? Head over to the contest page to enter for your chance to win a free ticket to the show! We have 2 tickets to give away!
LCD Soundsystem and DFA Records have been a leading force in the growth of avant garde music throughout this past decade. As some of the music scene's most tasteful tastemakers, it is no wonder that their opinions are held in as high esteem as their music. Tracking artists they've released through DFA, as well as the artists they support there is one trend and it isn't trendy – quality over quantity. The DFA stamp of approval is something that has never lead me in the wrong direction.
LCD Soundsystem – Tribulations from aqnb on Vimeo.
LCD Soundsystem's latest album This is Happening received a 9.2 from the church of music snobbery Pitchfork itself. The album combines pop, rock and disco sensibilities to provide everyone something to love. Head over to their website to stream the whole thing and get a taste for Tuesday.
Fortunately, the suggestion that Holy Ghost! is eclipsed by LCD Soundsystem's reputation, is to state that it will only increases the strength of their rays. While they won't be the focal point in the night their performance will be eagerly anticipated by fans who would have packed the house for them alone. Â With some of the most hard hitting remixes over the last year, the more than epic, I Will Come Back and the recently released EP I Know I Hear, Holy Ghost! continues to be a rising star in a world that popular music is no longer pop music.
Holy Ghost! "Hold On" LIVE at Under 100 NYC 5/15/10 from 'SUP Magazine on Vimeo.
Holy Ghost! "I Will Come Back" LIVE at Under 100 NYC 5/15/10 from 'SUP Magazine on Vimeo.
[audio:Curses – The Deep End (Holy Ghost Remix).mp3]