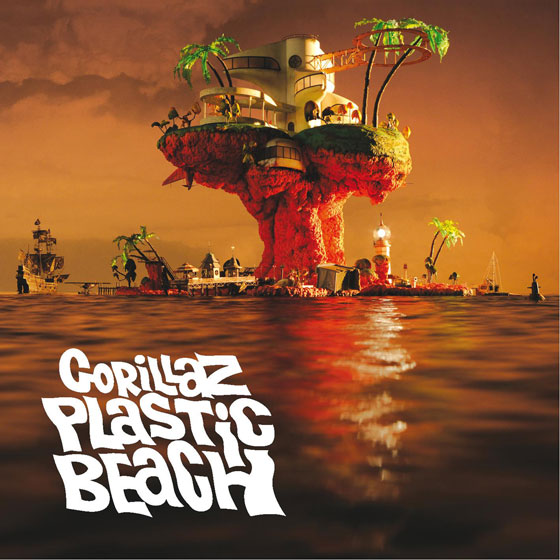 How huge are Gorillaz? So huge that their latest album has TWO intro tracks, and one of them features the eminently recognizable voice of the doggfather of hip hop himself. For you, dear reader, I will distill his performance into two components (in lowercase, because I doubt he would have gone to the effort of capitalizing it either): a) i'm snoop dogg, bitches and b) welcome to the plastic beach, bitches. Yes, it's that simple. In an album overflowing with amazing guest spots, Snoop's effort is a little underwhelming.
Gorillaz have always been a 'Damon Albarn and friends make music' type of excursion, but never has it been more apparent than on this album. Guest after guest – some of them big stars, some less so – are hanging out on the Plastic Beach, adding their flavour to Albarn's compositions. The guest spots are hit and miss; some are lacklustre efforts and some of them are absolutely awesome. Bobby Womack might be 66 years old but he sure as hell doesn't sound like it – word has it he sang so hard on 'Stylo' that he passed out in the studio. Mad props to him. I'm pretty sure the only time Snoop has ever passed out in the studio is after smoking too much shit. Mos Def is the hip hop artist with the stamina; check out 'Sweepstakes' for a free lesson in how to stay relevant through middle age by doing something other than adding '-izatch' and '-izzle-wizzle' to random letters.  Sweden's Little Dragon (who are also playing in TO this week as part of the Canadian Music Fest) are great in their spots as well, in particular on 'Empire Ants,' the point on the record where this listener crossed the threshold from 'listening' to 'thoroughly enjoying.'
From 'Empire Ants' right through 'til the end of the album, Plastic Beach is a success. After a couple listens, several of the songs (Lou Reed's 'Some Kind of Nature' or the dentist's-chair-nightmare-on-a-spaced-out-monday-morning 'Glitter Freeze') just kept popping into my head for days afterwards. While none of them are straight-out-pop-singles on the order of  'Dare' or 'Feel Good Inc.' this album has its own merits, throwing its umbrella out wider and higher than what has been attempted on previous Gorillaz releases. One reviewer went so far as to call it their 'White Album.' Britpop comparisons aside, you should hang out on the Plastic Beach awhile; there's lots to explore and enjoy. Mind you don't step in the Dogg poop, though.
Album mix is courtesy of this page, where you can also cop the album, and extras.