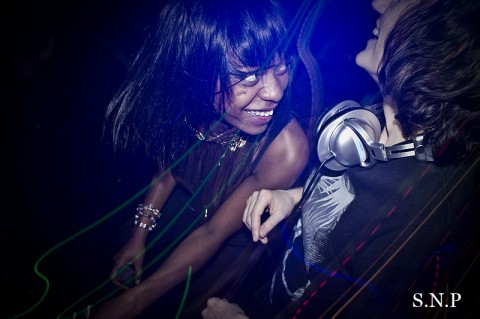 Violca Yryku, known for her talented contributions to the after hours scene of Toronto as a Dj and producer as Riviera, with special guest front woman of the chest-pumping duo Thunderheist, Isis Salam, tore down the walls at Mod Club this past Friday with their steamy, energetic and deliciously satisfying collaborative and solo performances.
Riviera surfaced her new huge-room sounds at the intimate yet party-inducing Mod Club this past Friday and the results were (extremely) well received. Numerous photographers surrounded the platform in which Riviera performed with Isis pumping up the crowd whilst supporting her friend, Riviera. The crowd chanted, two-stepped, fist-pumped and grooved throughout the entire performance due to the eclectic tunes which Riviera graciously provided. Fellow party-goers approached me to discuss their anticipation for dub-step, house, trance etc. however Riviera delivered and catered to every preference while sticking to her roots.
Consistency and professionalism while effectively entertaining and multi-tasking, Riviera delivered an unforgettable dance party with random assortments of heavy bass,trance and pure goodness with her friend Isis as her right-hand and hype woman. Not only would Isis dance, chant and encourage rowdy party behaviors like a dedicated hype-woman would, she also continuously laughed, cut loose and supported Riviera throughout her show.
Arcade Fridays at Mod club are continuously anticipated to be a fun-filled and rowdy night, but with talent and magnetism brought upon by Toronto-based producer and DJ Riviera, the night will always exceed expectations and keep the floor bumpin' and grindin' until the lights came on in the wee hours of the night, or in most cases, the morning. Riviera maintained a steady flow of killer beats, delectable drops and gratifying bass which appealed to the entire audience and then some. Thus once again, Arcade Fridays brought to you by Mod Club remain reputable for a fierce dance party with contributions from the oh-so talented and charismatic Riviera.
Without previous knowledge of Rivieras music, I had an open mind but grew very eager to witness this performance due to the previous reviews I had read-up on and all the hype-talk about the reputable DJ. I personally am not a fan of traditional/typical "club" music, however quickly became a huge fan of Riviera and her tribal, progressive and house sounds only minutes after the opening of her set. Needless to say, not only was I impressed, intrigued and extremely entertained by Rivieras sound and performance, it is thanks to her that I have also regained my love for Mod Club after a fairly brief "falling-out" after a poor-sounding show I had attended a few months prior. So, forget that, Riviera cleared that slate (to say the least) for Mod Club, in my books.
After a few (or more) drinks consumed, dripping a few droplets of sweat to the ground and a few bass-induced booty shakes, Riviera provided the crowd with a delectable performance, as we all knew she would. The night wound down after a few p(r)icks-and-pokes with the crowd and from a few encounters I had post-show, everyone seemed to have left greatly satisfied.
With great thanks to all whom made this show successful, Riviera and Isis included, I can safely say that Mod Club remains to be the go-to Friday party and #1 spot for great sounds and performances.
Mod Club/Riviera… until next time,
Kait Moffatt.
[audio:Azari and III – Hungry for the Power (Riviera Remix).mp3,Riviera – Big Room Afterhours Mix.mp3,Isis – Avenue.mp3]