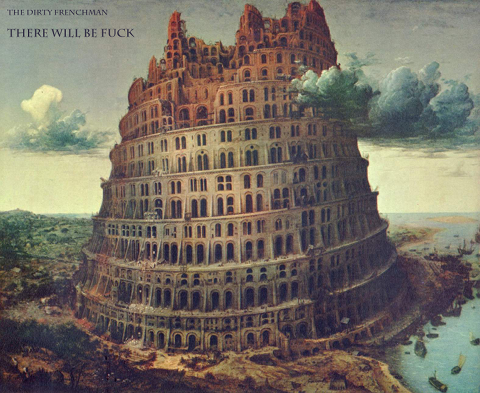 I have a special place in my heart for people who, in advanced stages of their life such as The Dirty Frenchman at the age of 30 (KIDDING / IRONY), resolve to become DJs and take over music scenes. Â Kudos. Â I haven't heard anything from this guy before, but if he ever sends me anything again I will definitely listen to it. Â He sent this mix in to us and after a listen, I made sure to get a little more info on him for those are interested. Â Here's a short, interesting, bio from Frenchman himself. Â Very glad to have this talented artist on our weekly podcast!
What can one say about The Dirty Frenchman? He's a scoundrel and he's only been djing for 3 years. It all started in December of 2006. A friend of his with turntables was away and needed someone to come over now and then to hold down the fort. The Dirty Frenchman would go over everyday during that week and practice for hours with another friend of his getting blazed out of his mind. By the end of the week, he could dj but had severely damaged his friend's set up. Immune to any guilt, the Dirty Frenchman bought his own tables and mixer within the month. He was 26 years old.
From the very beginning he was a man obsessed with mixing disparate types of music. What other option was there for a man who loved House Music and Dancehall? The first dj mix that he released, "The Bruckshot Sessions" was a synthesis of these two genres featuring the likes of Edu K, Crookers, Simian Mobile Disco and Justice alongside Elephant Man, Capleton, Movado and Assassin. "Government Housing", his second mix released in mid 2008, was a more thorough exploration of House music.
2009 was a very fruitful year for The Dirty Frenchman. First came his acclaimed mix "Race To Fuck Mountain" which was a complete mishmash of everything from Baile Funk to B-More to Bollywood by the way of Electro and Reggaeton. At the end of that year, work began on his greatest opus, the very mix you are listening to: "There Will Be Fuck".
So named because just like in the movie There Will Be Blood, The Dirty Frenchman is a ruthless, unscrupulous bastard bent on the extension of his own renown. Many may look at his actions with disgust, but what choice does he have? He is almost 30 years old and playing for keeps. He wants nothing less than to be among the top tier of djs in Toronto. You can catch him with his crew Walmer Convenience all over town.
[audio:The Dirty Frenchman – There Will Be Fuck.mp3]
Tracklist:
Mumdance & Brodinski – Eurostarr (Zombie Disco Squad Remix)
Miike Snow- Black & Blue & Enemies (Tiga Remix – Poirier Refix)
Oh Snap!! – Bill Cosby Sweater (Kazey & Bulldog Remix)
Malente & Dex Ft. New Kids – Lions (Douster Remix)
Yolanda Be Cool – Afro Nuts (Douster Remix)
Zombies For Money – Sacanagem
Jusa – African Air Horn Dance
Congorock – Hybro
Major Lazer Ft. Vybz Kartel – Pon De Floor
Dizzee Rascal & Armand Van Helden – Bonkers (Club Mix)
Metronomy – Radio Ladio (Radioclit Swedish Remix)
Amadou & Miriam – Sabali (Uproot Andy Remix)
Douster – King of Africa
Ghislain Poirier Ft. MC Zulu – Go Ballistic (Toddla T & Duckbeats Remix)
Zombies For Money – Numbra One
Silverlink Ft. Badness & Jammer – The Message is Love (Mumdance Remix)
Timberlee – Gunny Gunny (Schlachthofbronx Remix)
Tom Stephan – Turn That Shit Up (Diplo Remix)
Schlachthofbronx – Holdin' That Dick
Jamtech Foundation Ft. Voltage – Park the 9
Jahdan Blakkamoore – Go Round Payola (Matt Shadetek Bye Haters Rmx)
Ward 21 – Bang Bang
Alcides – Violeta (El Remolon Remix)
Makongo – Makongo