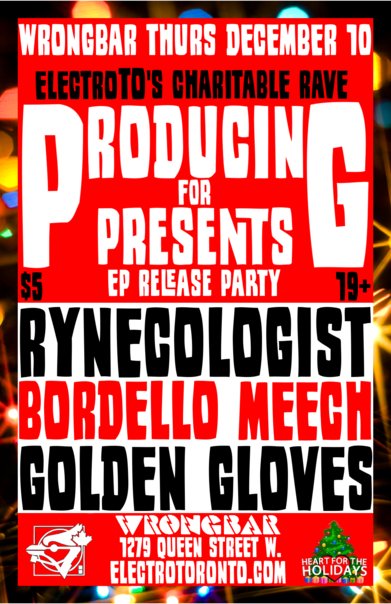 Our good friends over at ElectroTO have gone to work on some cool new initiatives for the holidays. Producing for Presents and Charitable Rave are two very interesting projects.
Here is the press release that they sent over. I'm really proud to know these guys as this is definitely a great cause.
_____________________
Thursday December 10th, electroTO in association with Heart For The Holidays, will be hosting a "Charitable Rave" at WRONGBAR. All proceeds collected from the evening will go towards The Heart House Hospice, which is a volunteer driven organization which reaches out to families dealing with a terminal illness.
This year, we want to lend our hand to raise money and directly reach out to these families during a time of greatest need, providing them with food and gifts, and ensuring that they are able to enjoy what might be the last holiday season they share together.
Nasty Nav has been kind enough to open the doors of Wrongbar, and host this incredible event. Join us for an absolutely PACKED bill, including RYNECOLOGIST (Ed Banger), GOLDEN GLOVES, MEECH and BORDELLO.
Also the fine artists above along with the likes of JOHN ROMAN and GINGY, have agreed to put together a "Producing For Presents EP", which will showcase the latest tracks from these talented producers. Stay tuned for more details.
[audio:Golden Gloves and John Roman – Huh.mp3,Major Lazer – Hold The Line (Golden Gloves Wobble n Shake  Re-mix).mp3,Kanye West – See You in My Nightmares (Rynecologist Remix).mp3]