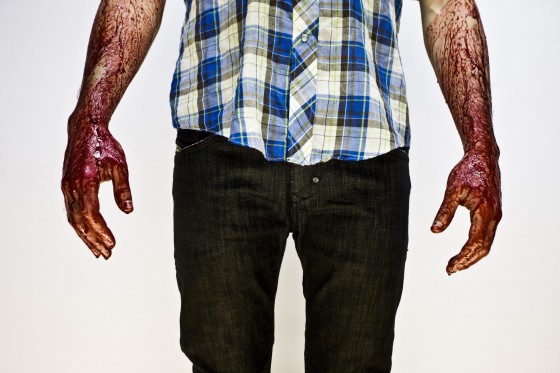 Last night is a show I will remember for a very, very long time. Â The atmosphere inside Wrongbar when I arrived at about midnight was totally unreal – jammed from corner to corner to corner, full stage, and every single person in the venue rocking out hard. Â Barletta was spinning a raging opening set that, alone, was worth the trip down to Queen West. Â He threw down some serious party jams and by 1am, had the house so excited most people already had their shirts off.
Fake Blood hit the decks around 1am, and that's when things got really sweaty. Â Wrongbar is a very funny place – when it gets really hot water condenses on the pipes and drips like crazy, as if the bar itself is sweating. Â Bodies were flying off the stage crowd surfing, and you couldn't see to the back of the bar because of a misty fog that just hovered for the rest of the night – we're talking the THICKEST of London fog. Â It's rare nights like last that are why I go out – they allow you to feel the excitement in the music you've perhaps heard many times, as if it was the first time again. Â I can tell you that nothing quite sounds like Mars, played on the amazing soundsystem at Wrongbar, with Fake Blood behind the decks.
Thanks to Nav, Barletta, and Fake Blood for an AMAZING night!
Just had a DJ mix slide my way from a friend and the playlist is awesomeeee. Â Check it out and let me know what you guys think.
[audio:Mr. Mandelephant – Foxtrot Rhythms TwoPointOh.mp3]
Playlist:
United Groove – L-Vis 1990 (Mad Decent)
Ta Com Medo De Mim Feat. Deize Tigrona – Oliver $ (Man Recordings)
Esperanto – Zombie Disco Squad (Sound Pellegrino)
Bongo – Byron Fox [Dan X Mix] (Guesthouse Music)
Shake And Pop – Green Velvet (Hussle Recordings)
Township Funk – DJ Mujava
[Rob Threezy & Radioclit Remixes] (Mad Decent, This Is Music)
Spraycan – Renaissance Man (Dubsided)
What Is Guru – Renaissance Man [Riva Starr Remix] (Sound Pellegrino)
Not Fair – Lily Allen [Style Of Eye Remix] (EMI UK)
Word – Sebastian Leger & Chris Lake (Nervous)
Pon De Floor – Major Lazer [Extended Bootleg Mix] (Mad Decent)
Sveglia – Crookers (Southern Fried)
Caked – Harvard Bass (Sound Pellegrino)
Rockerman – Foamo [Lee Mortimer Remix] (Wearhouse)
Shake It Down – A-Trak & Laidback Luke (Mixmash)
Touch My Horn – Jesse Rose (Dubsided)
Be – DJ Sega (Mad Decent)
Mad House – Byron Fox [Vox Mix] (Guesthouse)
New Orleans – Bastian Schuster & M.in (Off)