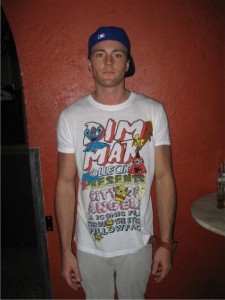 I am talking about the parties we go to, and more specifically the DJs we go see. Who is radical and what makes them so rad?
The one thing that has become almost an absolute asset in this industry is being able to work your way around a production program. Whether it's doing simple remixes or creating your own tracks, having that skill helps legitimize your involvement in the industry. The ironic thing about this new standard is that you can be an amazing producer, and not be a great DJ. If you have some great tracks out, and people want to see you play them, there is a lot more motivation to get that skill down fairly quickly eg. Deadmau5, who went from not being on the DJ mag top 100 list in 2008, to being number 13 this year next to Carl Cox and Infected Mushroom. He is my number one choice for radical DJs this year. A close second to him is another local DJ named Noah Pred, he just recently launched his own record label named Thoughtless music. He plays at Toi bar and throws a party called "milkrun" at a studio near the beaches. He has numerous tracks on Beatport and will definitely be up to some big things soon.
Marketing can be a frustrating demon to a DJ/producer, having great tracks and being a great DJ just isn't enough anymore. You have to be a public relations master as well, logo designer, MySpace designer, and being just plain cool, it's an up hill battle unless you're Steve Aoki. He is my choice for marketing wizard of this year. Besides signing some of the best Indie bands like Bloc Party and the Klaxons, he also signed some of the best DJ's in the world like MSTRKRFT and The Bloody Beetroots. Did I mention that he is also a world class DJ himself? He had the coveted residency at Space in Ibiza last summer and throws the famous Dim Mak parties at LAX nightclub. He also has a successful clothing line called Dim Mak Collection. It goes to show that playful logo treatments, some great party photos, and a great ear for music can go a long way. And if that's not rad, then I don't know what is.
Here are my top 5 dj/producers for the year
1. Deadmau5 (local hero)
2. Noah Pred (local hero)
3. Sebastien Leger
4. Steve Aoki
5. M.A.N.D.Y.
I put together this mix, inspired by the Get Physical record label.
Tracklist:
La Luna – Miss Jools
Cave Canem – Martin Eyerer
Picanha – Thomas Schumacher
Lower Instincts – DJ T
Everybody to the Sun – Josh Wink
Booty Call – DJ T
Murder – Paul Rich
9 – Komytea
Check out MySpace to listen to some original production!
[audio:Y.Pro – Oh No! Mix.mp3]