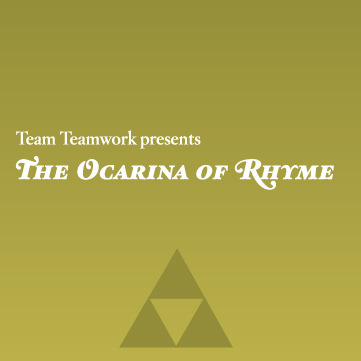 To me, Zelda feels like it was a pillar of our generation's childhood experience. Ever since I broke my first N64 I've secretly hoped for a new reason to listen to the songs from this king of video games. So when I saw this fusion of catchy music and hip hop I got pretty fucking excited. Because that's the exact reasoning behind Team Teamwork's genius new project "Ocarina of Rhyme"… which sports verses by famous artists like Dre, Jay-Z, and Common to the tune of Zelda classic Ocarina of Time's most memorable songs. 8-bit beats anyone?
Warning, contents may cause intense nostalgia.
Here's a few of my favorites. The whole album is available here. Definitely worth a listen, at least for the shits and giggles.
Church,
BDJ
[audio:Clipse – Virginia (Team Teamwork Ocarina of Rhyme Rework – Lost Woods).mp3,Common – I Used To Love H.E.R. (Team Teamwork Ocarina of Rhyme Rework – Hyrule Market).mp3,Jay-Z – No Hook (Team Teamwork Ocarina of Rhyme Rework – Meeting the Owl).mp3]