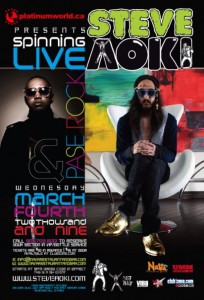 (Click flyer for Facebook event)
Steve Aoki is back in the GTA. Seeing him play out in Burlington at the end of last year was definitely worth the trip out. Pase Rock, rocked my socks on Halloween at the Cobrasnake Party @ Wrongbar. I can't believe that these two infamous party rockers are going to be in the same lineup. Definitely looking forward to seeing Aoki crowd surf, get on the mic and just act rowdy.
SalaciousSound.com has 2 free tickets to give away to one lucky reader. All you have to do is join our Facebook fan page, which will make you eligible for future contests and promotions. Please feel free to check out our Facebook group as well and take a look at our shout outs to the people who have gotten involved with the site so far!
(yes these songs are random but it's some stuff I've been digging lately)
[audio:Royksopp – Happy Up Here (Boyz Noize Remix).mp3,Kid Cudi – Day n Night (Rusko's Big Trombone Remix).mp3,Hercules and Love Affair – Blind (Frankie Knuckles Dub).mp3,Diamond Cut – Teardrops (Treasure Fingers Filter Disco Edit).mp3,Cecile Feat. Denis Coffey – Una Domenica Italiana.mp3]