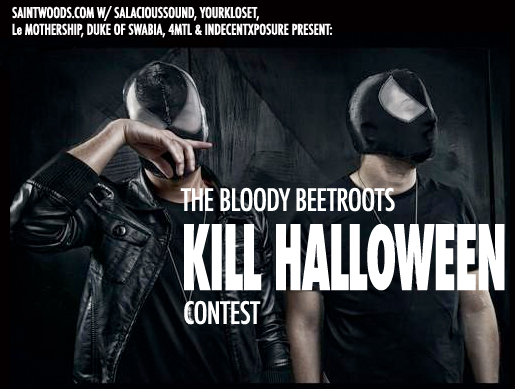 On October 31st Saintwoods.com is throwing Canada's most evil party KILL HALLOWEEN with the BLOODY BEETROOTS in Montreal.
In the run-up to this apocalyptic freakfest Saintwoods.com has teamed up with Salacious Sound and a few other music blogs – Le Mothership, Indecent Xposure, YourKloset and Duke of Swabia – to give away two tickets to the show in Montreal.
The lucky winner will also receive a free vinyl copy of the Beetroots new album Romborama signed by the masked villains themselves!
All you have to do is go to the Saintwoods FB group and post in the discussion topic your favorite Beetroots track then send your answer to this skill testing question to
info@saintwoods.com:
What was the name of Bob Rifo's old punk band?
_______________
On a musical note I have attached this remix of Adam Sky and Zoo Brazil as it is probably my favorite Beetroots track for a while. Loving the drums and slowed down tempo. This track is darker than your average banger and is very well executed. Local Toronto legend, Milano crafted a dark techno journey with an awesome acidic synth line that develops throughout the track and really kicks it up around 3 minutes. Meant for big systems and dark rooms Milano's mix is made for forgetting about time as the sun rises outside of an abandoned warehouse.
[audio:Adam Sky and Zoo Brazil – Circle Jerk (The Bloody Beetroots Remix).mp3,Adam Sky and Zoo Brazil – Circle Jerk (Milano's 309 Remix).mp3]