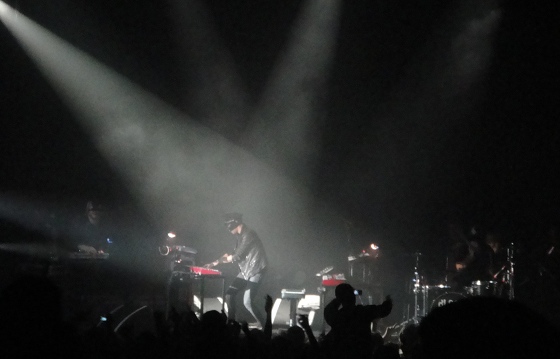 The constant stream of amazing musical talent in London continues. Last weekend I found myself back at the Coronet Theatre to see The Bloody Beetroots, but with the addition of drummer Edward Grinch to the duo of Sir Bob Cornelius Rifo and Tommy Tea to form The Bloody Beetroots Death Crew 77.
I am literally at a loss for words to describe how fucking amazing this concert was – and it was a concert. There were no turntables. On stage the Crew played the drums, a bass guitar, an electric guitar, a series of keyboards, sang, and worked a mixer.
It was a marriage of punk and electro, and hardcore for both genres – and with the quality of sound pumping out of the Coronet's ridiculous sound system – this crowd got ROCKED. I've never heard "Warp" drop so hard – two thousand people were instantly in the air jumping simultaneously to the beat. And for the second time in two weeks – I saw a mosh pit break out at the Coronet. The difference between this show and SebastiAn's, was that the Death Crew 77 had multiple mosh pits going.
But I wasn't surprised this time. The intensity and energy of the vemon-masked threesome on the stage made it feel more like a hardcore punk show than a DJ set – they took frequent swigs of ice cold water bottles, then threw them into the crowd (which is how I know the water was ice cold), wiped their sweat with towels, and jumped around every inch of the stage. The drum, guitar, and keyboard solos were epic.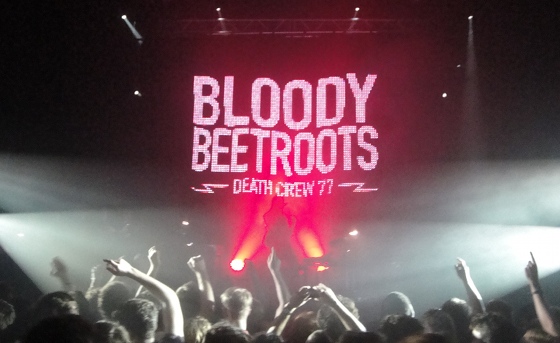 Bob Rifo screamed the vocals into the mic, proving where his roots lie. He describes the Death Crew 77 as
"an anarco-musical cell that expands its virus by exploiting rock stages on planet Earth. It is a return to our roots and the new post punk of the modern electro era…. I see DC77 as a secondary growth of the BB DJ set."
I'm not convinced that the whole anarchy theme apparent in the show and in the "Domino" video is more than just hype and marketing, but I don't really care after a show this legendary. Surprisingly, most of the locals I spoke to knew little about The Bloody Beetroots before the show – there were enough locals on the bill to bring out a crowd. After seeing BBDC77, they won't forget them.