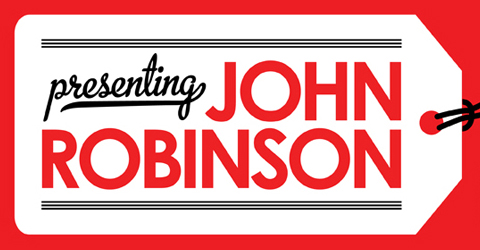 It was a typical Saturday afternoon for me, doing the Queen Street record store shuffle. I usually start at University and make my way West stopping at Kopps to flip through classic funk 45's looking for dope drum breaks, then I move on to Metropolis to flip through the breaks and house music, then Slinky to find new Hip Hop, Funk and Electro records. If I haven't found anything by then I'll usually drop by Cosmos for their Jazz and dope collection of original old school Hip Hop. Then, If I still don't find anything, I'll stop in at Rotate This for their amazing selection of Punk, and Indie Rock. On a normal day I'll listen to about 150 records by supper time when I'll grab some Hero Burger and call it a day.
On this particular day I only made it as far as Slinky where I dropped about $150 on new Hip Hop and Electro records. One of those records in particular got me really excited about the direction Hip Hop is moving in these days. John Robinson's two record E.P. I Am Not For Sale Parts 1 and 2. Like I said, I was at Slinky flipping through the New Hip Hop section when, I came across an E.P. whose red cover looked like an  Ed Banger, So Me design. (I later found out that the record sleeve was designed by Eoin) I pulled it out and put it in the pile of records I was planning on listening too, thinking nothing of it at the time. I kept flipping through the section and came across another record with the similar design with a white background. I left this one in the stack because I figured I already grabbed a copy just with a different color scheme.
When I finished making my rounds through the store, I walked over to the listening station and started dropping the needle on various records looking to hear something inspiring or just plain dope. Little did I know that on this particular day I was gonna discover an M.C. who's lyrics and flow are unmatched by many. As I was listening to this marvelous new Hip Hop record, I looked at the cover and noticed, not only am I listening to the future of dope M.C.'s but these abstracted beats were produced by the likes of I.G. Culture and Flying Lotus and the record sleeve said E.P. 1. I immediately went back to the New Hip Hop section and started digging for that other record and noticed that it said E.P. 2. I asked Andy, (of the Gang of Two who also occasionally works at Slinky), if there was an E.P. 3 planning on buying any and all releases I could find by this John Robinson cat. He said it was just the two, (or one C.D. without the instrumentals), so I frantically finished listening to the rest of the records in my pile, excited about the opportunity to pick up these new E.P.s by a new artist, who before today, I'd never heard of. To me that's what my record buying addiction is all about. Finding new artists I'd never heard of and enjoying their work as much as I enjoy the work of tried and true artist like Marvin Gaye, Stevie Wonder and De La Soul. Not to say that John Robinson sounds anything like the aforementioned musicians but I definitely enjoy his music as much as I did the first time I heard Three Feet High And Rising, Songs In The Key Of Life or What's Goin' On.
So, now I'm asking myself, "Who the fuck is John Robinson"? Well, as it turns out John Robinson is the alter ego of Lil Sci of the world-renowned East Coast Group Scienz of Life and has done numerous guest appearances for and collaborations with Madlib, Count Bass D, Rawkus Records, Daedelus, Ammon Contact, Dwight Trible and Jneiro Jarel. His E.P was executive produced by none other that the supper villain himself MF Doom. With his Nas-like vocal tone, calm demeaner and revolutionary, socially critical lyrics, not to mention beats that could shake the foundation of the entire White House, John Robinson's new E.P., I Am Not For Sale, is not something fans of Hip Hop groups like The Roots, Common, Talib Kweli, Mos Def, Dead Prez, Quasimoto, or MF Doom should sleep on. I bought two copies!
– Splattermokey Y'all
[audio:Splattermonkey – The Splattermonkey Show! Episode 18.mp3]
Splattermonkey Show Podcast
Flying Lotus – $TUNT$
Dialog from the Motion Picture Gonzo
John Robinson – Stop & Think
Herbaliser feat. Wildflower – Good Girl Gone Bad
D.J. Babu feat. Termanology – Guns Gon Blow
John Robinson – I am not for sale
eLZhi feat. Aya – The Leak
D.J. Design feat. Oh No & Dudley Perkins – Better Days
John Robinson – Touch 'em
Common feat. John Legend & Kanye West – They Say
Nas – Halftime
Flying Lotus – LTWXRMX
Dialog from the Motion Picture The Wackness
John Robinson – Don King
D.J. Design feat. Foreign Legion – Battle Physically 1998
Yo' Majesty – Break Bread
Nas – N.Y. State of Mind
Q-Tip – Shaka
Fink – Ever Since I Was A Kid (pt.1)
Herbaliser feat. Phi Life Cypher – Distinguished Jamaican English
Mr. Scruff feat. Roots Manuva – Jus Jus
Dialog From the Motion Picture The Wackness