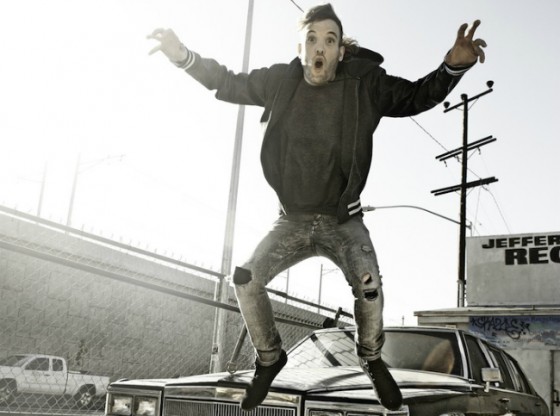 After an interview several months ago with Mistajam's BBC1 show, quite a stir arose regarding Rusko's comments about brostep and where he'd be taking his music in the future. Almost invariably, the biggest UK dubstep artists (and bass music artists more generally) have expressed a desire to take their sound in a less aggressive, more musical direction on their upcoming albums – Skream, Benga, and Rusko to name just three.
Well, today I received some exciting news: a release date for Rusko's second full-length album has been announced.Songs, the follow up to his incredibly popular 2010 release O.M.G.! will be released via Mad Decent/Downtown Recordings on March 27th.
The album is supposedly something of a genre-bending experiment for Rusko, spanning from dubstep to R&B and "hi-NRG".
In anticipation, a video for the first single 'Somebody To Love' was released today. Check it out below, and find it in stores in advance of the album release on January 24th.
The Rusko Remixes 2006-2010:
Rusko will be embarking on a tour in February, and you can bet you'll be hearing some exciting new material. Dates below.
Rusko's 'College Tour' Dates:
2/2 – Knoxville, TN – Valarium
2/3 – Nashville, TN – Cannery Ballroom
2/4 – Memphis, TN – Minglewood Hall
2/6 – Richmond, VA – The National
2/7 – Atlantic City, NJ – Showboat Atlantic City
2/8 – Pittsburgh, PA – Club Zoo
2/9 – Worcester, MA – The Palladium
2/10 – Amhest, MA – Mullins Center (U. of Massachusetts)
2/11 – Albany, NY – Albany Armory
2/12 – Burlington, VT – Memorial Auditorium
2/14 – Buffalo, NY – Town Ballroom
2/15 – Kingston, ON – Stages Nightclub
2/16 – London, ON – London Music Hall
2/17 – Guelph, ON – Guelph Concert Theatre
2/18 – Columbus, OH – The Bluestone
2/20 – Cleveland, OH – House of Blues
2/21 – Covington, KY – The Madison Theatre
2/22 – Ann Arbor, MI – The Necto
2/24 – Milwaukee, WI – The Rave
2/25 – Madison, WI – Orpheum Theatre
2/26 – Urbana, IL – Canopy Club
2/27 – St. Louis, MO – The Pageant
2/28 – Springfield, MO – Gillioz Theater
2/29 – Lawrence, KS – Liberty Hall
3/2 – Avon, CO – Snow Ball Music Experience
3/3 – San Bernadino, CA – NOS Events Center