LA's very own Lupe Fuentes has been nothing but straight fire lately! With multiple releases scheduled for the next while, she's definitely going to be causing a storm on dance floors throughout the underground nation. Her latest hit, Can't Go On, is on the MadTech Amsterdam 2016 compilation, and features vocals to match the track's rather dark bassline, as well as a solid and infectious beat to complement its snazzy piano chords. Not too far down the road, she'll also be releasing Full Jacking, which is set to drop on the 17th.
Lupe was even so kind as to give us insight on what she's been up to lately! Here's what she had to say: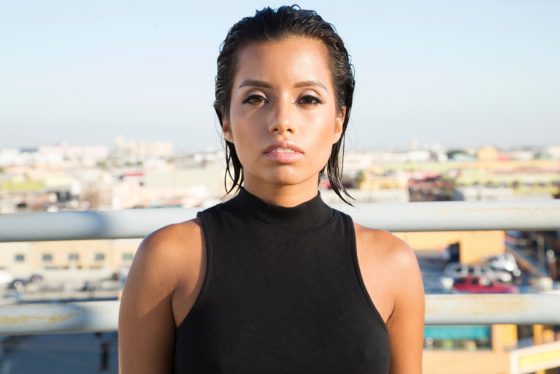 Can you tell us a bit about Can't Go On?
The inspiration came from a track that I heard and inspired me. I think it happens to a lot of people, you just hear something and think of a way to do it your way.
What's a memorable moment from this past summer?
A memorable moment was playing at Sundown Music Festival in Huntington Beach. It was my first festival and it was quite exciting for me, so the experience was awesome. Playing outdoors with the sun/breeze hitting my face, the California ocean view and the energy of the crowd is definitely something I will not forget.
How did you come to be featured on the Amsterdam 2016 album?
I had worked with MadTech in the past. It's one of my favorite labels, I support a lot of their releases and for a long time I aimed to release on MadTech. I sent them the track and they were feeling it, and just like that I was back in the MadTech family.  I released a collaboration that I did with Javi Lopez entitled To Perfection on MadTech last year, so it's really cool to be working with them again.
When you're not touring/in the studio, what's a typical day in the life of Lupe like?
Every morning I wake up with my Chihuahua "Bambi" right next to my face. After that I have my coffee, and from there I start working. It can be from making music, A&R-ing, strategizing to grow my brand or just doing logistics for my label, In The Loop. I am very fortunate because I make my own schedule. Other days, I wake up and just go out to exercise – I am a very active person. I love yoga, hiking, weightlifting, etc… it's very important for me to take care of my health, so I always try to eat healthy and work out. But the rest of the time I am either making music, working on a bunch of different projects or hanging out with friends.
Tell us about your label, In The Loop – what's the process like when deciding on what artists to sign? What's the direction you'd like to see the label going in?
When I sign an artist to the label I make my choice solely on how good the music is and if it fits the sound we are going for. The only thing I care about is if the track/EP makes me feel something. It's hard to explain but, when it's fire, you just know it. The integrity of In the Loop is extremely important to me. I pass on a lot more music than I sign, but every record I release on the label I really get behind and promote it. I love to give opportunities to new artists that I believe in.
~Lupe Fuentes~
Facebook | Twitter | SoundCloud
.