Mysteryland USA has always strived (and succeeded) to bring the most forward-thinking lineup in the summer festival season. This year's festival will take place on June 10th-13th at its upstate New York location in Bethel Woods, New York. The recently announced full lineup features names ranging from ODESZA and Skrillex to smaller, up-and-coming acts like Illenium, Art Department, and Dimond Saints. While the festival will attract fans from every genre, what makes Mysteryland so special compared to other festivals is its experience-focused setup. With things like a food festival, deep house yoga, various guest speakers, and a large number of interactive art installations, festival-goers can gain a full, immersive experience unlike any other. A number of activities and exhibits will be available for attendees that will allow them to connect with the Woodstock ideals of self-expression, creativity, and exploration.
Healing Garden and Speakers
If you're looking to learn something new and get in touch with your spiritual side, the Healing Garden will be open throughout each day of the festival. Led by Mysteryland's Healing Garden curator Sarah Schroder, attendees can rewind and relax as they are inspired by positive vibes and transformative experiences through an arrangement of yoga, healing, meditations, and workshops. NPR personality Anya Kamenetz will also host a speaker program that will introduce a variety of discussions focused on the mysteries of dreams, creativity, sex, and festival culture.
Art Installations
Incendia 50's Fire Dome will make its return to the grounds of Mysteryland USA as well as a variety of quirky visual art installations that will capture the distinct eccentricities that are reminiscent of Burning Man. New York's urban art company Dripped On Production will also be bringing a variety of talents, including live painting, body painting, and graffiti-based art.
Last year, the festival incorporated a mixture of unique wonders, ranging from a human Mousetrap game, the True Mirror Palace, a mailbox tree where you can hang messages, and a project called "Enter The Mal," an interactive audiovisual dome synced up to minimal techno with visuals controlled by a Magic Hamster Ball. With more Mysteryland USA announcements to come, we can be sure there will be a number of new and exciting, one-of-a-kind installations to be seen.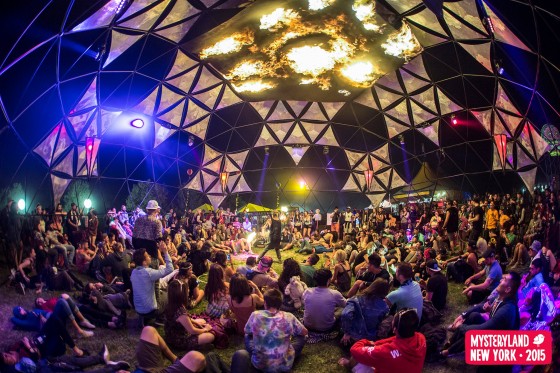 Performance Art
One of the ways Mysteryland brings the magic into the festival is with their cinematic addition of performance artists and out-of-this-world production. Nova Zef & The Pendulum People will be bringing their crew of music, fashion, and moving art specialists, taking crowds on a journey through their dancing, visuals, costuming, puppetry, live drumming, and poetry. The House of Yes will also be joining the festival, providing a spectacle of circus and performance art through aerialists, choreographed parades, and more.
Get your tickets to Mysteryland USA here.