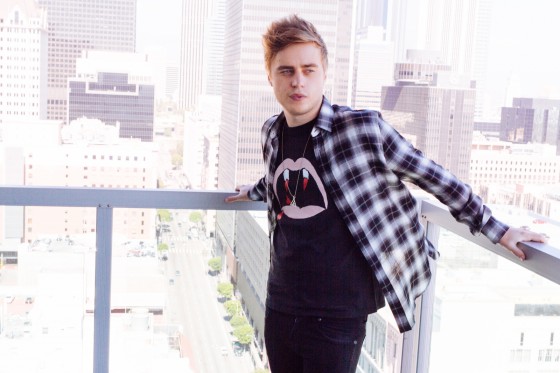 Klingande has become a refreshing face in EDM and has made quite the name for himself all over the world. He is known for crafting charming tunes of the Melodic and Deep House varieties that creatively incorporate live acoustic instruments, such as the saxophone and violin amongst many others. Whether in the club or at a festival, his music really gets the crowd moving and singing along. Making it clear that he isn't one to be confined by boundaries, Klingande is changing the face of the House genre while constantly touring and gracing the world with his music .
At Euphoria Music Festival in Austin, TX, amongst a lineup that was filled with a variety of the many EDM genres, Klingande performed a memorable set that effortlessly set himself apart. With his touring saxophonist performing live with him, Klingande delivered soul through his music that wasn't quite like what the crowd had seen at Euphoria during the previous funk and livetronica performances. He drew a huge crowd during the Texan sunset, and his performance revitalized them as their voyage to find Euphoria was coming to an end.
After his energetic set, I was able to sit down with Klingande and talk about his career, the music scene, and new music. Check out the interview below, and enjoy!
You've been producing music for some years now. How do you think your music has evolved since you've started?
You know, I started with a saxophone song, "Jubel." After that, I wanted to try something else. I tried the harmonica, I tried the violin. I didn't want to be categorized as a saxophone artist. I still wanted to use acoustic instruments in my music. I really like the organic vibe. And in the future, there's going to be a lot of that. Not sure if I'll use the saxophone or not, but for sure acoustic instruments.
How did you get drawn to the saxophone in the first place?
I came across a group Klangkarussell, they did a song called "Sonnentanz". When I heard that song, it just blew my mind. I was like, "This is the kind of music I want to make." I was producing for a few years, but I was more into EDM stuff like Avicii, but when I heard that song, it changed my way of thinking, and I was like "Okay, I want to do that." I tried to make music with a more "pop" sound, and so then "Jubel" came up.
I see your name on bills for festivals all over the world, so do you have one specific, or really unique or most memorable experience?
Since I've started, everything has been growing so fast. Every time I have a festival, I have another one following that's bigger. I have amazing memories from Tomorrowland, maybe because, for me, it was a dream to play there. When I was about to play there, I was like, "Wow, just amazing." And now I've been doing it for 3 years. I played Ultra, and it was amazing. My dream is to play Coachella one year, and maybe Burning Man. I need to go there, maybe next year. It's just about the vibe, the vibe is so different there. When I go somewhere, I'm just looking for the vibe and doing something different every time. This [Euphoria] is a cool festival, super hippie style, so chill.
Being a French DJ, what are some differences you see in the American electronic music scene from the French or even European music scene?
I think here, you are more into EDM stuff still, more trap-y, but also, you love tropical house. In Europe, it was huge. Tropical house was big like 2 years ago, but now it's slowing down. But in the U.S., it's growing like crazy. It never stops. I don't know, I think they like this music, so I'm glad. Most of the time, I play in festivals where you have me play, but after, a trap DJ will play. It's quite a contrast. You know, the music is evolving. If I was a guy at a festival, I would be happy to have chill music and after, something a little bit strong. I'm a huge fan of techno – and here, techno is huge, too. You are so open minded. Maybe it's bad to say this, but now, if you go to Germany, they're a bit too much into techno. They like techno, but it's good not to be close minded. That's why I love it here [in the U.S.], it's always chill.
You're traveling the world all the time, so how do you balance that with finding time to create new music?
That was a big deal because it was so difficult balancing that in the last 3 years. It's difficult to manage touring and making music. So that's why I said, this year I want to be at home during the week and touring during the weekend, but sometimes doing a big tour for like a month, like in the US, because you can't come here for one gig. It's just too far. I need to be back in the studio more because I want to work on my album. At first, I'm a producer, not a DJ. Really, it's necessary for me, in my life, to produce music. I'm just trying to find a good balance. It took me a while, but now I think I've figured it out.
So speaking of album, you recently released "Losing You", but now everyone wants more, so we're wondering if you have new music for us, or an album, coming up?
Next week, I'm going to finish my new single in the studio. I have like 3 songs almost done, I don't want it to be like last year where I released 1 song after some period. I don't think it's enough. I want to release 3 or 4 songs at least. So I think I'm going to do like 3 or 4 singles and then release my album. I have a lot of new songs, and I'm really excited. Just to get the right singer, it takes a lot of time. If you have the instrumental and have to find a good voice, it can be tricky.
When you select someone do you have a theme you already envision or do you let the vocalist write the lyrics freely?
It depends on the song. For "Losing You," it was more about the vocalist and what he had, and after that, we went into the studio, but [Daylight] was the main part of it. So it depends on the song. I like to work sometimes on the vocals, and sometimes to write the vocals. But if you write the vocals, it takes longer. I like both ways to be honest.
Outside of your music career, do you find time for things like friends, family, and fun?
It was tricky because I was touring too much. I went back home for 2 months in January and February. I was home, so I was able to catch all my family and friends, and it was amazing. But when I stay home for more than two weeks, I'm really bored. I can't stop for too long. When I'm home, I tend not to talk a lot about what I'm doing in my life just because sometimes your friends can't understand this life, and it's quite tricky to tell them. My life at home and my life on tour is very different.
Do you ever bring anyone along with you on tour?
Sometimes. But you know, it's amazing. When they come with you, they think you'll be out partying every night. But I'm like, "Yeah, but man, I didn't tell you it would be amazing." For me, it's a job, you still have to play, but the next day you have to be in good shape. So you can't party every night, and sometimes they don't understand that. So it's not about partying every night. When they understand that, it's fine. But after taking them on tour, it could be a good thing if they understand the touring, taking a flight every morning with like 2 hours of sleep, and it can be exhausting. But it's cool to show them what the life is exactly like.
Klingande