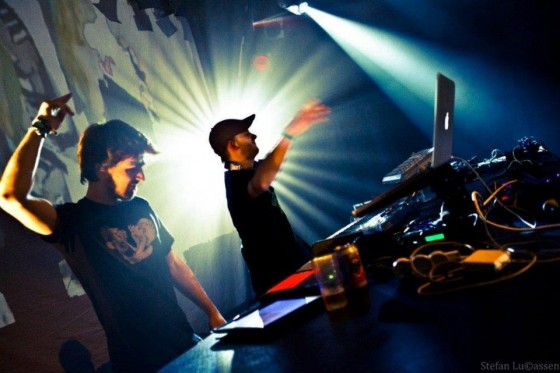 This past month I was lucky enough to chat with one of the most legendary dubstep duos, Ganja White Night. These Belgian musical innovators, Ben Bamby and Erwan, were such a pleasure to speak with, consistently letting their positive energy shine through.  I highly recommend you head on over to their BandCamp to download their newest masterpiece, Mystic Herbalist, let yourself relax and  enjoy the insight into their world as much as I did! (P.S. If you're interested in playing some Xbox Live with GWN don't miss out on scoring Bamby's GamerTag! Scroll to the bottom!)
Tell me a little about yourselves, how you met, and how/when you developed into Ganja White Night?
"We live in a little city called Mons, Belgium, 10000 citizens maybe, so every one know everyone. We met because we was going out at the sames places…but we don't really remember where we met! Musically, we just started to produce together in the bedroom of Ben's house. That's where the name Ganja White Night came from, by the way  – We spent all night long smoking weed and producing shit tunes with a demo of FruityLoops 4!"
How do you feel about the evolution of electronic music since you first got involved in it?
"Dubstep just became super mainstream, and we didn't follow that move. We mainly wanted to put details on our music by researching special/ethnic sounds. Right now, dubstep  is really aggressive and hacked by dirty electronic synth design. Every songs looks the same! We really try to put a soul on our tracks that will keep them alive for years. We're not trying to make trendy music.
How do you think your music has changed during this evolution? How have you managed to preserve your signature sound?
"When we produce, we use some homemade techniques which have been upgraded  by the learning of electro-acoustic music at school. This combined with our hip-hop, deep, dubstep and heavy bass influences, gives us a particular and unique style. As far as preserving our signature, it's just our personality that make us different when we produce, and the fact that we never try to sound like an already existing track."
What production are you most proud of?
"We feel that our oldest track,  Blueberry,  is the most timeless, so we're really proud of this one ! As far as the new album, we'll see in few years!"
I know you just released your new 10 track album on January 11th, titled Mystic Herbalist, let's talk a little bit about that.
"That album was an accomplishment for us because it is the first one we did as a duo. We've really tried to make a special universe for the occasion. It's the first album that we made on our new studio and it was really exciting to produce! We never took much pleasure in making music before. For Mystic Herbalist, we've tried to go back to the source that gave us the desire to produce dubstep music. We also took lot of pleasure working with Monsta  on the design for the cover ! He's a great man and we'll work with him in the future!"
Tell me a little about your creative process. How do you go about creating new tunes?
"Starting to produce a new track is always different.  The main important thing for us is to find the soul of the track. It could be a melody, a voice or the sound of an object. Fortunately, this often falls semi-effortlessly on our ears when we've thought of an interesting theme for the track. From there, we try to develop it, and sometimes a track comes out of it!"
Do you have any other exciting plans for 2013?
"After our intense  mini US tour, in which we have 6 gigs in 6 states in 10 days, we will slowly begin to produce the next album. Maybe some tracks featuring Simon, our favorite homie singer. By the way, we really enjoy making  hip hop loops, so be prepared for some hip hop tracks in 2013!
We are also developing our official website www.ganjawhitenight.com , and maybe add some merchandising on it. We'll maybe sell a physical version of our past album,  like T-shirts, mugs, and who knows what else!"
If you could tell your fans anything at all, what would you say?
"Thanks to all the fans for their support! Especially those that have been supporting us for 5 years,  since the beginning! Because of you we're more motivated than ever to bring Ganja White Night to the next level!
By the way, Bamby's looking for friends, on Xbox Live so if you could add his Gamer Tag, that would be nice for him… don't let him play alone please!!  BambYGWN"
Support Ganja White Night on SoundCloud  |  Facebook  |  Twitter
 Bamby's GamerTag: BambYGWN
//Yup