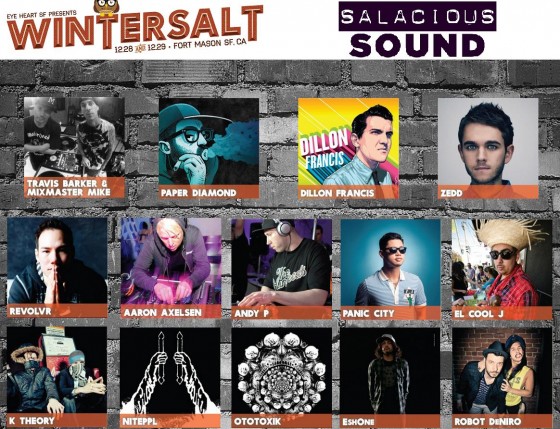 WinterSalt Festival is fast approaching and we've got an action-packed preview series for everyone. Obviously everyone who keeps up with Salacious Sound knows guys like Travis Barker, Zedd, Dillon Francis, and Paper Diamond, but what about the other great acts? I know, I know, you'd love to give their music a listen, but you're too hungover to Google their SoundClouds. Well here's a sooper handy roundup of my favourite tracks from each artist to fill your iTunes with.
1. Travis Barker
2. Zedd
3. Dillon Francis
4. Paper Diamond
5. Revolvr
6. K Theory
7. Aaron Axelsen (Note: Aaron is a DJ, not a producer)
Tweet him and say hello
8. Panic City
9. Robot DeNiro
10. Andy P
11. Nite Ppl
12. Ototoxik
13. EshOne
For more info on WinterSalt Festival, check out my earlier post.
Wintersalt SF on:
Their Website | Facebook | Twitter | Instagram