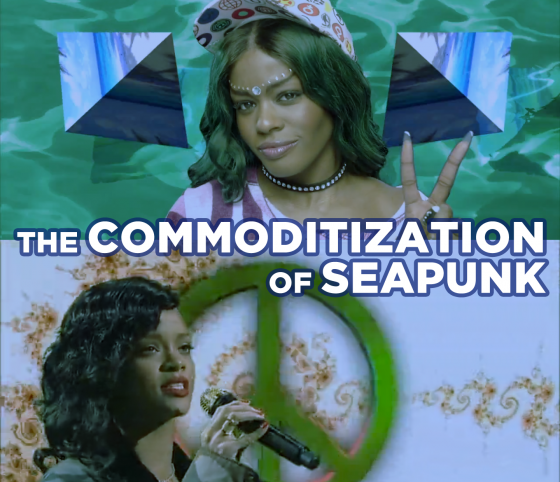 Since earlier this year, I've been fascinated by The New Aesthetic movement. This new term immediately fixated my attention as it finally provided a cohesive umbrella in which to classify the novel trends seen in mediums such as art, music and fashion. James Bridle and his contemporaries have so valiantly opened a dialogue online as a "project / tumblr looking at technologically-enabled novelty in the world."  
Yet as I continue to find new meaning in the words of Bruce Sterling, and spend hours on dump.fm or DIS Magazine, pop culture artists have taken on this aesthetic tendency to create dynamic visuals with showstopping design.
Azealia Banks and Rihanna -arguably the it girls of the mainstream hip-hop music category -have utilized internet subculture and new aesthetics in their recent work. In 'Atlantis,' Banks takes on Tumblr and Dump.Fm visual aesthetics popularized online by the likes of LOL Boys, as Jerome LOL was quick to point out.
https://twitter.com/JeromeLOL/status/267630498245910530
The style was even given a nod by Maluca in last summer's moombahton track "Que Que" and reigns supreme in the ever-popular blog of Bebe Zeva.
Zeva was perhaps the most outspoken on the recent RiRi and Banks interpretations taking to twitter to express her distaste on capital use of what she deems plagiarism of tastemakers like herself.
Though it is true that both Rihanna and Banks borrowed from the blogosphere, it seems harsh to criticize the two songstresses for their inspired approach as the markets of both art and fashion are inspired by each other. In fact, this 'borrowing' tendency was even seen among countless other examples- in the Alexander McQueen Fall/Winter 2012 advertising campaign which used glitch art to seamlessly marry avant-garde fashion and datamoshing.  It is not novel pop culture borrowed from obscure tastemakers.
Both Rihanna and Azealia's take on seapunk and vaporwave showcase a distinct internet-inspired modernism that brings the NA ideals to the mainstream masses. The question remains, is this a "good" thing and who wore it best?
Azealia Banks – Atlantis
RIRI Performs on SNL