Swedish House Mafia @ Milton Keynes Bowl
So the first thing one has to understand about festivals in the UK is that British Festivals = MUD. Even if it's sunny, there will still be some amount of residual rain water in the ground from the climate, and when enough people walk on it, that water makes its way to the surface. Milton Keynes is a small town about an hour north of London; it's called the bowl because they've made it so the stage is at the bottom of a hill that surrounds it for 180 degrees. So you can imagine the effect this had on the mud(pit). You haven't been to a proper British festival until you've seen some drugged up kids from Liverpool wearing entirely the wrong type of clothing for the conditions trying to walk up a slippery muddy hill and failing hard. But more on that later.
This was a one-day show featuring Madeon, Alesso, Pete Tong, Calvin Harris and Swedish House Mafia headlining their last ever show in the UK. Alesso played a highly energetic set featuring many of his original productions including his remix of R.E.M's "Losing My Religion" and his 2011 track "Nillionaire". The set climaxed with his latest single Calling – on which he collaborated with Ingrosso. Even if he was a little filter happy on the DJM 900, I do expect the 21 year old to be headlining tours by next summer. Next up was Calvin Harris who, judging from the tan, just flew up from Ibiza for the show, and man did he looked jet-lagged and frankly, bored. Not his best set.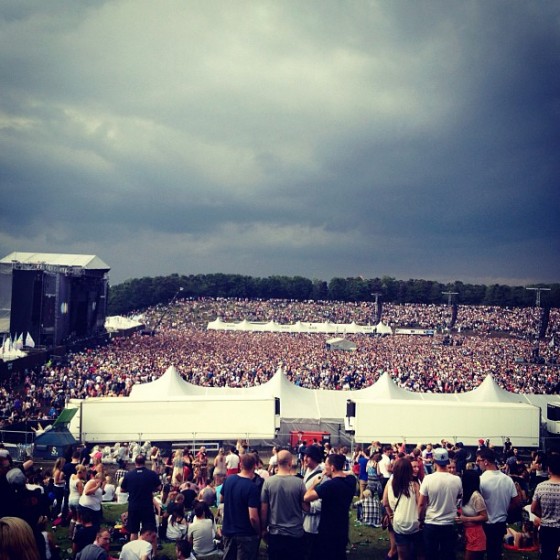 As Pete tong took the decks, someone close to me yelled "Just fucking retire already!" I must agree – the best part of seeing Pete Tong was seeing him announce the Swedes when his set ended. He then asked the crowd to pose for a "class photo" which you can see here. It's 20 billion pixels and clear enough for you to zoom in and tag you and your friends (I'm still looking for myself). Apparently this was the first time a photo of this size was taken, not sure if that's true, but it's a great shot. The buzz is awesome when someone annouces "for the last time ever in the UK, please welcome the Swedish House Mafia!!" and 60,000+ people cheer.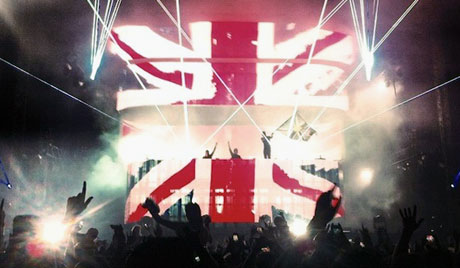 The Swedes played a truly epic set dropping all the favourites including Leave the World Behind, Antidote, One, and Miami 2 Ibiza (the Tinie Tempah vocal version) – the best part about hearing that track the UK is that EVERYONE knows the words. The highlight of the night was easily at the end of their set when they dropped Don't You Worry Child, featuring John Martin; they even based the official video for the track around the event – which you can view here. Sums up the show pretty well.
Tomorrowland
This festival is literally everything you think it's going to be and more. Tomorrowland 2012 was easily the most well executed, best decorated, and highest energy festival I've ever attended. Even the pathways between stages where decoration barely matters there are crazy Tomorrowland flags lining the sides. The mainstage alone must have cost more than the entire budget the SHM show at MKB. They even laid down tens of thousands of square feet of wooden planks and plastic flooring at the main stage and food areas JUST IN CASE it rained at got muddy (which it didn't). And speaking of the food, what other festival can you go to where to you can get fresh seafood paella instead of shitty pizza?! (Ok, maybe Sonar).
Each stage had it's own unique vibe and sound, which are all set in different spaces around the site, in secret forests, caves, in tents, and on the water. The festival recycles mainstages from past years on smaller stages so each stage is really intricate. There are dancers in costume dressed as princesses, angels, devils, fairies and other mythical creatures running around the mainstage and bouncing on hidden trampolines. All this makes it feel like you're part of a special tight-knit community even though over 180,000 people are attending from over 75 countries. And when David Guetta, Swedish House Mafia, and Steve Aoki all stop their sets to tell you that "this is the best party to be at on the planet right now" – you believe it.
Out of the non-headliners, Hardwell and Porter Robinson played amazing high-energy sets drawing crowds from the other stages dropping favourites like Spaceman and Language, respectively. These two are both so young and have a production quality that surpasses some of their more experienced peers. I'm expecting more big things.
Dimitri Vegas and Like Mike on the mainstage was a big highlight as they dropped the official Tomorrowland Anthem for the second year in a row. Dimitri Vegas MC'ed the set and sprayed the crowd with champagne while the Nervo twins poured vodka down fan's throats from grey goose magnums. The nighttime sets were pretty special as you really got to see some of the next level lighting/laser/pyrotechnics/smoke machine/firework effects. As Swedish House Mafia closed down the night on Saturday, thousands of those flashing foam lighting sticks where distributed into the crowd which made pretty good pictures for the helicopters that were circling in the sky.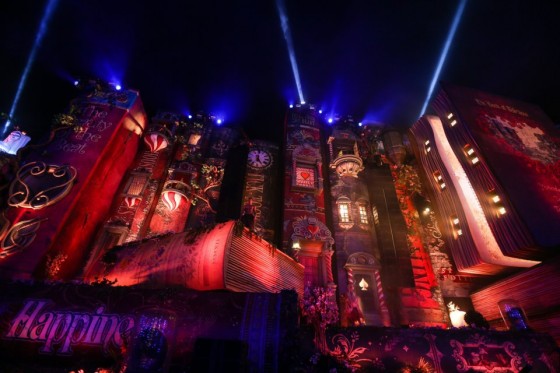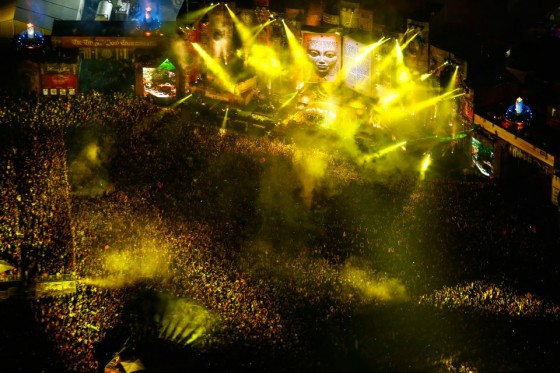 One of my favourite sets was Steve Aoki's closing set on the Sunday night (probably because I got within 5 deep of the front for this set – out of a 100,000+ person crowd). I've seen some insanely high energy Aoki sets in tiny clubs packed with a couple hundred people, and it's great to see can still bring it on a mainstage. His rider now includes an inflatable raft for crowd surfing, cakes with "Dim Mak" written in frosting (for caking) and a CO2 gun – all of which makes for a great show.
The 2012 after-movie does a way better job of sumerising this then words ever can.
Creamfields
Ever seen a field get so wet from rain and trampled by so many people that every step  you take sinks into 5+ inches of mud? Yea, welcome to Creamfields. One of the best parts of hitting a festival in the north west of England is well, the northern English. Picture this: it's raining, it's 12 degrees, wellies (rain boots) are a must and the girls are wearing tank tops and shorts, fake eyelashes, and glitter. The mud is everywhere and there's so much fake tan going on that #50shadesoforange is trending on twitter. Now you get the idea.
It was cold, it rained on and off all day, there were literally rivers of mud in some parts, and it was still awesome. Diplo and the Major Lazer crew threw down a killer with their blend of soca, house, and electro. The Diplo hamster ball made an appearance, always fun watching a major international dj get tossed around like a rag doll in a giant inflatable plastic ball. Avicii was the highlight of the night dropping bangers like Bromance, Levels, and Silhouettes to keep the soaking wet crowd moving to stay warm.
As we making our way back to the buses to head back to the hotel around 3am, it started pouring, really pouring. By the time we had got back to the hotel, a few weeks worth of rain had fallen in a few hours according to the authorities. We woke up the next morning to the news that they had cancelled the entire event for Sunday. The whole site was a washout. We thought of going to see if was a rumour as we knew there were thousands of people camping so there must be something going on, until we saw the shots on Twitter. People's tents had been washed away entirely, cars had sunk in the mud, and some people had to swim in the mud to get their stuff.
So we headed back to London thinking this is why you don't camp at UK festivals.