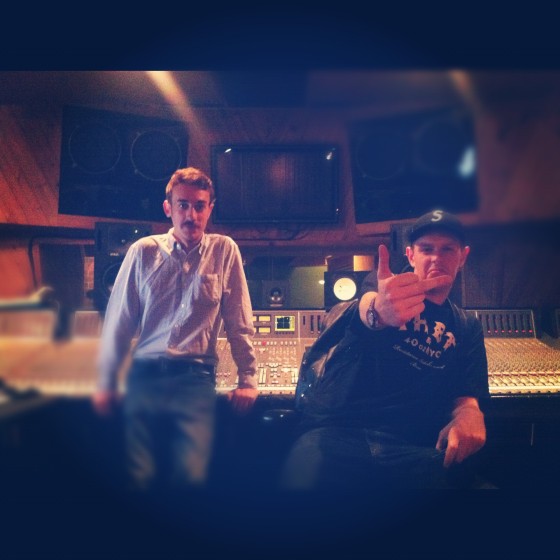 We've used a fair amount of space on Salacious over the last weeks to talk about an exciting act developing out of New York and L.A. right now, by a pair of Berkley graduate Hip-Hop come EDM Trap producers Ryan Marks and Kenny Beats.
Their collaborative project is named LOUDPVCK (pronounced 'loud pack'), and in the short two months they've been doing their thing the guys have collected a series of music industry accolades, including air time on BBC1's weekly Diplo and Friends show, to spins by Skrillex, Flosstradamus, and Baauer.
While these guys have a ton of collective experience in the music industry, what made this an interesting interview for me was the narrative about distinguishing EDM Trap from Trap, aka "real Trap shit." Early last week a documentary put out through a collaborative effort between Trap community mainstay Livemixtapes and EDM staple Mad Decent hinted at a point of contention being raised by established dirty south rap purists and a new wave of bedroom dance music producers and scene kids enjoying an infusion of new ideas in to the genre from the dance music world.
The situation closely parallels the Dubstep explosion of 2009, and the ensuing controversy symbolized completely by the derisive "brostep."
Of course, I also get the inside scoop on some exciting things to expect from this talented duo in the next few months, and even an insider's look in to the gents' penchant for moustaches and Cat Marnell.
So without further adieu, I present a sit down with LOUDPVCK.
Ryan: Yyyyyo!
Cal: What's up guys! Glad we could do this! You guys have been in touch with Ziad quite a bit hey?
Ryan: Yeah he's my boy! He's been giving me support since he started 110, and he put a bunch of my old moombah, this track Fiji that I did and am just about to release, and when we did LOUDPVCK I sent to him for which he's been a big supporter!
Cal: Did you hear the story about meeting up with Armand at EZoo?
Kenny: You'll have to forgive, it's slow right now because I'm bouncing stems right now.
Cal: What are you guys bouncing? Having someone do a remix?
Ryan: It's more for us. We do everything bi-coastally, so right now we're doing a mixtape for Trap-A-Holics and Livemixtapes, and we've been in the studio together all last week in New York and got a bunch of stuff started. Now we bounce stems and sessions out, send them back and forth, and are finishing our songs up.
Cal: Two different mixtapes? Or one?
Ryan: We're putting a trap mixtape out that comes out September 18th, and another personal mixtape on October 9th on Livemixtapes, and also presented by The Smokers Club.
Cal: So I was going to ask about how you guys work together – so you'll have one of you guys start a track, bounce it, send it across, and then continue on? Do you feel like you work in isolation and then feedback, or how does it work?
Kenny: The initial beats we did were all completely together at my apartment in Boston, and then from there Ryan went back to L.A. and we started sending stuff back and forth. If we can't start something together we definitely send each other phone videos, or like a little skeleton of an idea we think might be dope, and if the other says 'yeah that might be dope' we'll move from there, and start sending stems back and forth.
Cal: And your release strategy – are you working on an EP? More mixtape stuff?
Ryan: We're focused on these two Trap-A-Holics things, what we are calling our first EP, the first things we put on Soundcloud. We are doing twelve tracks for Livemixtapes, ten for our own mixtape, and then two on the certified trap compilation, and after that, looking forward, we're thinking about doing hopefully an EP on an electro label.
Cal: Right. How'd you get tied in with certified trap? Saw that documentary this week.
Kenny: We'd been talking to Pesh and some of the guys since we first put out the tape, and after expressing our vision for not only our sound but this emerging genre, Pesh thought we fit the mould as far as some of the kids who are really able to illustrate what we're trying to do with this EDM Trap thing. Also our music, from what they said, kinda sets itself apart because it's a little more authentic to what's going on in hip-hop right now as opposed to trying to stay true to what's going on with this scene. I produce with a bunch of rappers like Schoolboy Q and Dom Kennedy, and a bunch of other rappers really popping on the blogs right now. We're using vocal samples from Chief Keef, from Dom Kennedy, from Nipsey Hussle, and that's something that hasn't really gone on yet in this new Trap genre. I think Livemixtapes wants to make sure they include all the different sides to it, whether its the more hip-hop based side or the more dance stuff, like Flosstradamus. They want to make sure it's encompassing of the entire new wave of Trap.
Cal: Anything more you want to say about that? The documentary presented a dichotomy between the new stuff and the old school thing, from where it derives.
Kenny: That's been a real sensitive subject for us lately. I have a lot of friends really deeply rooted in hip-hop, and they don't really understand that Trap is a new fad thing, rather than separating it from what it has always been known to be – the minimalist Southern Hip-Hop. Now that so many kids are labelling themselves Trap, it has become something of a point of conflict and beef for people, and I think kids are confusing a style of sequencing with a lifestyle, know what I mean? People are confusing a type of programming with a whole culture. And that's something we don't necessarily want to associate ourselves with, being that actual Trap music that Ryan and I are both big fans of. We don't want to have our image confused. not to say that we're not paying tribute – we definitely are. Shorty Red and Zaytoven and all these early Trap producers are a huge influence. I don't think putting Trap on LOUDPVCK everywhere we go is necessarily the best move right now. I kind of want to see how this genre plays out, and what the real title for it will be. Right now we hear so many different names for it, and I would rather just listen to music and not really worry about it.
The main takeaway is that with this emerging genre a lot of people have really confused a beat-making process or sequencing with a lifestyle or a cultural movement, and distinguishing the two is real important, especially because it's emergent.
Cal: Is it fair to take a stab that that perception comes more from the Hip-Hop side, where people are maybe more feeling that their sound has been.. and I don't want to put this in a box.. but that their sound is more underground, or there's some value in protecting its purity?
Kenny: I'm sure the actual roots of it are based in kids liking both, listening to really minimalist electro stuff whether it's Moombahton or House stuff, and then finding similar tastes in certain kinds of Hip-Hop or the real Trill shit.
Ryan: It makes perfect sense to me. Hip-Hop hasn't gone anywhere since Funkmaster Flex, Hip-Hop has been ingrained in American culture, and for the past three years it kindof had a lull. Festivals took over, and I'm one of these people like Kenny who used to make a lot of Hip-Hop beats, and when I went to EDC 2009 my mind was blown. I knew I had to make this shit, and set out to make a lot of dance stuff.
Now that they are coming together, for someone like me who totally did both worlds, like Kenny, it makes perfect sense to me that these worlds are coming together and that Rap and Dance stuff are the same thing. Hip-Hop beats are excellent to dance to. I don't think anybody ever denied that. It's just that it took people taking that leap, it took Baauer, and Flosstradamus doing Original Don, for people to really recognize the compatibility.
Half of that Certified Trap documentary is them walking around playing people Original Don – real Trap artists. And all these kids going "wow this is amazing!" Rappers are really starting to understand, and you're hearing it more in the Rap production, not just Trap. So it's all coming together, you know?
Cal: Even to the weirder side of the spectrum with Azelia Banks meeting Machinedrum's world?
Ryan: 100%
Kenny: Hells yeah, or HudMo.
Cal: Jumpin off on that a bit, you guys are seeing a lot of support from the Baauers and Flosstradamuses of the world, you've had Skrillex playing your music.. tell me about the touring, and the support that you're seeing.
Kenny: I had to learn about this type of music before I ever made. Ryan was showin' me the Harlem Shake record, and the Flosstradamus stuff, and I was hesitant at first. I was so rooted in my Hip-Hop stuff that it took a couple weeks to understand that it's a whole different genre, a whole different process. And as soon as I did, UZ, Baauer, and Flosstradamus were in my sights, and if I'm gonna listen to Trap it's gonna be a majority from those three acts. Now to be two months in and to have spoken with them, and have them feature our music in mixes, play it out live, that was one of the intial goals for me and it made huge waves in my mind when that happened. Not only are labels and certain fan-bases starting to be aware of this new sound, but the actual kids who were listening to and love playing their music out are listening to our stuff as well.
Ryan: With those guys, with UZ, Baauer, Flossy, when we set this out we said "we really want those guys" playing our stuff. They inspired us to make a lot of this stuff. Skrillex… that just blew our fucking minds. We almost couldn't imagine him playing our beats ever. It's amazing.
Cal: One more music question for you guys – there are a lot of unreleased LOUDPVCK tracks floating around. Are they things you're not totally satisfied with, or maybe you're waiting to release? What's going on with those?
Ryan: Kenny?
Kenny: I would say that there was an initial batch of tracks that we sent out to a whole lot of people within the first couple weeks of the project, those are probably more widely spread.
We have about twenty unreleased tracks that have only been sent between our close circle of friends, a lot of which won't be released. We're trying to find our sound as it goes, we aren't Flosstradamus, doing this for eight years and finally settled in to a niche. We are excited about this now, but we are definitely searching for our quintessential vibe or sound.
So some of the tracks that come out on the 18th on Certified Trap, and some of the ones on our mixtape, I really think they'll solidify our place in the scene. We don't plan to be genre-specific, and we are really looking forward to working with a variety of artists.
We want to be able to format the thing to rap or dance or maybe something else, but we don't want to stray away from this thing that got us where we are.
Cal: So whose idea was the plastic bag?
Ryan: Kenny found it. We both love it.
Cal: …ok, so how the hell does it tie in?
Kenny: So LOUDPVCK is a slang term for a good bag of weed, know what I mean? You hear people sayin' "I'm smokin on LOUD" or "I got a LOUD pack." It became an adjective for super dank, next level bud, and we thought it was something enough people would know where it would give a general aesthetic, fits within the Trap kind of thing, and it's not too descriptive to the point where you show it to your mom and they're like "oh this is some weed shit." It's the perfect medium between meeting the whole Trap imagery and still keeping it somewhat mysterious I guess.
Ryan: I guess the subtext is that we smoke a lot of pot.
Cal: And it's better for you than that purple drank.
Kenny: We're not opposed to lean, but we're not strong supporters.
Cal: Kenny, tell me about Ryan's moustache.
Kenny: So, Ryan's moustache initially was part of "Moustache March" which is a tradition at Berkley, where we'd try to see who could grow the manliest 'stache. And at first, Ryan was not the clear-cut forerunner. I was going to come out super Tom Selick as fuck, but Ryan left Berkley and Moustache March ended, we all shaved it off, and I face timed him six months later and he was just straight Geraldo Rivera.
Ryan: Now I get a rep with it, people are like "oh it's that DJ with the moustache." It's becoming a thing.
Kenny: Cal, I'll be standing next to Ryan, and be thinking "bro, no girl is going to want to come rub up against that rodent" but some girl will roll up and say "yo I really like your moustache."
Ryan: Tell us about your beard, Cal. We heard some shit. This ice cream profile picture is pretty fuckin' next level. Not gonna lie. Are you gettin ice cream stuck in there?
Cal: It's the worst. Egg yolk, yogurt. Terrible. It's not winning me friends.
Kenny: Do I need a 'stache?
Cal: If you're askin' me, I don't care much. You go to SXSW and they have an actual panel on how important facial hair and head hair are to an artists' notability.. how memorable they are.
Ryan: YES! I'm KILLING it!
Cal: Ryan, tell me about Cat Marnell.
Ryan: Kenny has a crush on Cat Marnell, he's all in to her. Talked about her all the time when we were in New York. She thinks she's all hot and methed out, and for some reason that combo is a big turn on.
Kenny: Dude she is IT!
Ryan: We want to get her in a video! Cat, if you're reading this, Kenny wants you in that video and we're doing the treatments right now.
Cal: I'll make sure to tweet that at her when we get this up.
Ryan: Dude that would make Kenny's week!
Cal: Thanks a lot guys, it's been a treat!
Kenny: No doubt man.
Ryan: Thanks Cal!