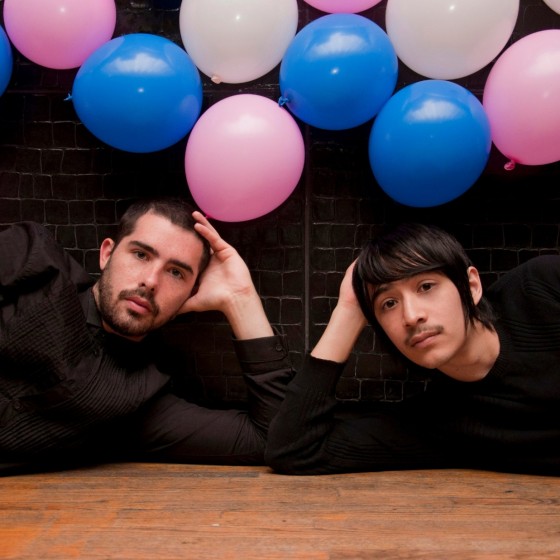 'Introducing' is a weekly feature highlighting new and upcoming artists from the world of electronic music. Every Sunday we are proud to present a musician worth their salt, who is pushing bounds, making waves, is undiscovered, under-appreciated, or about to blow up, and most importantly, is making music people will be talking about six months from now.
Shouts to all my LOL Boys! We rowdy! Heh heh…sorry about that, I have an unhealthy infatuation with cheesy puns. Coincidentally, this week's edition of 'Introducing' takes a look at an electronic duo that actually chooses to embrace cheesiness as an art form. Of course, the group I'm referring to is Los Angeles via Montréal-based electronica duo LOL Boys. How did two individuals living on opposite ends of the continent end up collaborating, you ask? Well,  members Jerome P. and Markus G. established the project in 2008 when they met on, you guessed it, the Internet! Accordingly, they named themselves LOL Boys after the IM-dependent manner of their union.
The music and especially the aesthetic themes surrounding LOL Boys' image owes a great deal to the 'interwebs'. Simply one glance at any of their album artwork and it's obvious that Jerome and Markus have a thing for cyberwave cheesiness; GIF's, crude computer graphics, and pixelation adorn almost all of their album covers and promo photos. For instance, the album cover of mini-album "Bubbles" is a play on the Barbie logo; an image of the blonde doll is replaced with a clip-art dog and the multi-coloured background consists of bubble wallpaper overlapping palm tree silhouettes. Furthermore, their website is devoid of any real information or media, in substitution is a maze of pixelated GIF's, kaleidoscopic patterns,  and ironic cyber-age references. Experience it for yourself  here (NOT recommended for people with epilepsy).
Alright, time to focus on what really matters…the music. I want you to take all your pre-conceived notions about house music and toss them out the window. LOL Boys don't waste their time exploring the explored, if you get my drift. I could sit here and attempt to locate the perfect descriptor of LOL Boys music (net-age, nu-bluz, and e-lounge are just a few terms that other blogs have thrown around) but ultimately, it would be useless. If pressed, I would say that LOL Boys make house music. However, anyone with ears and even the slightest knowledge of  house will quickly discover that LOL Boys make a highly unique form of house that incorporates many other musical styles. Their most recent work for the forthcoming 'Changes' EP is a prime indicator of this. Two tracks from the upcoming EP have been released so far and they both share a similar proclivity for jazz music. Yes, you heard that correctly, LOL Boys have revisited the traditional  style of jazz and integrated it with IDM in such a way that sounds fresher than any machine-vomit dubstep track ever will.  This is most evident on the title track of the 'Changes' EP, where shuffling brush percussion, delicate ride cymbals, and sonorous trumpet mutate into a lulling vocal house tune.
On the first track to be released from 'Changes', "Get Close to Me", the jazz influences are not as evident as on the title track, however, they are still there. As far as the rhythm section goes, a tribal-esque drum pattern devolves into simmering ride cymbal eighth-notes with tech-y hi-hat on the off-beat. The vocals are provided by Chicagoan singer-songwriter Angelina Lucero, whose breathy coo floats seamlessly above LOL Boys' chilled-out production. No samples here folks, Friends of Friends Music has declared the 'Changes' EP  a "sample-free, breezy four-tracker primed for the summer." Sounds perfect.
The 'Changes' EP drops this Tuesday on FoF Music but if you absolutely cannot wait 2 days, pre-order here.
Now that you've sampled LOL Boys' most recent musical venture, let us move backwards through their disparate catalogue to examine the various styles that this resourceful duo have undertaken. In their short career, Jerome and Markus have assumed a very loose approach to house music. For them, house and any kind of dance music is all about having fun, partying, and well, dancing (duh)! LOL Boys aren't concerned with profound thematic schemes or any sort of self-serious pretentiousness. No, they'd rather twiddle knobs in their basement, experiment with bizarre vocal samples and surf tumblr while listening to Whitney Houston records.
"Nomads" sees LOL Boys engage in distorted left-field hip-hop and slo-mo jungle/breaks with some pitch-shifted R&B vocal samples sprinkled overtop:
Don't let the name deceive you, "Footworkin'" is not exactly a footwork track. I'd say it's closer to nu-disco and Chicago house than anything else:
This one goes out to all the broken hearts </3 LOL Boys feel your pain!!! The helium-infused R&B vocals and heavy trap beatz of "Moments in Heartbreak" are the perfect soundtrack to your late night blubberfest:
Latin vibes abound on LOL Boys' remix of Crystal Fighters' "Follow". Is it house? cumbia? dancehall? Whatever it is, I could jam this all summer long:
LOL Boys sit at a crossroads between past and future. In this digital age, the world is at our fingertips.  LOL Boys know this well and they've used it to their advantage. The Internet's various resources have become the tools by which   Jerome and Markus create their playful, cosmopolitan, and enthralling form of  new-age dance music. They find inspiration in pop-culture, nostalgia, humour, and most importantly, music. Therein, lies LOL Boys' cumulative, ultramodern attitude towards electronica. It's 2012 baby! anything goes.
Being the generous dude that I am, I've decided to leave you with five free, first-rate LOL Boys tunes!
[wpaudio text="Elite Gymnastics – m i n n e a p o l i s b e l o n g s t o y o u 3 (LOL Boys Remix)" url="http://www.salacioussongs.com/files/Elite Gymnastics – minneapolis belongs to you 3 (LOL Boys Remix).mp3″ dl="true"]
[wpaudio text="LOL Boys – ROLL THEM" url="http://www.salacioussongs.com/files/LOL Boys – ROLL THEM.mp3″ dl="true"]
[wpaudio text="Babe Rainbow – Greed (LOL Boys Remix)" url="http://www.salacioussongs.com/files/Babe Rainbow – Greed (LOL Boys Remix).mp3″ dl="true"]
[wpaudio text="Lil Wayne – Nightmares of the Bottom (LOL Boys Edit)" url="http://www.salacioussongs.com/files/Lil Wayne – Nightmares of the Bottom (LOL Boys Edit).mp3″ dl="true"]
[wpaudio text="LOL Boys – Porteils" url="http://www.salacioussongs.com/files/LOL Boys – Porteils.mp3″ dl="true"]
Cheers,
totem.