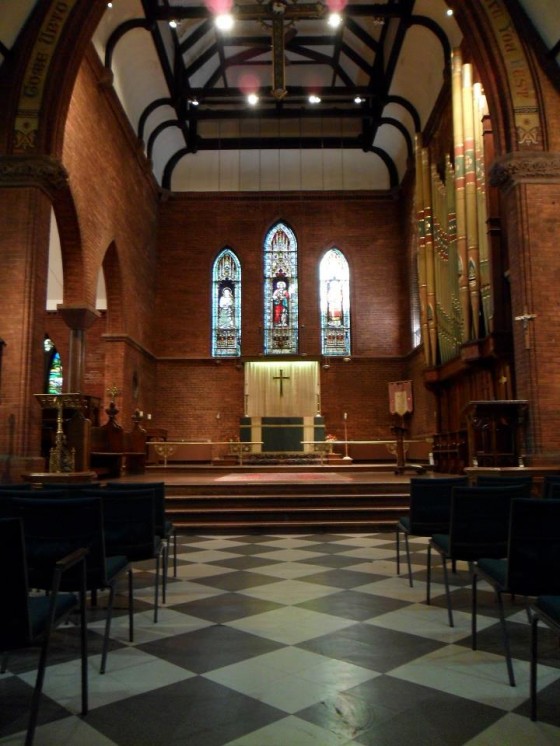 Full event details on Facebook, and event flyer below.
The above is a photo of the interior of St. Stephens-in-the-fields Church, which has what looks like 30′ ceilings, and enough room for several hundred ravers.
Behind this incredible concept is Mansion, a noteworthy Toronto production team that has been lauded for their highly-curated Happy Endings nights, held in the top floor of a dim sum restaurant which they have outfitted with a powerful soundsystem.
There's something about the aesthetic, shape, and character of a room that informs how a performer will sound; suffice it to say, the St. Stephens-in-the-fields Church is going to sound incredible.
And all the more so because of the fantastic performers that will be playing there on April 27th, 2012.
Soundclouds: Addison Groove | Doc Daneeka | Vlsonn
For starters, Vlsonn, one of our most-written about Toronto producers, will be opening the show. If you missed our article on his latest EP 'The Skinny', I strongly suggest you give it a listen – he even gave us a few tracks to give away.
The headliners that night are Addison Groove + Doc Daneeka, each from the 50Weapons camp and hot off new releases. Right now they're on a Surefire Sounds tour – a label whose showcase during SXSW 2012 was one of my favourite events.
To do your homework on Addison Groove I highly suggest you listen to his recent mix for Dazed Digital.