You can see the full gallery of photos from the evening, including shots of Riton, here.
Last night I attended the Dim Mak x electrostub SXSW 2012 showcase at Bandpage HQ. In short, I saw one of the most important, yet most oft-overlooked elements of a dance party – the opening sets – go as they should.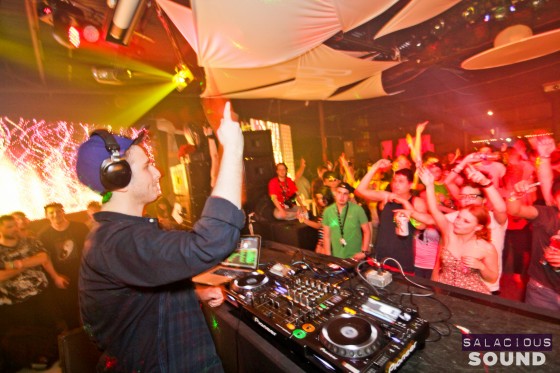 Before I get down to set specificities however, allow me to wax once more about setting.
Bandpage HQ is rather unassuming looking from the outside – it's what looks to be a converted aircraft hanger, nestled between one of the grimiest rock bars in Austin and some other derelict, long vacant brick building.
Across the street is another brick building with 2″ steel bars reinforcing a small window which has been boarded up, and a heavy panic room door with a shoddily made sign "PAWN SHOP". Just east of that is an open lot occupied by some two hundred very friendly though frightening looking persons thrashing and head banging in front of an open-air stage playing incomprehensible metal at an unsafe volume.
Suffice it to say, the crowds in this area are by far the most entertaining I've seen yet at SXSW.
The scene inside Bandpage HQ however is much different. An extreme visual production that the designer boasts "we went small this year because it's our first time, and a trial run… I think we showed what we can do." A crowd of twenty somethings wearing boat shoes and skinny pants cuffed mid-calf, awash in Pabst Blue Ribbon and smelling faintly of Natural American Spirits.
Just one problem – the crowd is here for an electro, nu-disco, and deep house dance party, but Nickleback is playing. And then drum & bass. To make matters worse, and yet more frustrating for the dance DJs about to take the stage, the production team has calculated set times using rapper-time, and has literally none of the necessary equipment for the DJs to do their job – no CDJs, and no Serato.
The party needs a complete reboot by the time the first performer goes up. The task is daunting, to be sure, but one man is up for the job.
His name is Cassian.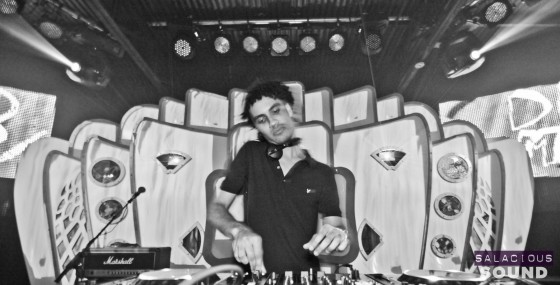 His set of groovy nu-disco and deep house instantly breathes life in to the party. The crowd crams the front of the stage, and the room swells. Funky rhythms and lush + enveloping bass has everyone picking their feet up, and the smiles are becoming infectious. By mid set, even the typically too-cool to dance industry people at side-stage are throwing their hands up, singing along, and grooving out.
Cassian has been building energy steadily, and very quickly; in no simpler words, his skill in this regard is unmatched by any I've seen. I've written it before, and I'll say it again – headlining is a rather straightforward and well-defined job, and opening takes true skill.
The art of opening is by far the most demanding task a DJ can face, especially when the odds are stacked against you. To do it so masterfully as Cassian is the mark of a truly talented DJ.
The highlight of the entire night is, without question, when Cassian drops his remix of The Rapture's 'How Deep is Your Love'. Four out of five times, people sing along to this song every time. The crowd erupts, and a pal runs on stage with a towel adorned with enormous capital letters "TUNE".
[wpaudio dl="true" text="The Rapture – How Deep is Your Love (Cassian Remix)" url="http://www.salacioussongs.com/files/The%20Rapture%20-%20How%20Deep%20Is%20Your%20Love%20(Cassian%20Remix).mp3″]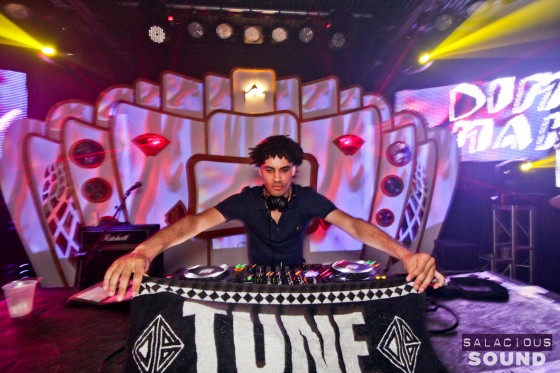 If you're in to it, check out my recent Tuesday Top Ten where Cassian took the #2 spot.
Clockwork is the perfect follow-up to Cassian. The mood shifts from deeper + sexier sounds to match the energy of the party Cassian has built.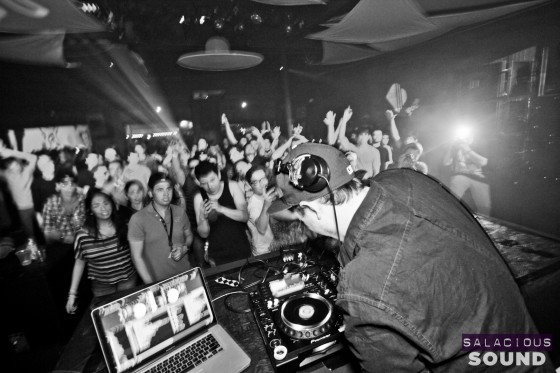 The problem with electro house and related genres today is that there's very little movement in the music, and even less so when a DJ's set is considered as a whole. But Clockwork doesn't fall prey to the 128 BPM trap. He starts off at a funky 124, and quickly ramps up the tempo to match the energy of the tracks, and the crowd that is now along for the ride.
His set is chock full of "TUNE" worthy selections, including some Autoerotique and of course his original off the new Squad Up EP.
And rather deftly, just as the energy in the room is close to its plateau he switches up the tempo to the proper winding speed of 110. He has the crowd in the palm of his hand, and they express their deep satisfaction as he presses the moom-button.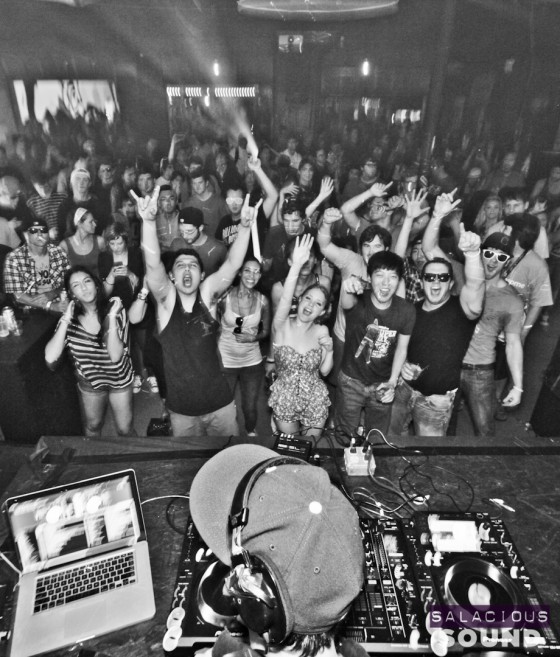 There are several highlight-reel worthy moments in his set, but the undisputed top two are the Dillon Francis remix off his Squad Up EP, and Torro Torro's Doozejackers remix.
The takeaways from the night are two-fold.
First, don't be afraid of metal-heads: they're mostly harmless.
Second, invest in good opening DJs. Headliners may bring people to the party who care about what's on the flyer, fine. But even if you put a porterhouse next to shit, you're still only going to be able to smell shit.