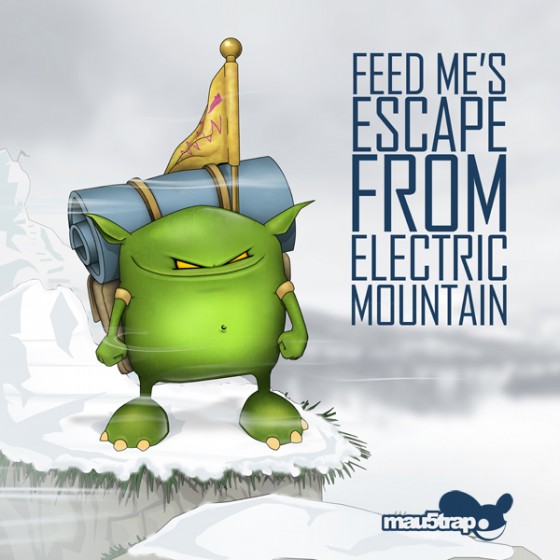 Escape from Electric Mountain is a brilliant bit of departure from Feed Me's earlier electro-house driven EPs. You'll still get that trademark glitch-meets-dubstep sound, but you shouldn't be surprised to hear a fair amount of progressive house tracks mixed in with the bunch which are, frankly, a breath of fresh air.
I really wish the intro swing of One Click Headshot continued throughout the song; it's a delicious bit of stomping that gives the entire track a much-needed groove. Comparisons will be drawn to Skrillex's 'Reptile' — some vocals sound directly sampled —  and I guarantee a good amount of mixes and mashups of the two tracks. I'm a bit more excited by the crazy bit of headshot rant sampling that gamers may recognize from the Toronto-based webseries Pure Pwnage. It's probably the most cheerful track on the EP.
Trapdoor and Whiskers are great examples of what an effective music collaboration /should/ be; there aren't any distinct 'you take this part, I take that part' sections. Feed Me melds his own sound with that of Hadouken! and Gemini seamlessly.
If you're going to take any one track as evidence of Feed Me's progression as a producer it's got to be Relocation. The prog-house chords are a nice Deadmau5-influenced bit of the album. Watch out for the Blood Red easter egg.
Trichitillomania (despite sounding alarmingly like his previous track Chain Smoker) is probably the most recognizably 'Feed Me' track off of the EP, and features some great crunchy synths. Embers is a personal favourite. Originally, I felt that this bastard child of prog and electro jumped genres a little too often without warning. It took me a few listens to really think of it as a cohesive track, but after a few dedicated sessions I warmed up to it.
If you're coming to this album expecting another straight-out 'trademark' track from this album (see also: Cloudburn, Pink Lady, Strange Behaviour) you probably won't find it. There are plenty of high-energy quality tracks (Whiskers, Trapdoor) and fun bits of crunchy electro (Trichitillomania, One Click Headshot) but the whole album definitely takes on an exploratory tone. I find that a lot of albums written on tour such as this one lack a certain depth, or perhaps something differs in the mastering. The bass could have been a little more intense, the highs just a little more soaring. But these are minor grievances; the EP is a great listening experience from beginning to end and what it may lack in any capacity is made up for in sheer originality. An Escape from Electric Mountain, indeed.
Feed Me's Escape From Electric Mountain is available now on Beatport.