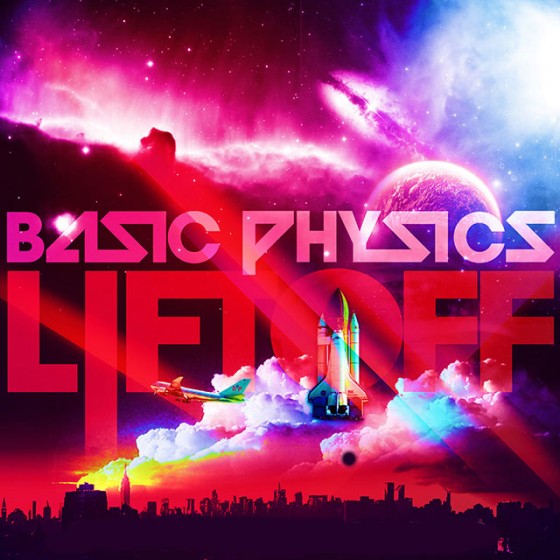 In advance of his first full-length effort I interviewed Alex Syse, aka Basic Physics, so that you guys might get a taste of the man behind some of 2011's biggest and baddest blogosphere bootlegs. That's often a dirty word – bootleg – in this industry. It usually connotes a lack of originality, and almost invariably a lack of production quality.
But Alex is breaking that mould, and constantly pushing the talent behind his very popular work forward. In just a year, he's come from receiving over a hundred thousand plays on his Ghost on a G6 mashup to releasing a 16-track album loaded with both originals – a big step – and the quality bootlegs we've grown used to. I'm taking my first listen now, and I'm impressed. There was obviously a ton of care and attention to detail that went in to this album.
Download the full album for free at the bottom of the interview, and support Basic Physics on Facebook.
Cal: A/S/L?
Alex: Alex Syse, The Northwoods aka Minneapolis, Minnesota
Cal: What is your background in music? How were you trained?
Alex: From an early age, I was interested in how music was made. I had a brief stint with the piano, guitar, and drums in middle school but the simplicity of being limited to one instrument was always a turnoff to me. However, this helped lay a foundation to know what was in key, how to play certain notes, and how composition worked. After middle school, music took me on a journey from hip hop to jam bands (I saw Umphrey's Mcgee nearly 100 times) to indie rock and finally electro. As college began in 2007, MSTRKRFT, Daft Punk, Justice, and Pretty Lights were in constant rotation on my iPod. After listening to countless electronic artists, it gave me the itch to dive into creating my own music. After acquiring Ableton Live, I began sifting through the manual and the whole trial and error process. It was during this time that Girl Talk was blowing up. I had the opportunity to see him at Summercamp in 2008 and that sparked my interest to not only listen to more mashup music, but create music of my own.
Cal: How would you describe the genre of music you make/perform?
Alex: The genre of music I create would be categorized as Electro / Hip Hop / Pop Mashup, but I don't want people to be afraid of that word ("mashup"). Like all genres, the mashup game is saturated with lots of artists and various styles. When I'm producing a mashup, I want it to be big, memorable, worthy to be considered one of the best, and in most cases, should make you want to dance your ass off. Some people like to do it for fun. I want to do it for more than that.
Cal: In your opinion, which is the manliest instrument? (physical/virtual/corporeal)
Alex: The "Magic Pipe" that That 1 Guy uses during his live sets. (If you don't know, get familiar!)
Cal: I noticed that there is a bunch of rocketship / space / blastoff type imagery and language surrounding the album launch – any particular reason?
Alex: The first album I released was "Nightlife in the Northwoods" in April of 2011. The goal with that project was to get my name out there. With the album titled "Lift Off", I'm hoping it will do just that, lift off my career. I would like to think I'm one of the best in this genre and I hope that this album gets the attention of many. Besides taking my career up to different level, I thought it would be fun to run with the "Lift Off" concept. Apollo 13 was one of my favorite movies as a kid and once I found soundclips from the film, I had to use them! The album art, created by the great Joshua Bull, was his interpretation of "Lift Off" and I thought he did a phenomenal job.
Cal: How many tracks have you made which haven't made their way on to the internet?
Alex: Roughly 20, including 3 original productions. Patience is critical when transitioning from mashups to originals.
Cal: So your name is Basic Physics – which of Newton's laws is the best? Why?
Alex: Newton's Third Law: To every action there is an equal and opposite reaction. I think this one is the easiest to understand so it is my favorite. Anything with an equation (Newton's Second Law) is in a league of it's own.
Cal: The genre-space you are making music in is competitive, wouldn't you say? What do you think Basic Physics brings to the table that gives you a leg up on the competition?
Alex: Absolutely. The amount of mashup / DJs that have sprung up in the past year to year and a half is staggering. The emergence of a DJ being a "rockstar" has turned a lot of people on to EDM and producing in general. Since I started in the Spring of 2010, I have learned so much from a musical standpoint and a marketing standpoint (graduated with a Marketing degree this past December). At the end of the day though, my drive and passion to succeed in music will be my greatest attribute. I have so much more planned then just mashups and I can't wait to release it to everyone.
Cal: Any goals for your production career that you've set? (short or long-term)
Alex: Transitioning to more remixes and originals is in the short term goals. I'm ready. As far as longer term goals, I would love to collaborate with some of my favorite producers down the road, get official support from some of those artists, climb the Beatport charts, meet Pete Tong, play at the likes of EDC, Ultra.
You've got to have a dream. If you don't have a dream, how are you going to make it come true.